2021 began with what would become one of the biggest stories of the year in the United States.
On 6 January, a group of Donald Trump supporters stormed the Capitol Building while members of Congress were gathering to certify Joe Biden's election win.
Storming of the Capitol
In the days leading up to the attack, smaller protests and rallies had been held in Washington DC, with large crowds of Trump supporters gathering to voice their anger at what they believed was a stolen election.
"But there is no evidence of voter fraud," I would repeatedly state while interviewing the demonstrators. This would be met with denials, scepticism and claims that I was part of the "fake news" mainstream media.
The people I spoke to would not believe election officials, the US Attorney General, the courts or fellow Republicans. They would however believe the false claims of a defeated president who was desperately trying to cling to power.
There was a sense of anger and annoyance from the Trump supporters I spoke to in those early days of 2021 at a level that I had not witnessed before.
While I could see the tensions rising, I could not have predicted the chaos that unfolded that day.
It began with a massive Donald Trump rally on the Ellipse, a large green area in front of the White House. A stage and big screens had been erected under signs that read: "Save America".
Thousands had gathered with the crowd stretching back to the Washington Monument.
They erupted in cheers as Donald Trump took to the stage. He claimed his election loss was an egregious assault on Democracy that it had to be confronted by Congress. "We fight like hell and if you don't fight like hell, you're not going to have a country anymore," he told them.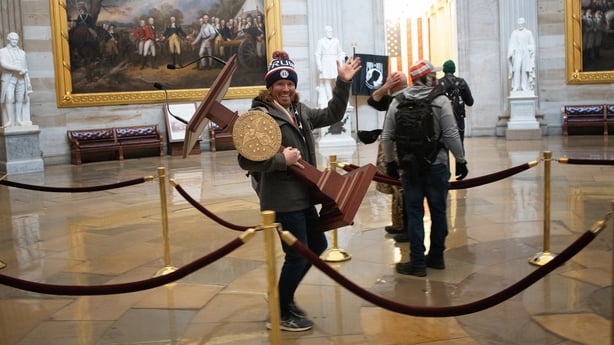 A short time later a group of the president's supporters stormed the Capitol Building. Security guards were involved in armed stand-offs and elected representatives were forced to shelter under desks while protesters smashed windows and vandalised offices.
Shots were fired. Lives were lost. It was chaos.
It led to Donald Trump being impeached by the US House of Representatives for an unprecedented second time.
The impeachment vote happened one week after rioters had stormed the Capitol Building and one week before Joe Biden's inauguration as the 46th President of the United States.
Inauguration Day
Security is always tight on the day of a presidential inauguration, but the scale of the lockdown for Biden's swearing-in ceremony was unprecedented.
Just two weeks after the storming of the Capitol Building, the streets of Washington DC were closed with armed National Guard troops and military vehicles stationed at roadblocks throughout the city.
Areas that would usually be lined with people, were instead lined with soldiers and barbed wire fences.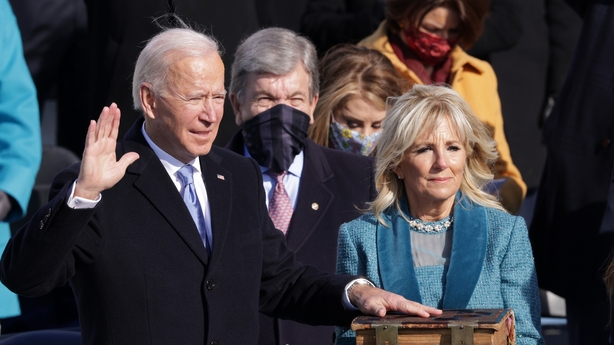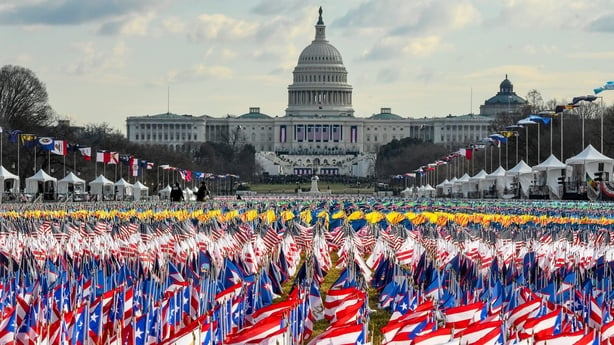 The National Mall was transformed into a field of flags - 200,000 of them to represent the people who could not be there. They fluttered loudly in the wind and a light snow started to fall as Joe Biden took to the podium to deliver his inaugural address. "Politics need not be a raging fire destroying everything in its path. Every disagreement doesn't have to be a cause for total war," Mr Biden said.
He was kept busy in his first days in office signing a series of executive orders. The measures would see the US rejoin the World Health Organization and the Paris Climate Accord. Funding was cut for Donald Trump's border wall and his travel ban affecting Muslim-majority countries was ended.
Many of the executive orders related to the coronavirus crisis, with measures announced to ramp up vaccine manufacturing and distribution.
Vaccine Roll-out
In early 2021, Europe and much of the rest of the world were struggling to get access to vaccine supplies but the roll-out in the US was surging ahead. Under the previous Trump administration, the government had invested billions of dollars early in the pandemic on vaccine development, testing and production. Red tape was cut and approvals were fast-tracked, guaranteeing quick access to supplies once the vaccines were ready.
When the coronavirus hit, America quickly became the worst-affected country in the world and an example of what not to do, but for a while it looked like the tables had turned.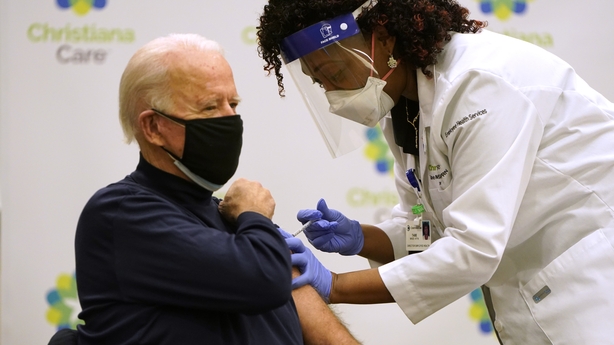 When US infection rates and deaths were soaring, the country had been pitied by its neighbours, but at one stage its vaccine rollout was the envy of the world.
It didn't last, however. Vaccine hesitancy became a huge problem in the US.
Millions refused to get their jabs and, like mask-wearing and lockdowns, the opposition was often dictated by politics and geography. Divisions that ran deep in the US did not evaporate with the election of a new president.
Under Joe Biden, day-to-day politics became calmer and a little more predictable but problems such as gun violence and racial tensions persisted.
Racial Tensions
2020 will be remembered as the year of the Black Lives Matter Movement but in 2021 issues around race and police violence moved from the street to the courtroom.
In April, former Minneapolis police officer Derek Chauvin was found guilty of the murder of George Floyd. It was almost a year after Chauvin had knelt on Mr Floyd's neck for more than nine minutes, ignoring his dying words: "I can't breathe".
The killing, which was filmed and posted on social media, caused outrage around the world and sparked a global protest movement.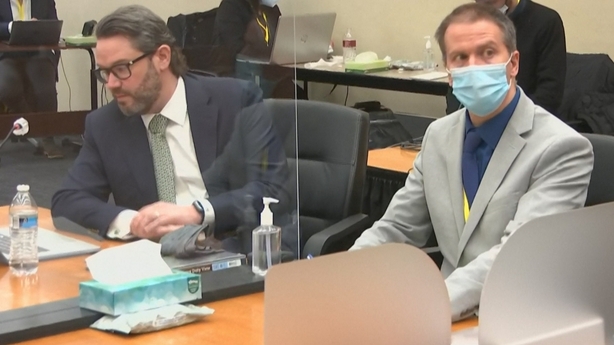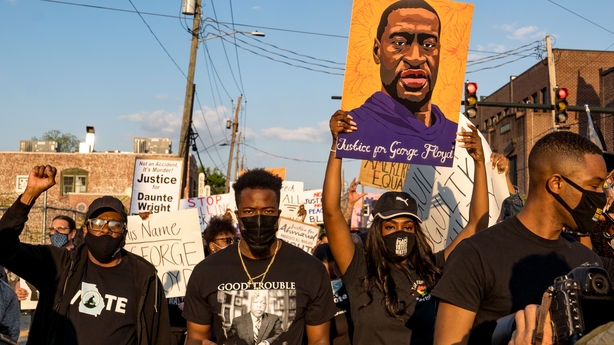 Loud cheers erupted from the crowds that had gathered outside the Minneapolis courthouse as the jury returned guilty verdicts on each of the three charges against Chauvin - second degree murder, third degree murder and manslaughter.
In November, another trial gripped the US and attracted around-the-clock media attention. 18-year-old Kyle Rittenhouse had been charged with fatally shooting two men and wounding a third during racial justice protests in Kenosha, Wisconsin.
Mr Rittenhouse was on the streets that night armed with a semi-automatic rifle. He claimed that he was there to help protect property and had acted in self-defence. The jury agreed and he was acquitted following a trial that had sparked heated debate over divisive issues such as gun rights and race.
Problems for Biden
Joe Biden's first six months in office were spent undoing the policies of his predecessor and trying to get the pandemic under control. By the summer however, his approval ratings had started to fall amid a sluggish economic recovery, high inflation, a migration crisis on the US-Mexico border, and a legislative agenda that had stalled on Capitol Hill.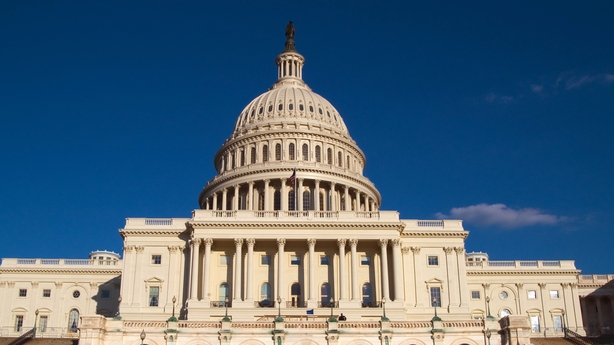 Congress had become more divided than ever despite calls for unity and bipartisanship from the new US president.
His poll numbers fell even further following the chaotic withdrawal from Afghanistan. He had vowed to end America's longest war but the drawdown of US troops saw the Taliban quickly regain control.
Lives were lost and dramatic images of terrified Afghans desperately trying to board evacuation planes will live long in the memory.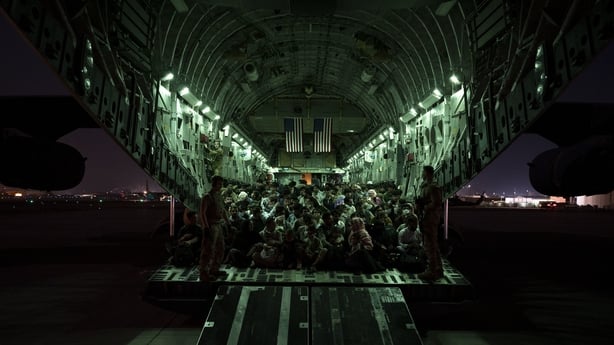 November's governor's race in Virginia was seen as a referendum on his first year in office. The Democratic candidate Terry McAuliffe, who had enjoyed an early lead in the polls, lost to his Republican opponent Glenn Youngkin.
The year ahead
Glenn Youngkin had been endorsed by Donald Trump, but the Republican candidate kept the former president at arm's length. He didn't invite Mr Trump to campaign with him and had avoided questions about his more controversial and divisive views.
It was a balancing act that could well become a blueprint for other Republican candidates who need Donald Trump's support base but risk alienating moderate, suburban voters among whom the former president remains deeply unpopular.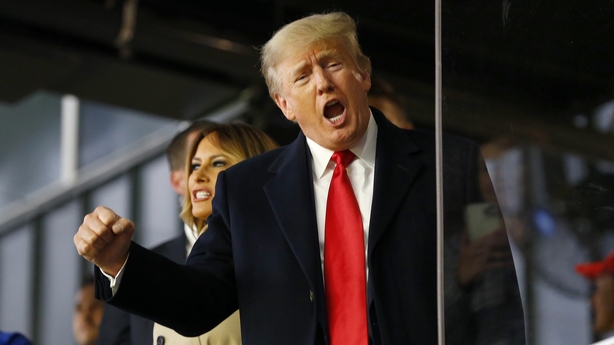 It has left Democrats very worried ahead of the Midterm Elections next year. They currently hold the slimmest of majorities in both the House and Senate and in November 2022 control of the US Congress will be up for grabs.
At the start of 2021, many predicted the end of Donald Trump's political career following a deadly insurrection and a second impeachment but as the year draws to a close, the former US President continues to loom large over US politics.