Christmas lights are twinkling at the US Capitol Building.
A festive, calm scene that is a far cry from the chaos that gripped the building almost a year ago.
On 6 January, a mob of Donald Trump supporters stormed the US Capitol as Congress was meeting to certify Joe Biden's election win.
The scenes that played out shocked the world and will live long in the memories of those who were there that day.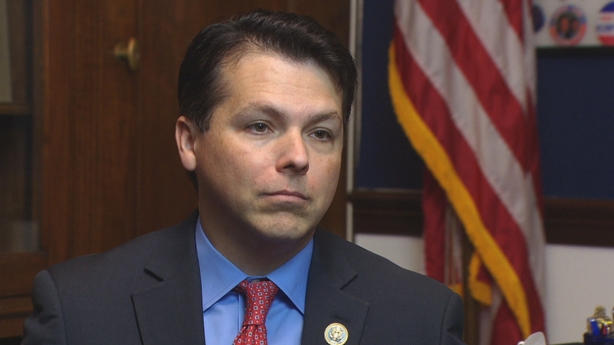 Democratic Congressman Brendan Boyle was in his office on Capitol Hill writing a speech that he was due to deliver on the floor of the House of Representatives.
"I could see outside my window, a crowd assembling. But even before I could see them, I could hear them and very quickly things dramatically escalated," he recalled.
"We already had the doors locked in my office and we moved the furniture in front of the entrances. I looked around my desk for something I could use as a weapon and I put scissors in my pockets," he said.
"We turned off all the lights, silenced our phones and just rode it out for the next few hours."
Congressman Boyle was then moved to a secure room by police but decided to leave and return to his office.
"Covid was still a problem and when we got to this room there were so many members of Congress and their staff jammed in like sardines. I only stayed there about 15 minutes and made the calculation that I was just as safe in my office," he said.
The physical damage caused to the Capitol Building on 6 January has been repaired but there are lots of reminders of a different kind.
A Congressional committee is still investigating what happened that day; hundreds of rioters have appeared before the courts and more arrests are likely, and the very thing that sparked the violence - false accusations about a stolen election - those claims are continuing to be made.
"It's not the January 6th that we experienced that keeps me up at night, it's the possible next January 6th," Brendan Boyle said, adding "....... unless we prosecute everyone who was involved, we run the risk of this happening again".