On the pitch, in the pool, on the water, in the ring, on the tee and in the saddle, Irish women excelled in sport this year by breaking records and bringing home medals.
At their Sport Ireland gym in Abbottstown in Dublin, Katie-George Dunleavy and Eve McCrystal are reflecting on their Toyko Games.
The paracyclists brought home two golds and a silver.
''I think neither one of us thought we'd ever come back with the success we had as a team. It's been a whirlwind since, a lot of coverage in the media so it's just been a really good year for us,'' Eve says.
For Katie-George, the feeling on that podium is unmatched: ''It's a rollercoaster of emotions while you're up there and you're just trying to enjoy it, every second of it. I think when you achieve what you're hoping to achieve, there's just no feeling like it.''
The pair ended the year with one more trophy, picking up the RTÉ Sport Team of the Year award.
For the tandem partners, seeing other Irish women succeed is inspiring.
We need your consent to load this rte-player contentWe use rte-player to manage extra content that can set cookies on your device and collect data about your activity. Please review their details and accept them to load the content.Manage Preferences
"We can't believe we're a part of it. We look in awe at these Irish women and all their achievements, like there's so many of them,'' says Eve.
"I think a couple of years ago you might have had a handful of amazing women, now you have so many handfuls or Irish sporting women that are just leading the way and they're showing our youngsters what can be done, and I think it's 'what you can see, you can be',"
"And this is what youngsters should try and achieve in life and we're setting the way and I'm delighted that myself and Katie can be part of that movement because it's phenomenal," she adds.
"It's been fantastic, and the coverage has really helped that. This was the first time that our races were shown so everyone could see what we've been doing for the last seven-10 years. And for women in sport this year, it's been absolutely fantastic and hopefully it's the start of things that will carry on,'' says Katie George.
For the Irish football team, it has been quite the season.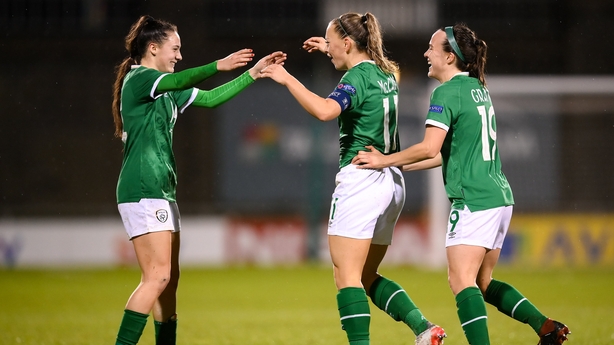 Ciara Grant certainly will not forget 2021, such are her achievements.
She won the league with Shelbourne after a dramatic finale, and she also donned the green jersey in more ways than one.
The mid-fielder took part in Ireland's battering of Georgia.
The 11-0 score line was a record win for both the men and women's Ireland teams.
The Donegal woman also helped in the fight against Covid-19.
Temporarily stepping aside from her lecturing role in the Royal College of Surgeons to head north to Letterkenny General Hospital to alleviate pressure there.
The success of Irish sporting women has provided welcome relief, she says.
"I just think that after the two tough years we have had, I think it's so great to there these good news stories and it shows the level of quality of female athletes we have in this country," Ciara says.
On the pitch there have been resounding victories.
Off it, equal pay with the men was secured.
"I think growing up we were always used to being the underdogs as female athletes and you sometimes kind of went with the whole: 'Oh, this is fine, I'm thankful for whatever I get'," she says.
"But that has changed completely. Even myself personally looking at things going this isn't right... We've seen in Tallaght stadium, crowds of 4-5,000 people, hopefully that will triple, quadruple and in five year's time, we potentially could play in the Aviva stadium," she adds.
''Honestly, I think the talent has always been there and I think the Irish have such a hardworking ethos anyway. And I think with that little bit of a boost ... when you have the talent there, just back them and they can achieve amazing things.''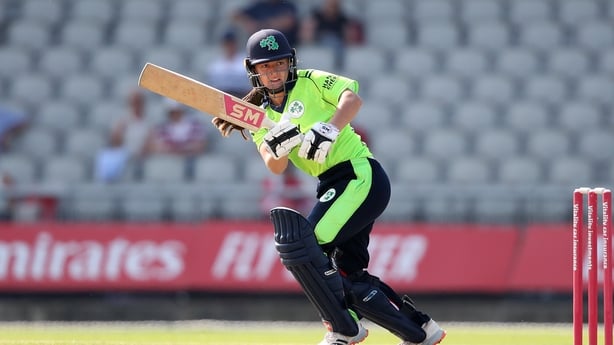 In Belfast, teenager Amy Hunter is gearing up for another training session at Instonians Cricket Club.
Her arrival onto the international stage this year has been breath-taking.
She made her debut in May and in October she wrote her name into the record books when, playing Zimbabwe, she became the youngest ever batter to score an international century.
All of that on her 16th birthday.
Two months on from that day, she says it is probably the best birthday present she will ever get.
"I didn't know what to think. I had got 100s for my school and club and just to see three figures on the scoreboard was unbelievable," she added.
For the student, who's balancing schoolwork with sport, seeing the achievements of other Irish women has been uplifting.
''It's amazing women's sport is getting so much coverage now and it's definitely on the right curve. The hockey, the boxing and it's really improving. To be honest it's amazing to be part of it," she says.
For Christmas week, Amy Hunter will have time off with her family but she'll be soon back on the crease.
Irish women in sport have knocked 2021 for six.