More than 200 organ transplants were carried out in Ireland in 2021, the HSE has confirmed.
The total of 203 transplants is a slight increase on last year when 190 transplants were carried out.
The organs came from 99 donors - 64 people who had died and 35 living donors.
The majority of transplants (137) were kidney transplants.
Thirty-four liver transplants, 20 lung transplants, 10 heart transplants and two pancreas transplants were also carried out across the three national transplant centres.
More than 600 people are waiting for an organ transplant in Ireland.
This includes patients on dialysis awaiting kidney transplants and patients waiting for transplants of lungs, hearts and livers.
While some kidney donations can take place through the living donation programme, all other organ donations can only proceed when another life is lost.
HSE Clinical Lead Organ Donation Dr Catherine Motherway thanked the families of all donors who this Christmas mourn their loved ones.
She said the last two years have been "incredibly difficult" for those working in the transplant service but she said they continue to support organ donation and transplantation.
"Throughout the last 18 months we have worked to try to ensure that we can continue to offer organ donation and to maintain transplant programs," she said.
"Intensive care, theatre, medical and nursing staff across our donor hospitals and transplant centres continue with true professionalism to support organ donation and transplantation," Dr Motherway added.
Minister for Health Stephen Donnelly said he intends to bring the Human Tissue Bill to Cabinet early in 2022.
'This is a very important piece of legislation and it is a priority for me. It is my intention to publish the Bill as early as possible in 2022" he said.
"I am committed to building on the progress we have achieved in recent years in the area of organ donation and transplantation and want to confirm additional funding of €1m in 2022 to continue to improve our organ donation and transplant services," he added
'I was the old Paddy again'
Paddy McGovern from Killinkere in Co Cavan is one of hundreds of donor recipients in Ireland.
His life changed dramatically when he found out he was going to need a liver transplant.
At the time, he was told it would be two to five years before it was necessary.
However his condition deteriorated and he became very sick and was put on the priority list, after going into liver failure.
Although he was very sick, he still recalls the moment news came through of a donor.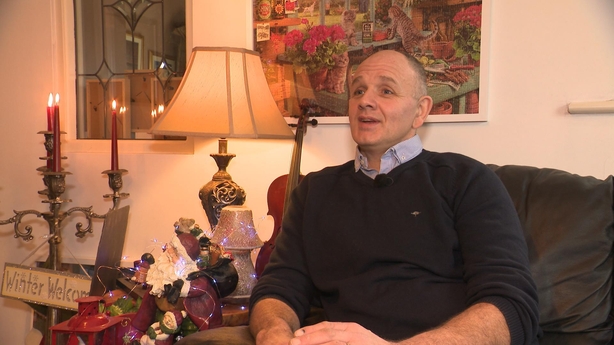 "I was in the high dependency ward at St Vincent's Hospital in Dublin when this nurse ran in, she burst through two sets of double doors and said 'Paddy, Paddy, we have a liver for you'," he said.
In a matter of hours Paddy underwent surgery and although he was very unwell, the recovery was quick.
"It was immediate. Before the surgery I was gone a complete mahogany colour, I was down to 11 stone. I had always been over 14 stone. But the first time my wife saw me, she said I had my colour back. I was the old Paddy again," he said.
Now Paddy is urging other people to think about organ donation.
He said he thinks about his donor every day and the difference the transplant has made to his life.
"I would have listened to conversations and say 'I must do that this evening or tomorrow' and didn't but because some family out there had that conversation I'm alive," he said.
The Irish Kidney Association has praised all those in the health service involved in transplant activities.
However, it said the figures highlight the "hugely negative impact" that Covid-19 has had on organ donation and transplantation.

IKA Chief Executive Carol Moore said the fragility of the transplant service in Ireland was exposed in November of this year, when a transplant did not proceed at the Mater Hospital, due to the unavailability of an ICU bed.
"We hope this unfortunate incident will not be repeated and will be the catalyst to effect change as soon as possible by ring-fencing of resources including ICU beds for transplant activity," she said.
The Irish Kidney Association is calling for detailed data on seeking consent for organ donation in our hospitals nationwide and also more transparency around transplant waiting lists.
"We need more clarity about the reasons why more transplant operations are not taking place in Ireland," said Ms Moore.
Organ donor cards can be obtained by sending a freetext message 'Donor' to 50050, or by downloading the free Donor Card app.
You can also indicate your wishes on your driver licence.