And so this is Christmas, another year on. A little bit wiser about Covid-19 and another year to face with great uncertainty.
There will be limited Christmas cheer this year, sprinkled heavily with caution. This is living with Covid-19, it appears. Some people may even be asking, is it too early to take the Christmas tree down?
The latest NPHET letter to Government was something of a thunderbolt. Just as with the lead into December last year, when Level 5 lockdown was recommended, there was no forewarning from the Chief Medical Officer that these measures were on the table.
Only last Monday, Government Chief Whip and Minister of State, Jack Chambers, said that he did not believe there would be more restrictions before Christmas. That statement did not age well.
A few days later the Taoiseach was more circumspect but the indications from him were that there was no need to be overly prescriptive with people, they know what to do to protect themselves and others.
Indeed, there was a deliberate shift in the Government message from mandatory restrictions to one of personal responsibility. But given what has transpired, public health officials did not seem to be singing from the same hymn sheet.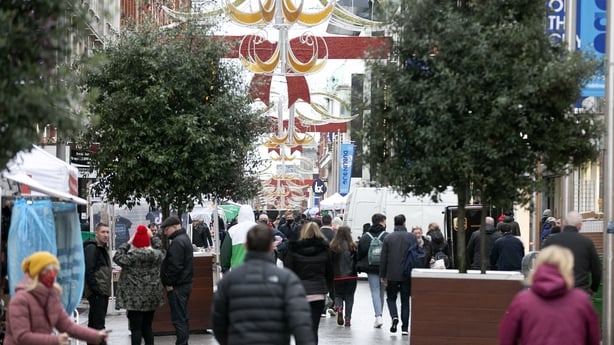 Tánaiste Leo Varadkar was perhaps most on the money. The day before the NPHET meeting he was warning of the likelihood of more restrictions across a range of areas. He did not know exactly what they would be, no-one in Government did, but going on past experience he suspected some heavy recommendations would come from NPHET.
Perhaps most surprising of all was that at the meeting on Tuesday between the three party leaders and the CMO, Dr Holohan, no-one was able to probe his thinking on the parameters of what might be recommended. That is striking, given it was just about 48 hours before to the key NPHET meeting.
All week, such was the fluid and changing situation, no one seemed to be prepared to commit to anything at all, leaving the public bewildered and at a loss as to what was coming.
When the 'letter' landed late on Thursday night, there was a stunned silence from Government. It was a shock, and to the public too, who had been prepared for a modest tightening of restrictions.
Cabinet met yesterday and made its decisions, having been given little scope for manoeuvre.
"The world has learned by now that we underestimate this virus at our peril"
In a telling point, the president of the Irish Association of Emergency Medicine, Fergal Hickey, said that the proposed new public health restrictions reflected the serious concerns about the Omicron variant and its capacity to overwhelm the healthcare system.
Dr Hickey said that the fact that the healthcare system is frail and "does not have the capacity to deal with what is coming" is what is driving the recommendations.
This is the nightmare before Christmas that many feared. No-one is quite sure what Omicron will mean. But there are real concerns. The latest data from South Africa, according to the British Medical Journal, is that Omicron causes more infections than Delta, but fewer hospitalisations.
While Omicron is much more transmissible, is it more severe? Even if it is not more severe, the fear is that such could be the surge it causes, that the scale of cases would inevitably drive more patients into the hospitals system.
This week the Director General of the World Health Organisation, Dr Tedros, said that Omicron is spreading at a rate we have not seen with any previous variants. He was concerned that people were dismissing it as a mild disease.
Dr Tedros said the world has learned by now that we underestimate this virus at our peril. And, he added, that even if Omicron does cause less severe disease, the sheer number of cases could once again overwhelm unprepared health systems.
Dr Tedros said that vaccines alone will not get us out of this crisis. Countries can and must prevent the spread of Omicron with measures that work today.
The projections here suggest at worst, more cases than the record numbers seen last January in hospital and ICU. That would inevitably mean a cancellation again of all planned procedures and a greater reliance on the private hospital system assisting.
But it is important to point out that at no time have the worst case model scenarios here come to pass. Recently, Tánaiste Leo Varadkar said he would like to see an independent review of the NPHET modelling.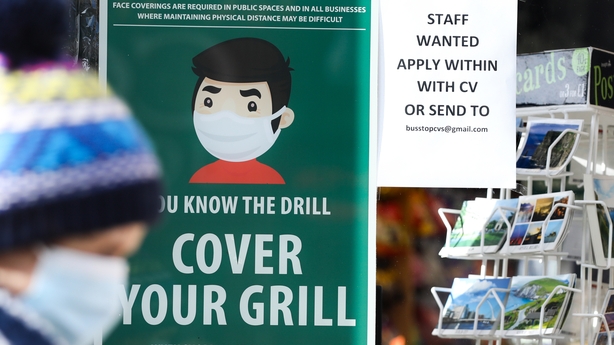 As of now, the situation here is relatively positive. The overall projections are tracking much better than the most positive projections. Hospital cases are also stable, if not reducing. If it were not for Omicron, the mood music would be far better.
I was walking down Baggot Street in Dublin on Thursday evening after my 9pm television live at the Department of Health to get a sense of the atmosphere. It was a nice crisp, calm evening with a clear sky. Outside one establishment a group of about five people shouted a question at me: "Fergal, what's happening, any news for us?"
What was unusual is how young they were. They were five guys, about 19 years of age, wanting to know the latest. Something similar happened a few months ago when I was leaving town after a 1pm live. A woman was passing me, with two young kids, about 10 or 12 years of age. The 12-year-old pointed at me and said: "That's Fergal from the news."
"But as the saying goes, people make plans and God laughs"
It's not about me, of course, but is a reflection of the importance of public service broadcasting in Ireland during the biggest crisis of modern times. People of all ages watch and listen to RTÉ News. It is trusted, even though at many times during the pandemic the news is not pretty, or easy to digest. It is a tribute to all my colleagues in RTÉ News who have assisted in the coverage of these very difficult events since early 2020. Indeed, most media are trying to make daily sense of it all for people.
We are getting close to the second anniversary of the first confirmed case of Covid-19 here. I did not think I would still be writing these weekly Saturday long reads at this stage. But as the saying goes, people make plans and God laughs, and so it is to be.
Over the past two years, I have received hundreds of emails from people with very kind thoughts. Many with questions that I am able to answer quickly. I have also been sent a miraculous medal, more notebooks, pens, cards, ties and lots more small thoughtful things. This is the spirit of Ireland, people care, are mostly very kind and hope for better things.
This week saw the dial turned up on the booster vaccination campaign. Just over a week ago, there were claims that people were failing to turn up in their thousands for booster vaccine appointments. But the truth was for the most part the complete opposite. People were waiting anxiously for a HSE text appointment and many decided to take it into their own hands and go to a walk-in clinic.
We all saw the scenes of hundreds of people outside packed clinics, with people being turned away because of capacity constraints. In the end, the HSE announced an accelerated booster campaign, with days to go to Christmas.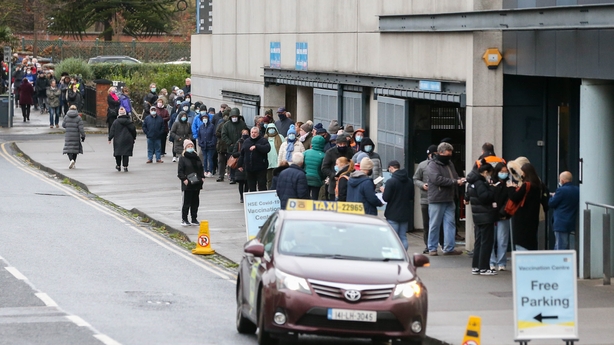 It will see more vaccination centres opened, 8am-8pm operating times, more capacity and most GPs and soon pharmacists involved in the accelerated programme. It might also be an idea to request every private hospital to open a booster vaccination centre, to make the programme move even faster.
The details on the various age groups and timings of when people will be vaccinated are on the HSE website. Details of the remaining age groups to get vaccinated under this accelerated booster programme will be published next week.
With schools set to close next week for the holidays, it could be an opportunity to ensure all are fitted out, where needed, with air filters, ready for the new year. It was odd how HEPA filters were dismissed early on by some in NPHET and now the funding is being provided by Government. During the break, everything possible should be done to make the school environment as safe as possible for the return in 2022.
The history of Covid-19 here and the public health approach has seen delayed support for mask wearing, Antigen tests, key measures in schools, and other aspects of the approach to the crisis.
Public health medicine is an interesting speciality, very much historically driven by a prescriptive, regulatory approach on the population, which is reflected in the well-established measures around smoking and alcohol consumption. And so, it should be no surprise that public health experts approached Covid will the same thinking.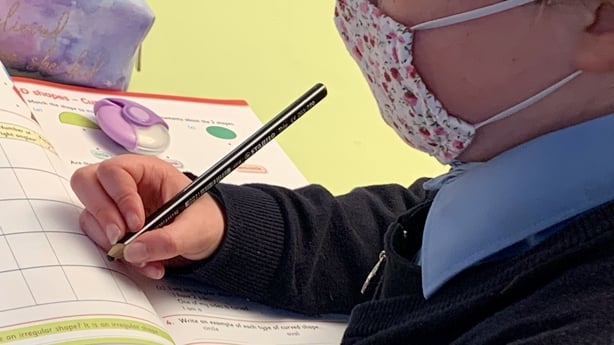 Some measures have been adopted only to be abandoned suddenly. That has confused the public. Close contact tracing in primary schools was dropped in late September. There then followed a surge in cases in children of school going age 5-11 years, who up to now could not be vaccinated.
The controversy over whether cases in this age group were emanating from the home and community, or in the school environment, has split the public and some experts. It has been the source of real anxiety for parents.
"We are not at the end of this pandemic, or even close to the end"
I asked the HSE this week, whether they believed we would be still attending weekly HSE media briefings on Covid-19 this time next year. Dr Colm Henry, the Chief Clinical Officer said that honestly, he did not know the answer to my question. He pointed out that the world is vulnerable to pandemics. And that, unfortunately, the Covid-19 vaccines have waned but this happens too with the flu vaccine each year, and a new combination of flu jab is developed in anticipation of the virus circulating each year. Dr Henry said it was alarming that for two successive years, Covid had surprised us with challenging new variants. But he said, people were learning to live with Covid-19 and respond faster to it.
Yesterday, Dr Mike Ryan, of the World Health Organisation, said that we are not at the end of this pandemic, or even close to the end. This may not be quite the most wonderful time of the year people had hoped for. For some, it may even feel like Christmas has been cancelled - again.
Hopefully, we will not be facing a similar situation this time next year, because if it were to be the case, it would undoubtedly prompt a reappraisal of what living with Covid will mean for the longer term of society.
This year, we have all gone through the rainbow of emotions with coronavirus. The evenings are getting brighter now, though it may not feel like it.
I want to wish you all a peaceful, Happy Christmas, wherever it finds you. We managed to make it through 2021 but certainly not unscathed. We have all been soulmates during this journey. We must keep believing that the new year will bring the gift of better times.