Evidence reviewed by the National Independent Review Panel of serious incidents at HSE-run facilities in Co Donegal shows abuse occurred with the full knowledge of staff and management of the facility at the time.
The executive summary of the Independent Review of the Management of Brandon - otherwise known as the Brandon report - has found a lack of external management oversight and leadership from the HSE also allowed the situation to worsen.
The executive summary notes that staff experienced "powerlessness" as they regularly reported incidents up the line in the expectation that something would be done, which it says never did.
The review of HSE residential and day care service for adults with an intellectual disability at St Joseph's hospital in Stranorlar, Co Donegal, looked into serious incidents of concern at the complex between 2003 and 2016.
The person whose behaviour is the focus of this review - who was given the pseudonym Brandon - was admitted to services in 1991. The first recorded incident of sexual assault by him was noted on the files reviewed by the review team in 1997.
It notes three other incidents of inappropriate sexual behaviour between that and 2002 and while the review published today was focused on 2003 onwards, it says these earlier records suggest that this sexualised behaviour had been ongoing and known to managers of the service.
We need your consent to load this rte-player contentWe use rte-player to manage extra content that can set cookies on your device and collect data about your activity. Please review their details and accept them to load the content.Manage Preferences
From 2003 his sexually inappropriate behaviours increased.
Evidence available on file according to the report would suggest that Brandon was able to identify particularly vulnerable residents whom he pursued relentlessly.
It says a common management strategy employed to deal with Brandon's sexually assaultive behaviour was to move him around various wards which gave him access to other residents, many of whom became new victims of his abusive behaviour.
There is no evidence that any of the families of these residents were informed at the time of these assaults, according to the report.
In 2011, Brandon was moved to a house on his own on the complex, where he lived away from other residents.
While this move resulted in "a sharp reduction" in the number of sexual assaults recorded, he was moved back again in September 2013 to a previous house to live with the residents he had previously assaulted.
The report notes that Brandon's move to the house where he lived alone "appeared to be the only successful strategy employed in the management" of Brandon, in that it did provide some protection, albeit short term, to other residents.
The report says staff who met the review team described an environment where people "were and still are fearful of coming forward".
The executive summary recommends the establishment of a strategic working group tasked with developing disability services in line with national policy.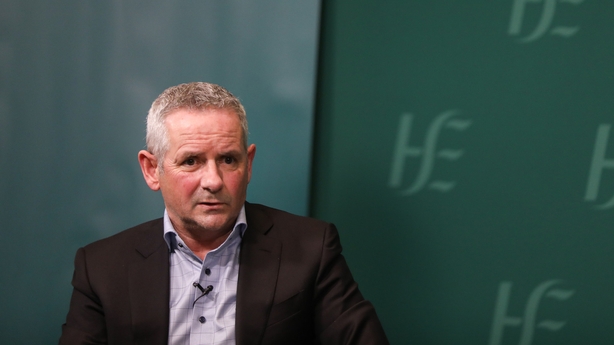 HSE apologises after Brandon report
HSE Chief Executive Paul Reid said that the Brandon report is "one of the most gruesome reports" he has read in his career.
Mr Reid said: "Certainly since I've taken up this role in 2019, this has been one of the most repulsive reports that I've read and, indeed, one of the most gruesome reports that I've had to read in my career."
Speaking at the weekly HSE briefing on Covid-19, Mr Reid said that the reports outlines "an appalling set of failings and care", and added:
"These events, as we have seen them and outlined in the report, have shocking consequences for many people. The facts are very clear, vulnerable people were sexually abused whilst in our care.
"None of us can imagine the impact this has had on the abused and, indeed, on their families, so on behalf of the HSE, I do want to apologise, sincerely apologise, to those residents and their families. I just can't imagine and we can't imagine the hurt they have had and the pain in receiving the details of this report. We are really truly sorry."
He said that the residents of the service and their families remain the HSE's priority.
All those affected are and have been in receipt of a range of multi-disciplinary support, he added.
He said that he wanted to ensure that all of the findings in the report are fully embraced and implemented.
Separately, HSE Chief Operations Officer Anne O'Connor also apologised on behalf of the HSE to all those impacted by the Brandon report.
Speaking on RTÉ's News at One, Ms O'Connor said that the HSE "will not stand over what has happened here".
"This report sets out a very upsetting story of sustained sexual abuse by one person who was cared for by our Disability Services of 18 others between those years of 2003 and 2016.
"This just should not have happened. We should not and we will not stand over what has happened here.
"On behalf of HSE I want to apologise sincerely to those people who've been impacted within that service, or people who are upset by this report in any of our disability services around the country.
"We are aware that families were not told about these incidents at that time. That was subsequently rectified in 2018, on foot of a look back review, but this is not the standard to which we aspire to deliver our services."