In a speech announcing new Covid restrictions, Taoiseach Micheál Martin thanked children for their efforts during the pandemic.
He said: "A lot has been asked of you in the last year and a half. You've had to spend less time with your friends, miss out on special occasions and you've been unable just to enjoy normality.
"Now we're asking you to wear masks in school and soon we may be asking you to get vaccinated. Through it all, you have been extraordinary."
The Taoiseach said he was "conscious that over the last week we have talked a lot about our children and young people and I know that they carry a lot of worry on their shoulders".
He said children had done "what you've been asked without complaint. And you have done it not for yourselves, but for your parents, your grandparents, your community and your country."
"You are a very special generation," he said.
"Thank you for what you've done and what you continue to do."
Taoiseach Micheál Martin gives thanks to the children of Ireland, "you are a very special generation. Thank you for what you have done and for what you continue to do". | Read more: https://t.co/CYAOUCjlbx pic.twitter.com/EBuFtny9X2

— RTÉ News (@rtenews) December 3, 2021
Earlier this week, the Department of Education told schools that pupils from third class and up in primary schools were required to wear a face mask or covering, and any claim that a child is exempt must be backed up by a medical certificate.
In the guidance, the department said that where a medical certificate is not provided a child or staff member will be refused entry to the school.
However, it also stated that in some cases schools will be best placed to identify children whose complex needs are such that the wearing of face coverings may not be possible for them and in such circumstances a medical certificate will not be required for exemption.
The direction was far stronger than expected, and was met with shock by some school principals.
The Minister for Education said that primary schools would adopt a "practical approach" when it comes to implementing the new measure.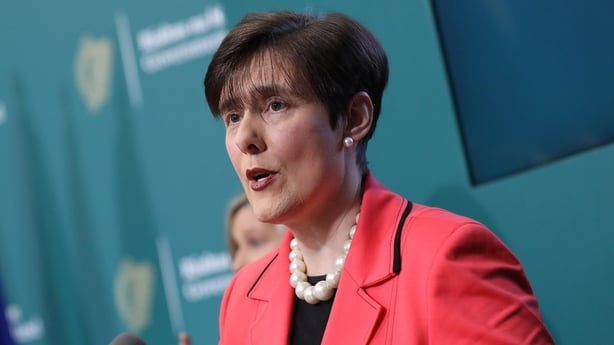 Norma Foley told the Dáil this would allow schools to "communicate the new measures to parents" - rules which were being undertaken because "it's a public health measure".
The minister said she recognised it may be "difficult" for some, but added: "Schools know their children and are best placed to identify those children whose complex needs are such that the wearing of face coverings may not be possible for them and to discuss this with parents as required".
Earlier this week, the Government said that parents should aim to reduce socialisation indoors of children aged 12 and under for the next two weeks, as part of efforts to stem the spread of Covid-19 in the community.
In a statement, it said that parents are asked to "prioritise their children's activities" whilst "minimising indoor community gatherings and indoor mixed household gatherings".
It said they should reduce the risk of exposure to the virus by "opting for outdoor activities instead of indoor, and reducing the number of children involved in any particular activity".
Today, hundreds of people took part in a demonstration in Dublin opposing the introduction of mandatory mask wearing for children in primary schools.
---
Read more:
Fresh restrictions after 'stark' NPHET advice
PUP to reopen for jobs lost in latest announcement
'Strict social distancing' for bars and restaurants
'Nightmare Before Christmas: Part Two' for hospitality
At a glance: New restrictions ahead of Christmas