In the time it takes you to read this sentence, 21-year-old Ciarán Beahan from Lucan, Co Dublin can complete a Rubik's Cube.
The student is a speedcuber - someone who can solve a variety of Rubik's cube puzzles as quickly as possible.
"My personal average is around a high six or low seven seconds. It can be a good party trick sometimes," he said.
Quick-fingered Ciarán has won multiple titles and broken several records since he first tackled the classic puzzle 11 years ago.
He is one of the leading figures in the Irish speedcubing community and one of the organisers of an event this weekend in Tuam, Co Galway which will see enthusiasts compete against the clock and each other for the first time in Ireland since the pandemic began.
"This is Ireland's first competition back since March 2020 so we are very excited. There's going to be 110 competitors this weekend but it's split up over two days.
"Actually the main demographic of our competitors are kids. Probably, the average age is around 13 or 14 years old and then we have competitors in their 60s, 70s, 80s," he said.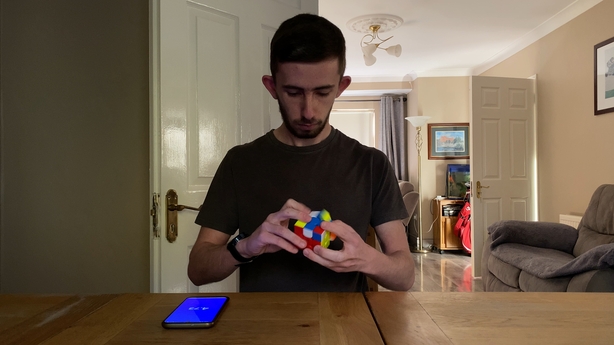 Speedcubing has become a huge worldwide trend over the last decade as tutorials teaching the algorithms to solve the scrambles are now easily available on YouTube.
The community was the subject of Netflix documentary 'The Speed Cubers' which was shortlisted for an Academy Award.
Ciarán said: "I think a large part of the enduring appeal now is going to be the community that has formed around the competitions. Some people go to compete and break their own times and then a lot of people go to make friends and get to know people".
The current world record for solving a Rubik's Cube is 3.47 seconds and is held by Yusheng Du from China.
At this weekend's Speedcubing Ireland event competitors will be hoping to break Irish, European and even world records. The event is recognised by the World Cube Association.
Ciarán said: "My own personal times are probably going to stay still now. I think I've gotten pretty close to my limit and with less time to practice I'm probably not going to get too much faster from now on. But if other people can go to competitions and break their own times then I'll be happy. My main goal now will be organising as many competitions as possible".