A group of Irish truckers and hauliers has caused significant disruption into and around Dublin city as part of a protest calling for lower fuel costs at the pump and at home.
Those participating in the protest were engaged in a rolling blockade on the M50 southbound which caused severe delays on the capital's outer ring motorway.
The Dublin West Link was a particular area of concern for traffic, according to gardaí.
Gardaí said traffic in other areas, including Dublin Port and the city centre, was clearing.
A garda spokesperson said there was "a total lack of engagement" from protesters who had created a lot of "unnecessary angst" and impacted the work of non-protesting hauliers.
The group of truckers and hauliers - describing itself as the Irish Truckers Haulage Association Against Fuel Prices - is calling for "lower fuel costs at the pump and at home".
Drivers who participated in the protest also expressed concern over fuel rebate levels, driver shortages, taxes and other operational costs.
Hauliers protest heading towards Dublin on the M1 at Donabate @rtenews pic.twitter.com/T8W0h0QMFE

— Owen Corcoran (@ocor1) November 24, 2021
The Irish Road Haulage Association has distanced itself from the group and the protest.
IRHA President Eugene Drennan said it was difficult to engage with the group as it is "faceless".
He said the group had taken IRHA statements "out of context".
"It is very hard to know who or what they are. While their goals might be similar to what we are negotiating towards, we don't know exactly what they want," he said.
In a posting on Facebook, the Irish Truckers Haulage Association Against Fuel Prices group asked participants to "have some consideration" for emergency vehicles".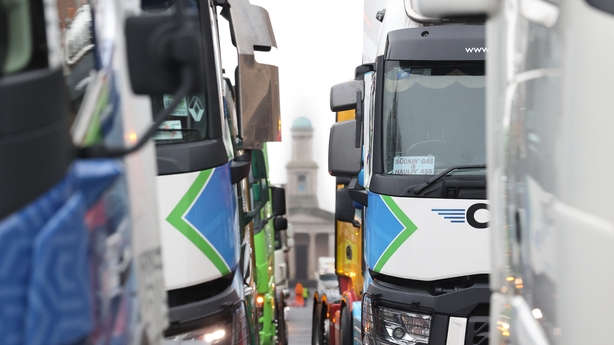 "We don't want any trouble or vigilante groups to act up. Stay at home if that's your plans please," it said.
It said in a post it would have no spokespeople available to the media.
It also raised the possibility of an additional protest in the week before Christmas.
Mr Drennan said the IRHA had "big grievances" with the Government and Minister for Environment Eamon Ryan, but members decided they "did not want to cause any grief to the public before Christmas".
He said members reserved their right to protest in the New Year.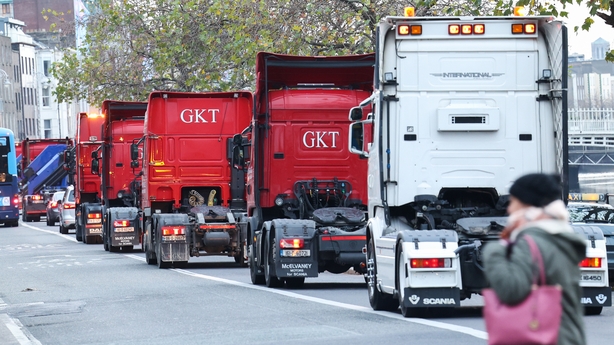 Leonard Clavin of Clavin Transport Services said the cost of operations of his eight-truck fleet has exceeded turnover, due to increased diesel prices.
"It is very hard to pass those cost increases on to our customers, they have businesses that they need to keep open as well," he said.
Mr Clavin said Government should pay attention to supply shortages in England due to a lack of drivers.
The Department of Transport said it has recently had extensive engagement with industry stakeholders on driver shortage issues.
The department said it is working on the country's first 10-year strategy for the haulage sector.
"The HGV driver shortage has been a growing issue across Europe and globally for a number of years but has been exacerbated in an Irish context by Covid and Brexit," a spokesperson said.
It said the National Logistics and Supply Chain Skills Group, established in 2019, has been asked to examine the specific issue of driver shortage in the industry and make recommendations to Government.
Dozens of trucks parked up at Merripm Square, around the corner from Government Buildings. @rtenews pic.twitter.com/ORzjgWfxHh

— Cillian Sherlock (@cilliansherlock) November 24, 2021
Jason Fogarty said his fellow drivers were protesting against "the exorbitant price of diesel".
"It is getting too much to run our trucks. It doesn't run on air. We're getting crippled on tax, diesel, haulage. Everything has gone up but the wages," he said.
Mr Fogarty said every industry in the country relied on trucks, and inflation will follow if the price of diesel is not reduced. He called for an increase in the rebate for fuel.
"That perfectly good truck is making no money today, sitting there to see if I can get more money for my industry. If not, I'm going to be out of this job in a couple of years. It's not worth it anymore," he added.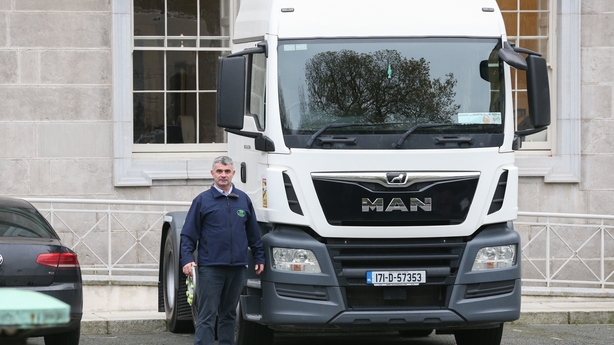 Independent TD for Limerick County Richard O'Donoghue said the truckers were trying to "lower inflation and keep their trucks on the road so they can feed everyone in Ireland".
The Rural Independent Group TD said it was a "time of crisis".
"No matter where you live, whatever produce you get has been brought to the shops by truckers," he added.
Meanwhile, the Sinn Féin leader said hauliers had kept the show on the road during the pandemic and the Government needed to show up for them with an improved diesel rebate scheme.
Mary Lou McDonald told the Dáil that people are overwhelmed by rising energy prices and the Government is sitting on its hands.
She called for the carbon tax increase to be scrapped and for VAT to be waived on energy bills for three months to give families a break.
Taoiseach Micheál Martin says the energy price increases are 'driven almost totally by global price rises' across the EU and the world. He says there are supply chain constraints and that 'it's a global phenomenon'. | Read more: https://t.co/8AoXMYvgsX pic.twitter.com/mKG0ZSYlUO

— RTÉ News (@rtenews) November 24, 2021
In response, the Taoiseach said the rebounding of the international economy had contributed to the pressure on energy prices.
Micheál Martin said the carbon tax increase plays a very small part in the global phenomenon of rising energy prices and while deferring increases would be popular it would not be good for the planet.
He said the focus is to try to get household bills down in the short-term with measures like an increased Fuel Allowance.
The Department of Finance has said the current spike in fuel prices is a global issue which is mainly the result of recovery from the Covid-19 pandemic.
It said the price of petrol and diesel is determined by factors including exchange rates, the price of raw materials, contracts negotiated by wholesalers of oil, and taxation.
It said the increase in carbon tax accounts for "only a small fraction of the recent increase of fuel".
The department said this amounts to an increase per litre of between 2c and 2.5c.
"The carbon tax increase is ring-fenced, with much of the funds going towards combatting fuel poverty through measures such as fuel allowance and retrofitting people's homes," the department said.
It added that the Government has a number of schemes to protect hauliers from price increases including the diesel rebate scheme - which offers a partial refund to qualifying operators when the price of diesel is relatively high.
It said businesses that are registered for VAT may deduct the VAT charged to them on the purchase of business inputs, such as road diesel and other motoring costs.
Independent TD Verona Murphy said it is terrible that anyone is being impositioned as a result of the demonstration and described its timing as "unfortunate".
She was responding to reports on RTÉ's Today with Claire Byrne that a 92-year-old woman missed a medical appointment that she had been waiting two years for, because of the protest.
Deputy Murphy, a former president of the Irish Road Haulage Association, which has distanced itself from the group and the protest, said "it's absolutely not" the right strategy.
"This is the Christmas busy commercial period, it's an unfortunate decision but I do understand the frustration," she added.
The woman who missed her medical appointment has had it rescheduled for next week, it was later reported.
Additional reporting: Mícheál Lehane