Canada's military has joined rescue efforts for flood devastated communities in British Columbia province, with thousands of people moved from their homes and a number of motorists missing after powerful mudslides.
The Canadian Armed Forces deployed a Hercules transport aircraft, several search helicopters and hundreds of troops to the region, while putting thousands more on standby.
Their activities "will include providing assistance with evacuations, transport of emergency response personnel and equipment, and area reconnaissance," military spokesman Alex Roy said.
More than 1,000 travellers had been stranded by mudslides, rocks and debris between Sunday and Monday in the town of Hope, about 150km east of Vancouver.
In the early morning, an emergency passenger train carrying about 200 people from the town arrived in Vancouver, Via Rail said.
Many motorists also got through on Highway 7 connecting to Canada's third-largest city after it was temporarily reopened by emergency crews clearing rocks and debris overnight, the British Columbia transportation agency said.
A video shared by the agency on Twitter showed a stream of vehicles driving westbound along a breakdown lane illuminated by floodlights, past road crews.
A search, meanwhile, continues for more possible victims swept away in a mudslide near Lillooet, 250km northeast of Vancouver, after a woman's body was recovered this week.
Federal police say at least four people are still missing in that mudslide - one of several that has effectively cut off Vancouver and its sea port, which handles some 3.5 million containers each year.
In Abbotsford, on the outskirts of Vancouver, hundreds were evacuated from the Sumas Prairie overnight as a pump station risked being overwhelmed by a surge of water carried north from the Nooksack River in the United States, Mayor Henry Braun told a news conference.
But some 40 farmers who "love their cattle" refused to leave in order to care for livestock, he said.
"We are not out of this by a long shot yet," he added.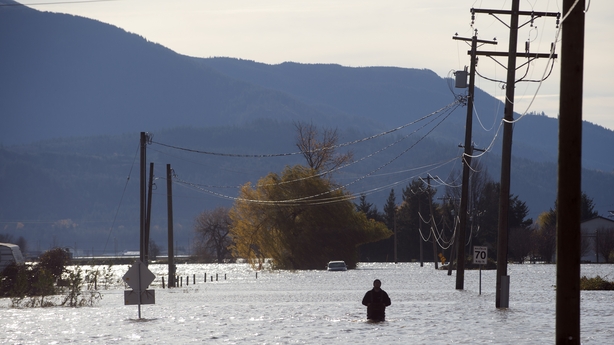 British Columbia Agriculture Minister Lana Popham said thousands of farm animals had died and many more were in "difficult situations," trapped and facing shortages of food and drinking water.
Most of the area is farmland created by draining Sumas Lake in the 1920s.
The mayor said flood waters in parts of the region had receded over the past 24 hours, but rose elsewhere.
He also estimated rebuilding costs in this area alone could be in the hundreds of millions of dollars.
"It's just the worst flooding that I've ever seen," Abbotsford resident Steve Gosselin said.
Tyler Richard, who lives near the US border, said he rushed home after getting an evacuation notice on Monday in order to grab whatever he could take with him.
He said has not been allowed to return to assess the damage as the evacuation order remains in effect.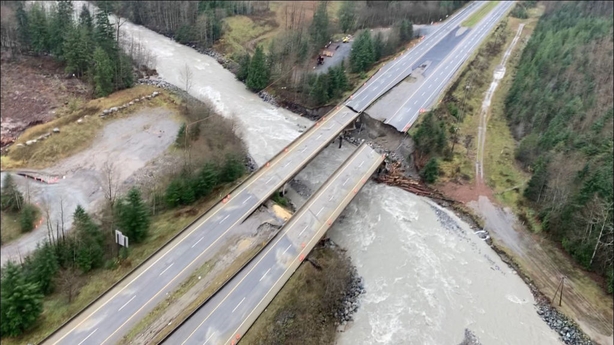 Mr Richard described an "absolutely chaotic" scene. From a distance, he said he could see that "everything was underwater. The street was flooded out. There were motorboats flying around in the park. It was just completely unreal."
Across the border in Washington State, Dan Tilton said he awoke at 3am "with water coming up though the floor" in his house in the town of Everson on the Nooksack River.
He said that he and his family "started getting everything we could upstairs until the water came into the house then we got out of here."
As more rain has started to fall after a break in precipitation on Tuesday and Wednesday, Mayor Braun said: "I am not concerned about today's rain. What I'm concerned about is next week, and what's coming."
He pointed to 80 to 100 millimetres of rain forecast for next week, starting on Tuesday.
Panicked shoppers clear out supermarkets
Shoppers in British Columbia have emptied supermarket shelves following the catastrophic flooding, although the shortages are as much down to panic buying as disrupted supply chains, industry associations said.
Some parts of the province are expected to face temporary shortages of dairy supplies, with retailers and officials calling for calm.
Pictures on social media showed empty shelves and fridges in supermarkets, reminiscent of the early days of the Covid-19 pandemic, as shoppers scrambled to stock up.
Photos of one store's produce section showed nothing left but lemons, limes and cranberries.
Save-On-Foods, western Canada's largest grocery retailer, appealed to customers to avoid hoarding.
"We understand that this is a very stressful and challenging time for many of our communities," the company said on Twitter. "Please - buy only what your family needs at this time".
We understand that this is a very stressful and challenging time for many of our communities. We are working with the Red Cross, local authorities and organizations to do all we can to support our neighbours.
Please - buy only what your family needs at this time. pic.twitter.com/0oo2tbilkJ

— Save-On-Foods (@saveonfoods) November 18, 2021
Some three-quarters of British Columbia's milk production was stranded for several days, amounting to a few million litres that farmers had to dump, said Holger Schwichtenberg, chair of the BC Dairy Association.
Collections are now resuming, but the region will see a temporary milk shortage before it can access supplies from other regions or provinces, he added.
Some of the worst-affected areas are in the Fraser Valley east of Vancouver, where 63 dairy farms were ordered to evacuate.
The city of Abbotsford in the Fraser Valley supplies half of the dairy, eggs and poultry consumed in British Columbia, with many farms situated on the fertile soils of the low-lying Sumas Prairie.
The mayor of Abbotsford estimated damage to his city alone could be up to C$1 billion (€700m).
While some towns like Hope are facing food shortages because they were cut off by highway washouts and mudslides, others are seeing shelves picked clean by panic buying.
"In parts of the province, particularly the interior, there has been significant and not well-understood consumer panic," said Greg Wilson, director of BC government relations for the Retail Council of Canada.
"There are highways open between BC and Alberta and there is capacity in Alberta to supply the interior of BC."
Mr Wilson said Vancouver and the lower mainland can access more food supplies from Washington state to the south, and the rerouting of supply chains was under way.