Restrictions on nighttime flights and a noise quota system are part of the plans for the operation of the new north runway at Dublin Airport.
The Aircraft Noise Competent Authority is putting a series of proposals out for public consultation ahead of the runway's opening next year.
Dublin Airport had applied to Fingal County Council for a relaxation of planning conditions, which were attached to the granting of planning permission for its second runway in 2007.
These conditions imposed a total limit of 65 flights on both runways between 11pm and 7am.
However, the DAA pointed out that by 2019 there were already 100 flights during that time period.
The proposals being put forward by the ANCA are similar to those proposed by the DAA.
There would be a complete ban on flights on the new north runway between midnight and 6am, apart from exceptional circumstances.
This would still allow flights during the busiest times at Dublin Airport, which are between 11pm and 11.30pm and 6am and 7am.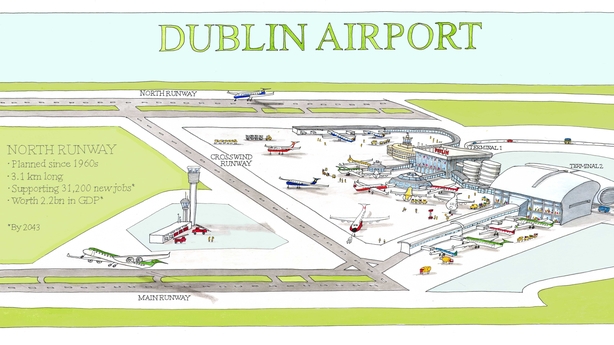 Both the north and south runways would then have to comply with a noise quota scheme that would limit total noise between 11pm and 7am to 16,260 Quota Counts (QCs) per year.
The noise 'budget' would be used up depending on the type of aircraft and calculated on a range of one to 16 QCs per flight movement.
The noisiest type of aircraft would be prohibited during night time hours with a plane of 4QCs not allowed to take off and one with 2Qcs not allowed to land.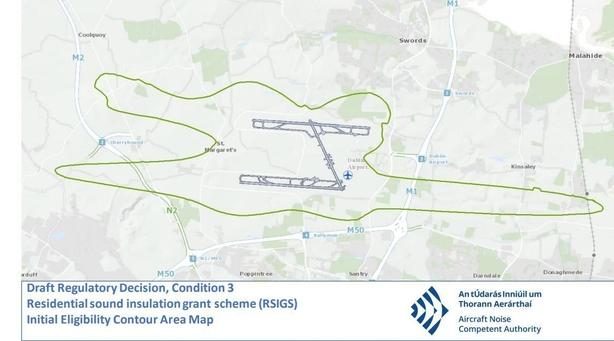 The ANCA believes that with newer aircraft producing less noise, Dublin Airport will still be able to have the same amount of nighttime flights in 2025 that it had pre-pandemic in 2019.
The authority is mandated to gradually reduce the amount of aircraft noise by 50% by 2050 and believes that older Boeing and Airbus aircraft which generate most noise will be phased out.
ANCA Director Ethna Felten said they wanted local residents, businesses and airport users to take part in the public consultation, which will last for 14 weeks up to the end of February.
Local residents will also receive a new sound insulation scheme aimed at reducing night time noise and worth up to €20,000 per house for work on bedrooms and roofs.
Reaction from local residents group
However Sheelagh Morris of the St Margaret's Concerned Residents Group who lives right beside the new runway said the sound insulation will not be enough to reduce noise to a reasonable level.
She said residents feel betrayed that the planning conditions could be changed which makes a "mockery" of the planning process.
She pointed out that flights are currently banned on the north runway between 11pm and 7am while the ANCA proposals would allow them between 11pm to 12am and 6am to 7am.
"We will not get a night's sleep" she said.
Meanwhile the new runway will also affect residents across north Dubln from Portmarnock to Santry according to Máire O'Brien of Fingal Organised Residents United Movement (FORUM).
She said many new houses built in areas like Kinsealy and Clongriffin will be effected by the increased noise.