Decarbonising our electricity network while keeping the lights on as demand for power grows may be one of the toughest challenges over the next few years.
Farmers say they could be part of the solution to that problem. But the arrangements for individuals to sell surplus electricity from their home or business into the grid are not yet in place.
Most farmers have several barns or sheds and there can be a lot of roof space on top of those outbuildings.
Some have already installed Solar Photo Voltaic panels to generate power but the Micro Renewable Energy Federation says there is a lot of potential to expand.
Chairman Pat Smith believes that rooftop solar panels installed on farms and other businesses could generate up to three gigawatts of electricity.
At the moment, all of the wind farms in Ireland have a total capacity of just under 4.5 gigawatts, so adding 3GW to the grid would make a significant difference.
Mr Smith said: "In most other countries in Europe, farmer roof space is covered in Solar PV to generate electricity for the farm and the business and to export to the grid.
"We're hoping that the government at this point, with all that's being talked about in relation to energy shortages take the initiative and empower the farming community to take action."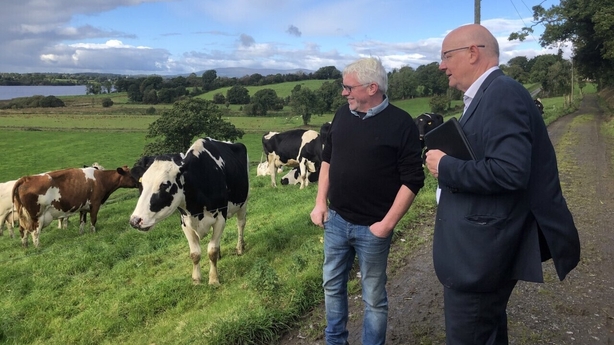 Patrick Bradley, a dairy farmer in Co Leitrim, has recently installed solar panels on a roof on his farm. He produces and bottles raw milk on his farm.
"So it's constantly cooling, constantly heating water, constantly washing, it's wash, wash wash, we use an awful lot of hot water and obviously a lot of cooling, so that's the biggest end of our power usage," Mr Bradley said.
"I'm very happy with them, I never stop looking at them.
"They're bringing in power all the time, even yesterday in October, it was a bright day and it was actually oversupplying our need in the middle of the day."
Patrick said he has the space to increase his solar generation capacity eightfold if he was given the right incentive.
But the regime to allow people who generate power with renewable sources such as solar, wind or hydro to sell the surplus back into the grid is not yet in place.
If people can easily sell that surplus it can act as an incentive to invest in green energy as they can recoup that investment quicker.
Paula Carroll, Assistant Professor at the UCD Energy Institute, said Ireland has been very slow to adopt solar micro-generation compared to other European countries such as Germany.
She said that is partly because of the perception that we are too far north but solar panels do work in Ireland.
"In a way we're getting second mover advantage, because they invested in all of that, which means there was lots of research and lots of innovation so the technologies have improved," Ms Carroll added.
She said in terms of meeting climate targets the Government needs to move on this area.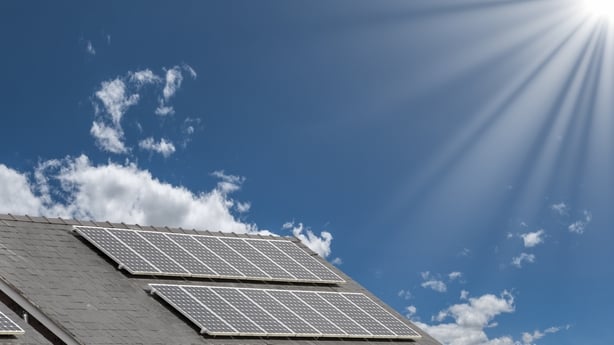 On the technical side of things, ESB Networks has said it was ready to connect microgeneration.
Ellen Diskin is responsible for the National Networks, Local Connections programme.
"The grid is ready for microgeneration, we do need to be notified, to make sure that notification process is free, quick and simple nowadays.
"What's coming next is rules for payment, pricing and also smart metering so we can measure what people are selling out into the grid," she said.
ESB Networks said it was working to have smart meters rolled out to customers with microgeneration before the payment regime is announced.
Ms Diskin said microgeneration is more efficient than sending power over long distances over the grid and the green principle of shop local, consume locally also works for electricity.
On how much microgeneration the grid can accommodate, she said "estimates are going up and up because we're seeing uptake really accelerating ... so we're planning for high penetrations".