If you pop into your local supermarket this weekend, you can expect to find apples from New Zealand, Chile and other far-flung places.
While those apples were being shipped thousands of kilometres across the globe, a group of volunteers in Ireland have been busy harvesting the seasonal glut of local fruit in Irish orchards.
However, the fruits of their labour are not destined for supermarket shelves. The Falling Fruit Ireland volunteers are collecting it to distribute it to local charities and food banks. If they didn't, it would simply fall to the ground and rot.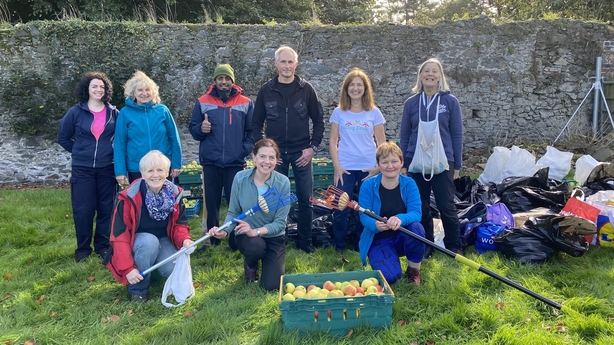 Bernie Brannick founded the harvesting project in 2015.
She said: "I would be very much against food miles and the idea of apples being shipped from New Zealand to Ireland when we have the most beautiful apples growing here.
"I love the idea of local community and bringing people together to share food and to support people in food poverty in their local area."
On the day that we met, Bernie and her volunteers were collecting fruit from a private orchard at Townley Hall in Co Meath. They estimated that they had picked over 600 kilos of apples in just a few hours.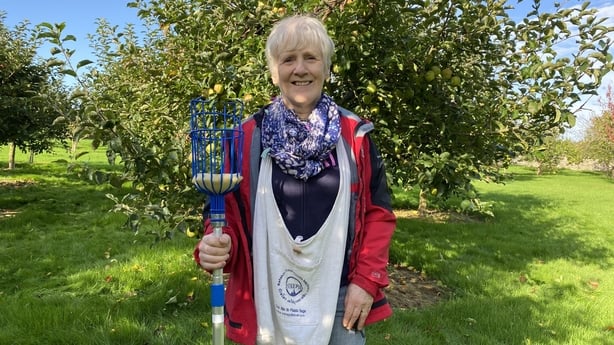 One of the volunteers, Patricia Larkin, said: "I thought when we started, we'd have a few trees here, a few trees there and then we started finding the orchards and they're so big and there's so much fruit.
"We have filled ourselves to capacity in just an hour here. We could do four or five more days' worth of picking here and still have tonnes of apples."
The apples at Townley Hall are all native Irish varieties such as Kerry Pippin, Blood of the Boyne, and Irish Peach.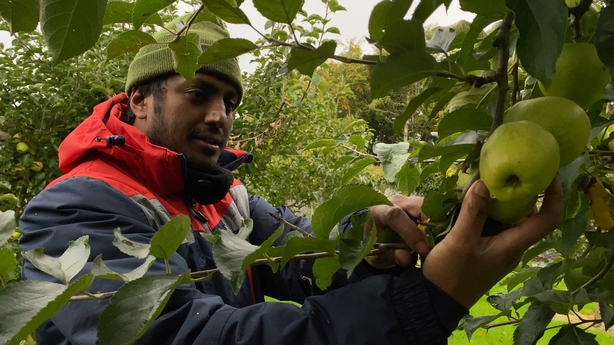 That day's collection was the second time Dave Mukherji had volunteered with the project and sampled some of the apples as he worked.
He said: "They're really nice. I've had two. I'll bring some home to make a pie. It's a good bit of exercise. It's a good bit of craic. We are doing something useful and we get some nice fresh apples. What's not to like?"
The apples were destined for FoodCloud to be juiced. But Bernie sometimes struggles to find a home for their harvests.
She said: "Our biggest problem is finding charities. I phone up charities and they say, 'Yes. Thank you. We'd love to take some but just give us one crate'. Nobody can deal with this volume of fruit. It costs money to have them juiced and that's the problem.
"Now I know that we are all a bit spoilt. We want apples all year round so that's part of it. People get so accustomed to just walking into the supermarket and buying apples. It's so easy. But I think it's such a shame that we can't sell the Irish apples in shops.
"I would love a Falling Fruit group in every county in Ireland. People come together picking. We've had such lovely time here.
"These volunteers are the most wonderful people. I'd love to see that happening in all the towns. People just getting together like that to have fun together, to do something out in the open, connecting with nature, connecting with food that is grown locally.
"Real food that is there and to create awareness of how much food there is around us".