A group of friends in Co Dublin have been crafting colourful climate messages for display at next week's key COP26 climate summit in Glasgow, Scotland.
The self-proclaimed "oldies" from Shankill are looped in with the UK-based 'Stitches for Survival' group, a sprawling network of knitters, crocheters, stitchers and crafters who together are aiming to create a 1.5 mile (2.4km) 'scarf' to send to COP26.
The length of the scarf represents the 1.5C global warming target set out in the 2015 Paris Agreement.
The Shankill group has created 20 panels so far.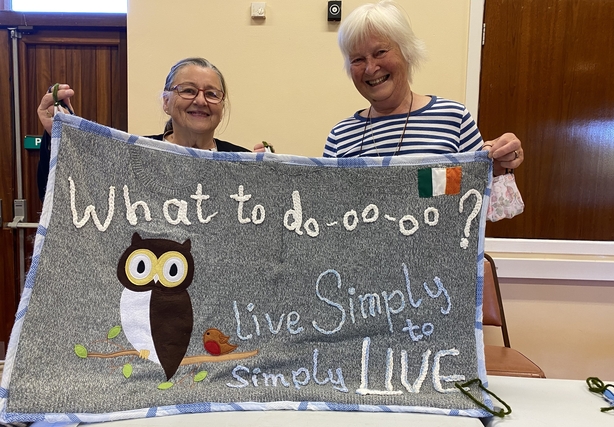 Organiser Kathie Davey said: "Single panels have gone already. There is a group up in Glasgow who are busy stitching them together into blocks of 20. We are going to send a block of 20.
"This project started in Scotland to raise awareness of the climate change crisis that we are beginning to endure. And to sensitise people to the COP26 conference in Glasgow.
"The governments are going to have to bite the bullet and take serious action. That is really going to hurt our pockets and our lifestyle. And unless the public are behind these measures, they won't be taken. And that is really what the panels are about."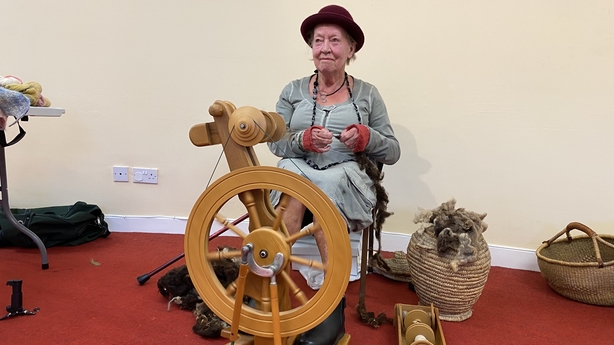 June Nursey, 83, has been using her spinning wheel to create her panel, thinking about her eight-year-old grandson as she spins.
She said: "He's a lovely boy and I'm hoping that there will be a future for him and other youngsters. I just feel that future generations are really going to pick up the mess of what we have created over the years."
Another member of the Shankill group, Bernie Healy, explained that the idea for one of her panels came from "the need to look after the soil, biodiversity, and the needs of all the little, small creatures that we sometimes forget about".
She added: "Peaceful protest is just so important. And I think sometimes that it has a big impact. To think what is behind all of this, the people, everything. There's just so many stitches gone into this. It stretches far and wide."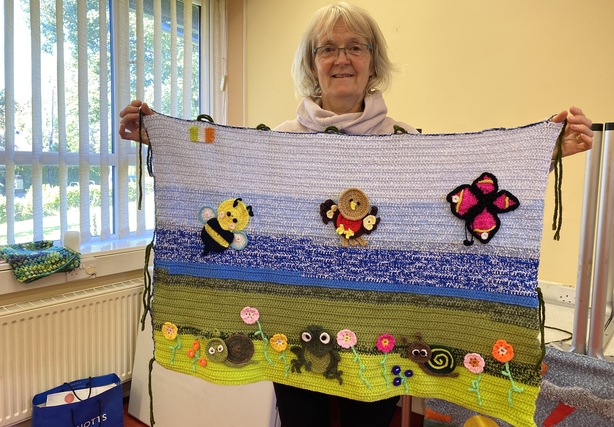 Ahead of COP26, the Shankill group's panels have already been proudly displayed at last month's Global Climate Strike in Dublin.
Kathie explained that it was important for older people to stand in solidarity with the younger generation.
She said: "We are the 'oldies', the ones who like using our hands. And we're here to let people know that there's a terrible crisis on for the climate. And it's great to be here with all the young ones. It makes us feel a bit younger too."
COP26 opens in Glasgow on 31 October.
The two-week conference is widely thought of as the last chance for world leaders to commit to action on climate change ahead of the 2030 deadline to cut greenhouse gas emissions to limit global heating to 1.5C above pre-industrial levels.
Kathie said: "We can't take back what's been done but we can slow it down and prevent it from getting, please God, much more than 1.5C."