The Department of Health has confirmed 1,578 new cases of Covid-19.
There are 484 people in hospital who have tested positive for the virus, up 25 since yesterday. 73 of these are in intensive care, down one over the past 24 hours.
The number of people hospitalised with Covid-19 has risen by 44% over the last two weeks. It compares to 400 people on this day last week and 333 patients on this day two weeks ago.
According to an update from the Health Service Executive last night, there were 11 adult public ICU beds left available in the system along with one paediatric ICU bed.
HSE chief executive Paul Reid said: "Time for us all to hit the reset button. 1. If unvaccinated, you're at higher risk, resulting in a disproportionate impact. Do the right thing. 2. For the rest of us, time to do the basics well again. Both of the above work."
In Northern Ireland, three further deaths of patients who had previously tested positive for Covid-19 have been reported.
The Department of Health also confirmed another 1,091 cases of the virus.
This morning there were 347 Covid-positive patients in hospital, of whom 34 were in intensive care.
Meanwhile, the HSE has said over 3,300 people registered for a Covid-19 vaccine over the weekend.
The figure comes amid renewed appeals in recent days for those who are unvaccinated to avail of a vaccination against the virus.
Last week it was revealed that just under 300,000 people had not come forward for inoculation, while a further 70,000 had received just one dose of a two-dose schedule.
The HSE said 3,315 people registered between Friday and Sunday.
Of those, 988 are aged between 12 and 15 years, 242 are aged 16 and 17, while a further 811 are in the 18 to 29 age cohort.
The HSE said 655 who registered are aged 30 to 39 years and the remaining 618 are above 40 years of age.
---
---
A specialist in infectious diseases, Professor Sam McConkey, said the "shocking and disappointing" rise in hospitalisations and ICU admissions as a result of Covid-19 is disrupting regular hospital services.
Prof McConkey told RTÉ's Today with Claire Byrne programme that a quarter of the country's ICU beds are now being used to treat people with Covid-19 which he says "really disrupts the regular care" that can be provided to those who are very ill in Ireland.
He said that the situation is "not a good way to go into winter with flu coming".
Prof McConkey said that people should not see 22 October as "a freedom day" and that ventilation, mask wearing and physical distancing needs to continue in society.
He said that with case numbers as high as they are now, he favoured allowing employees to continue to work from home where possible.
NIAC's position on the provision of booster vaccines is eagerly awaited, he said, and that ideally a booster should be provided for everybody but that "the when and which one is a difficult question".
His comments come before a meeting of the National Public Health Emergency Team (NPHET) later today ahead of the scheduled lifting of restrictions this Friday.
Government is expected to receive NPHET advice before making an announcement later in the week.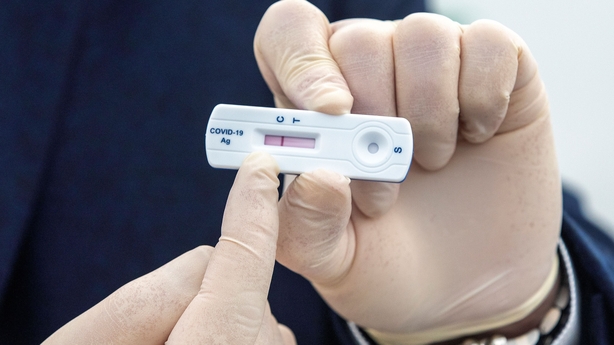 Earlier, the Chief Scientific Advisor to the Government said indoor ventilation was vital in helping prevent the spread of the Covid 19 airborne virus especially at venues such as nightlcubs.
Professor Mark Ferguson also said while antigen testing has a role in combatting Covid-19 it is not a solution in itself.
But used with mask wearing, social distancing and good ventilation it can help prevent the spread of the virus.
Meanwhile, an Intensive Care Physician in University Hospital Limerick has said she believes the Covid cert should be maintained as it's "very useful".
Speaking on RTÉ's Drivetime, Dr Catherine Motherway said if nightclubs are going to reopen, she is assuming that they are going to continue to require vaccine certification with "reasonably good testing on the way in".
258 people admitted to ICU from late June
The total number of people admitted to intensive care units with Covid-19 in the 14 weeks between June 27 and October 2 this year was 258.
The Health Protection Surveillance Centre reports that of those admitted to ICUs, 57 people died.
In the report, the patient's vaccination status is also highlighted - out of the 258 admitted, 149 were not vaccinated.
In a breakdown of the ages of the people who were treated in ICU for Covid-19, the HPSC reports ten were aged between 15 and 24, while just over 34% were aged 65 and over.
Three quarters of those admitted had an underlying medical condition.
Twelve pregnant women were admitted to intensive care units during this time - ten of those were in their third trimester.
Eleven of those women had not received a vaccine.
Not enough staff to provide safe care to patients - INMO
The general secretary of the Irish Nurses and Midwives Organisation has said it is imperative that there is enough nursing staff to open ICU beds this winter.
On RTÉ's Six One, Phil Ni Sheaghdha said that despite assurances from Minister for Health Stephen Donnelly of 19 more beds, there are not enough staff to open the beds.
Ms Ni Sheaghdha said that of the hospital beds that are open, some are not sufficiently staffed.
She said that not enough nurses are on duty tonight for the volume of patients that they are expected to safely care for.
The most important requirement is adequate staffing levels, Ms Ni Sheaghdha added.