Britain is considering a number of options to boost the security of MPs after a parliamentarian was stabbed to death during a meeting with constituents, Home Secretary Priti Patel said today.
The killing of David Amess, from Prime Minister Boris Johnson's Conservative Party, took place five years after the murder of Jo Cox, from the opposition Labour Party, and has prompted a review of politicians' security.
Mr Amess, 69, was stabbed repeatedly in the attack on Friday in Leigh-on-Sea, east of London, during a meeting in a church.
Police arrested a 25-year-old British man at the scene on suspicion of murder and have said it is believed he acted alone.
"The speaker has already put in a range of measures post-Friday as we have with policing," Ms Patel told Sky News.
"Within that there are other options that are being considered such as when you hold your surgeries, could you have officers or some kind of protection...?" she said.
"Now it's not for me to determine the mechanism for that right now but there are discussions under way right now looking at a whole spectrum. That's only one example, and there are others as well that are actively under consideration right now."
She said it is "not necessarily about new resources" but said "we will do absolutely everything to - for me and for the government - this is about safeguarding our democracy and enabling our elected representatives to carry on doing what they do, serving the public."
Asked if she would consider airport-style security, Ms Patel said: "That would be with the police and the House authorities. There are lots of things under consideration already."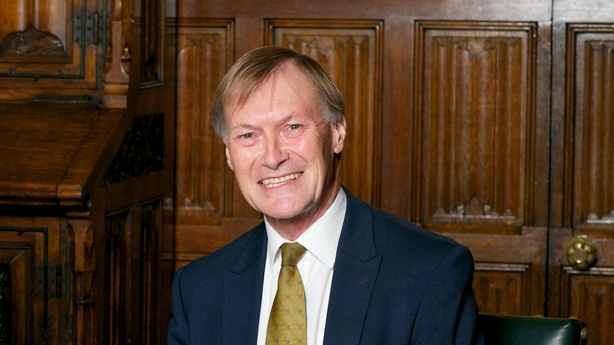 A man arrested at the scene on suspicion of murder was later further detained under section 41 of the Terrorism Act 2000 and is in custody at a London police station.
A warrant of further detention, which allows detectives to hold the man until 22 October, was granted at Westminster Magistrates' Court yesterday.
The name the police have for the suspect is Ali Harbi Ali, the PA news agency understands.
Official sources said the man is believed to be a British national with Somali heritage.
The investigation is said to be assuming there was an Islamist extremist motivation for the attack.
But it is understood the suspect was not, and had not previously been, a subject of interest for security services.
As part of the investigation, officers were carrying out searches at three addresses in the London area, Metropolitan Police said. One search has now concluded.
A post-mortem examination took place yesterday, police said, but its findings have not yet been released.
Scotland Yard said the country's most senior counter-terror officer, Deputy Assistant Commissioner Dean Haydon, has formally declared the incident as terrorism and said early investigations had revealed "a potential motivation linked to Islamist extremism".
Additional reporting - PA