The mother of a toddler who almost drowned in a pond at her home last year has paid tribute to those who saved her life, saying it's a miracle her daughter is alive.
Two-year-old Therese Hickey from Castleblayney in Co Monaghan has made a full recovery and family is hoping her story will raise awareness about the importance of CPR.
"It was Monday, 3 August, 2020, the bank holiday weekend and we found my daughter floating in the pond outside. She was unresponsive," said her mother Melinda Hickey.
"I was 39 weeks pregnant but I jumped in and started doing CPR. We called the emergency services and my neighbour Ian and he was a great help," she explained.
Melinda Hickey carried out CPR on her daughter until the emergency services arrived and began working on the toddler, who's heart had stopped beating twice.
"Even though the situation was very stark, we knew she was in the best hands, right from the first responder who arrived on the scene to when we left Temple Street hospital," said mother Melinda Hickey.
Today, over a year later, Therese Hickey and her family were reunited with the team of people who saved her life.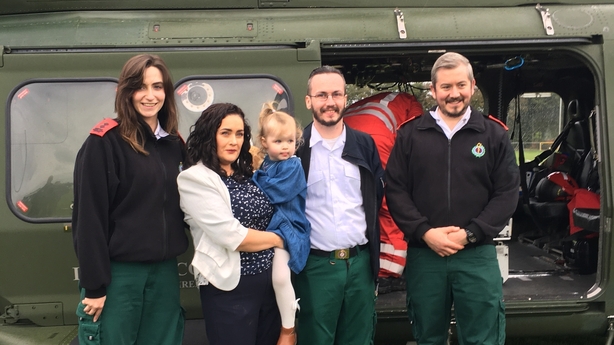 Among those in attendance at a small gathering at the Ambulance station in Castleblayney were the paramedics and gardaí who attended the scene along with the fire services and other first responders.
"I remember taking the emergency call. The baby's brother said his sister had fallen into a pond so I know we were dealing with a serious incident," said Conor Hoey, Emergency call taker from the National Ambulance Service.
"I reassured the family, talked them through CPR and kept them focused. They did a great job and it's great to see this outcome," he added.
Niall Kelly was one of the first paramedics to arrive at the house. He was on his way to Drogheda when the call came into the National Ambulance Service.
"I arrived at the house and I remember how cold Therese was. She had a vacant stare and we continued CPR. The fire service and gardaí arrived and the decision was made to airlift her to Temple Street," he explained.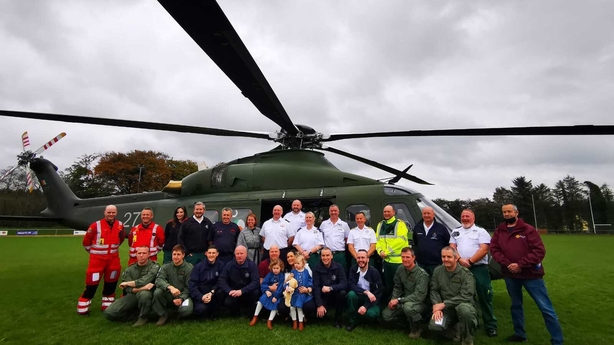 Doctors at Temple Street were waiting for Therese and were aware of the serious condition of the child. Dr Cathy Gibbons, Paediatric Consultant Intensivist, said the weekend is etched in her memory.
"The prognosis wasn't good. We had to get the team reading for resuscitation but also for the fact that she might not make it," explains Dr Gibbons.
"She really is a miracle story for us and she's someone I return back to on the hard days to remember what we do is good work," she said.
The Hickey family is hoping their daughter's story of recovery will encourage others to learn CPR. Today is World Restart a Heart Day, an awareness campaign around the importance of CPR.
"I was the only person in the family who knew CPR. My neighbour Ian helped but it wasn't until afterwards, we realised how important it is," explained Melinda Hickey.
"You never know when you're going to need. I didn't think I was ever going to use CPR," she added.
The family say Therese has made a great recovery and they are thankful for all the efforts that were made to save their daughter's life.
"It's a miracle she's alive and I just thank God for all of the people who all came together, the first responders, the people there on the day, because she wouldn't be here today only for them," she said.