Westlife's Mark Feehily has joined the voices of those campaigning for the introduction of surrogacy legislation in Ireland.
The singer, whose child was born to a surrogate in the United States, has chosen to speak publicly on the issue for the first time.
Like other parents in this country, Mr Feehily is calling the Government to publish legislation to regulate surrogacy.
He said: "The biggest part for me is that I'm a dad and this directly affects my child and my family and so of course that's the main reason, but also it's an opportunity that I can't let pass, to contribute in some small way to help in something very important.
"Change is a really important thing in every country and as a country we're so proud of our culture and our history, but we always have to create a new history, these sort of changes are vital and crucial in the storyline of any nation and you have to grow and move with the times."
Mr Feehily believes the Government is going to "do the right thing" and while talking about politics is not something he has done in the past, he says he is speaking out for the welfare of his child.
"It's something that I didn't even think twice about because I'll do anything for my child as any parent would," he said.
"It's all about parents taking care of and minding their children and in order to do that 100%, we have to all be legally covered, you know, and that's what this is all about. It's quite a simple thing really."
Mr Feehily and his partner Caileann had their daughter via a surrogate two years ago.
This interview takes place on her birthday. In the background, there are balloons and presents, ready to be opened.
We need your consent to load this rte-player contentWe use rte-player to manage extra content that can set cookies on your device and collect data about your activity. Please review their details and accept them to load the content.Manage Preferences
"It's weird that this is happening today, because this interview marks Layla's second birthday", he said.
"I'm wary all the time of talking about her and posting things about her, but I think she'll understand in the future that what I'm doing and why I'm talking is what any parent would do. And pave the way as best I can for my kid and create a better place for her to grow up in."
The bill on assisted human reproduction (AHR), which includes surrogacy, is being drafted by Department of Health officials, in conjunction with the Office of the Attorney General.
The department has reiterated that the legislation "is a priority".
Asked if the legislation would be published before the end of the year, it said that along with the Office of the Attorney General, it would continue to engage intensively over the next few months to finalise the complex legilsation.
It said it was not possible to give a definitive timeline for the publication of the Bill and its subsequent passage through the Houses of the Oireachtas.
We need your consent to load this rte-player contentWe use rte-player to manage extra content that can set cookies on your device and collect data about your activity. Please review their details and accept them to load the content.Manage Preferences
Underlying stress caused by a lack of legislation
In the meantime, a growing number of families who like Mark and Caileann have had children through surrogacy are calling for recognition under Irish law.
Only one person can have guardianship over babies born through surrogacy and that is the biological father.
The other parent can apply for guardianship after two years.
Mr Feehily said understandably, people think legislating for surrogacy is about people getting two names on a birth certificate as parents, but he said it was more than that.
"The medical implications of the current status of the legislation - hypothetically speaking you could end up in dark murky waters if you were unlucky enough - it's really important in say emergency services situation for a parent to sign a consent form for surgery to be done," he said.
It is also evident from Mr Feehily that there is an underlying stress attached to being a surrogate parent without legislation.
"For couples in our position, even something like bringing your child in for their jabs, like everyone does, and you're worrying if so-and-so's name isn't down as a parent are they going to turn me away in front of everyone in the waiting room?
"That's a very stressful thing and there's lots of stuff like that in day-to-day life that people in our position - especially the parent who's sort of left out by the law - they'll be constantly worried about that", he said.
That worry extends to other parents such as Sinead and Mark Gallagher-Hedderman, whose story pushed the issue of surrogacy in Ireland into the spotlight when they sought to return home earlier this year with their baby who was born in Ukraine.
Theo was just over a week old when they faced Mandatory Hotel Quarantine due to Covid-19.
Minister for Health Stephen Donnelly enacted a new regulation, which, for the first time, recognised surrogacy in Irish law.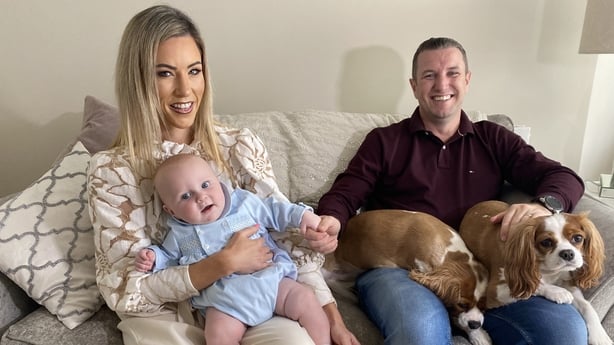 Theo, who is now six months old, features in a that which has been launched by Irish Families Through Surrogacy.
It is voiced by a child actor calling on the Government to legislate and Sinead said it gives children like Theo a voice.
"At the end of the day, we're his parents and we need to ensure that his voice is heard. I am the only Mammy he's only ever going to know, but in the eyes of the law, I'm not deemed that", she said. "I wanted my son's voice shown and the reality for him as he grows up in the absence of legislation."
Sinead wants to see international surrogacy recognised in the legislation and for babies like Theo to be retrospectively recognised.
The involvement of Mark Feehily and his willingness to introduce the video on his social media and tell his family's story has been welcomed by the couple.
Mr Hedderman said it does not matter whether a child has two dads or two mams, everyone is fighting for the same cause.
"Mark [Feehily] put himself out there and from a personal perspective, it can't have been easy, there's immense gratitude from myself and Sinead for his involvement in this," he said.
Annette Hickey, who is advising a growing number of couples seeking surrogacy, said that without legislation, there are dilemmas facing the legal profession.
"I need to be able to say as a solicitor here is international surrogacy, here is our legislation, this is the criteria, this is what's involved," she said.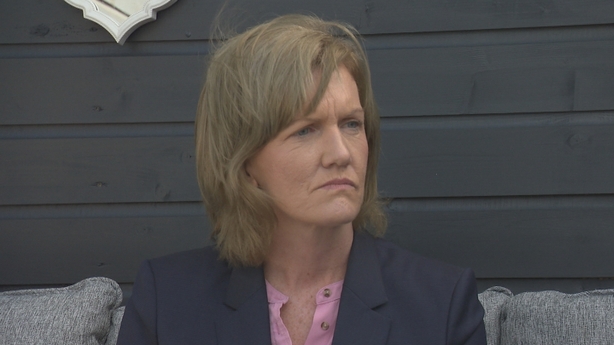 Ms Hickey said that when a couple lists a country outside of the legislation, she can then say, "we don't want to be going there".
Through his involvement, Mark Feehily simply wants the conversation about surrogacy to be open and for it to continue.
"I'm not saying I can affect massive change, but even if a few more people know about this than they did before I started to talk about it then that's the job done for me," he said.