Ireland has joined 14 other countries to establish a new Maritime Protected Area which covers an area eight times the size of this country's land mass.
The North Atlantic Current and Evlanov Sea basin Marine Protected Area (NACES MPA) covers almost six million square kilometres and is a vitally important area for seabirds in the North Atlantic.
It is located approximately 1,500km west of Ireland.
It is home to up to five million seabirds across 22 different species, including five – such as the Atlantic Puffin – that are globally threatened.
Other threatened species, like the wide-ranging basking shark and leatherback turtle, also use this area.
It includes an important feeding and foraging area for more than 20 species of seabird, and is used both by birds breeding on the coasts of the North-East Atlantic and by those migrating across the globe or nesting in other parts of the world.
The declaration was made at an OSPAR [Oslo/Paris convention for the Protection of the Marine Environment of the North-East Atlantic] meeting at Cascais in Portugal.
OSPAR comprises 15 convention nations set up to protect the North-East Atlantic from pollution and to protect biodiversity and eco systems. Ireland currently holds the Chair of the OSPAR Commission.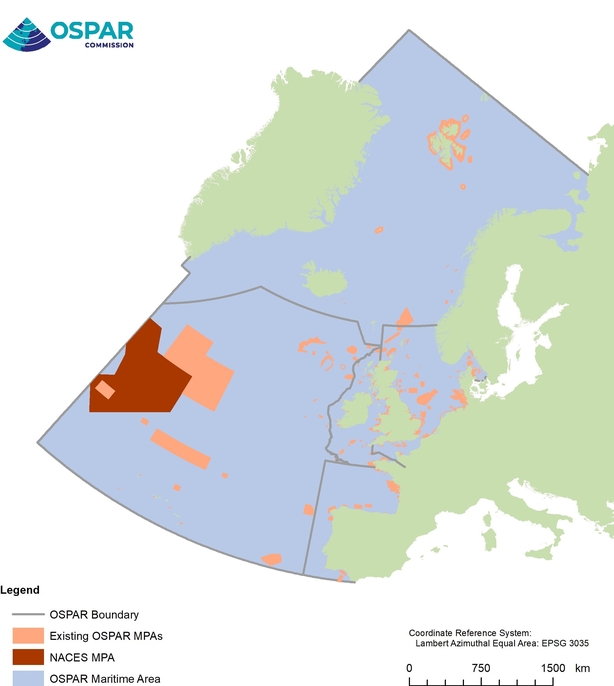 Minister Malcolm Noonan attended the meeting in Cascais, signing the Ministerial Declaration and signalling Ireland's support of the new MPA and 2030 Strategy.
"The designation today of the North Atlantic Current and Evlanov Sea basin Marine Protected Area ... is a really positive development in the future protection of seabirds and biodiversity," he said.
"Ireland will play a lead role in protecting this area, at the same time as we work towards creating a network of Marine Protected Areas to 30% of our maritime area by 2030."
Minister Noonan added: "The decisions made here today are crucial in dealing with the global challenges of protecting our climate, our biodiversity and our marine environment."
Worrying declines in seabird numbers shown in OSPAR's 2017 Intermediate Assessment were stark enough for OSPAR to conclude that "seabirds are in trouble".
Declines were detected in many species and vulnerabilities to pressures in their environment were shown in all life stages.
By establishing this Marine Protected Area, OSPAR has achieved the United Nations Convention for Biological Diversity 2020 Aichi target of designating 10% of its maritime area as MPAs.
At the Cascais meeting, members also approved a new North-East Atlantic Environment Strategy to 2030.
Signed by the 15 ministers and the EU Commission it includes an "aim to achieve zero pollution by 2050 and commit to reducing single-use plastic items and maritime-related plastic items on our beaches by 50% by 2025 and 75% by 2030."
The Declaration also acknowledges that offshore renewable energy will "play a key role in decarbonising our economies in the coming decades but knowledge gaps still exist about its impact on the marine environment".
Parties will "take action to promote and facilitate the sustainable expansion of renewable energy developments while respecting our commitments to a healthy and biologically diverse marine environment".