As the Afghan capital fell to a Taliban lightning strike at the end of August, and the lives of Irish citizens and residents were on the line, our Government faced a major dilemma.
Put simply: We didn't have a military plane, with long-range heavy airlift capability, which could land in Kabul and get them home.
The result? Ireland had to rely on allies to do the job for us.
In this case, France and Finland kindly allowed us to avail of their spare capacity, and 36 people were repatriated to Ireland.
Minister for Foreign Affairs and Defence Simon Coveney told the Dáil this week that a total 50 Irish citizens, and their direct family members, currently remain in Afghanistan.
Additionally, there are a number of Afghan citizens with Irish residency rights, who wish to return to Ireland.
It would have been almost impossible for all of these people to get into Kabul airport amid the chaos of the Taliban takeover.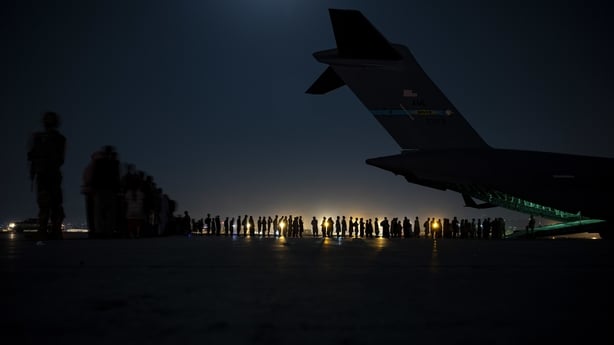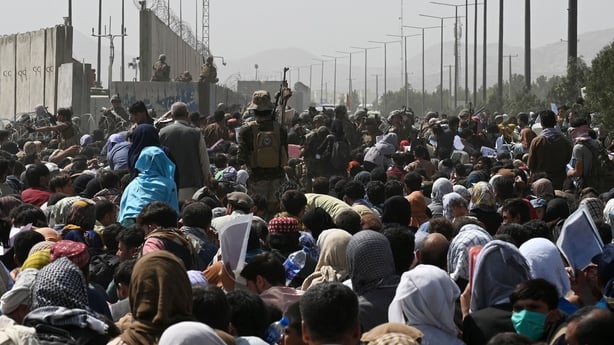 But it is also certain that more than 36 people would have been repatriated to Ireland had the Defence Forces possessed such a military plane.
Instead, those left behind have had to remain in Kabul and live in fear of a bang on their door from a Taliban patrol.
Independent TD Cathal Berry, who served 23 years in the Defence Forces, including six years in the elite Army Ranger Wing, described this situation as "humiliating".
He told me: "Ireland and tiny Malta are the only two EU countries without the capability to independently evacuate their own citizens or troops overseas. We should be net contributors to these types of operations, not freeloaders. We should be bringing solutions, not problems."
It's an important question: Is it acceptable that the Irish Government does not possess the military capacity to protect its citizens in such situations?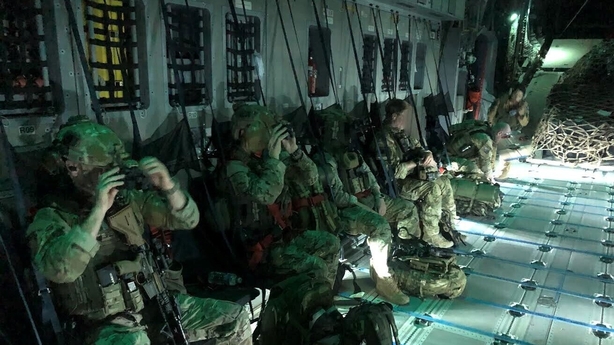 I first wondered about why we didn't have a military transport plane back in the early 1990s when travelling with a contingent of Irish peacekeepers on their way to southern Lebanon for a six-month tour of duty.
We boarded a civilian flight from Dublin to Tel Aviv and I watched with wonder as the soldiers tried to stuff their Austrian-made Steyr rifles into the overhead luggage bins.
Nearly 30 years on, the debate continues about what strategic capacity our Defence Forces should have.
The question of whether to acquire a military cargo plane is one of the issues being considered by a Commission on the future of the Defence Forces. It is due to report before the end of December.
Deputy Berry and others argue that the value of such a plane would not be limited to rare events like the collapse of Kabul.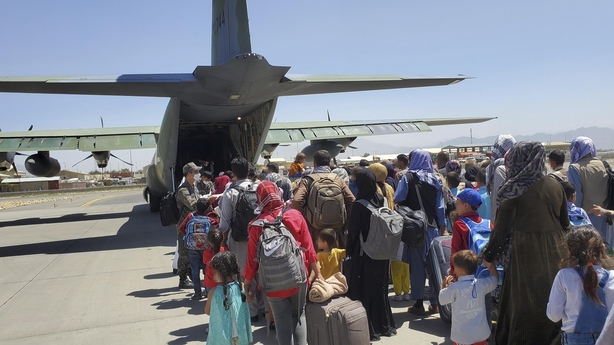 It could be used for routine troop deployment on UN duties to Lebanon and Chad, for example, as well as transporting humanitarian aid around the world.
One stumbling block, however, is the substantial price-tag - a new plane could cost in the region of €200m-€250m, and that is not including ongoing service costs.
Irrespective of the financial question, such an acquisition would undoubtedly be controversial in political terms.
For example, Dublin South West TD Paul Murphy of People Before Profit argues that the lesson of recent events in Afghanistan should not be that we increase our military capabilities.
He says: "Instead, it should be an assertion of real neutrality and a commitment that we will never again participate in imperialist wars. Instead of increasing military capacity, we should look after existing Defence Forces personnel, by paying them properly."
Deputy Murphy is not alone on the issue of pay.
Indeed President Michael D Higgins, who under the Constitution holds the title of Supreme Commander of the Defence Forces, remarked in 2019: "Serving men and women should have conditions - including an income and prospects - that are sufficient to provide for themselves and their families."
But does it have to come down to a choice between better pay for our Defence Force personnel, or Ireland having a military cargo plane?
Donegal Independent TD Thomas Pringle is of the view that big spending on a big military plane is just unnecessary.
He told me: "Why would they need it? They could have commandeered an Aer Lingus jet, or a Ryanair jet, if they were serious about getting people out [of Kabul]."
Civilian flights from Qatar Airways are now regularly flying in and out of Kabul.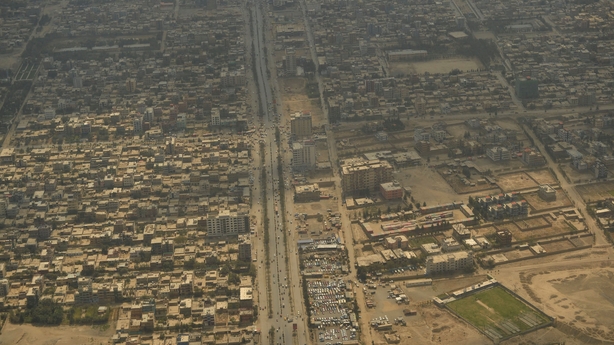 That was the means by which a further 11 Irish citizens, and their direct family members, escaped from Kabul to Doha in recent days.
But when the Afghan capital was falling into Taliban hands, military planes were the only viable option.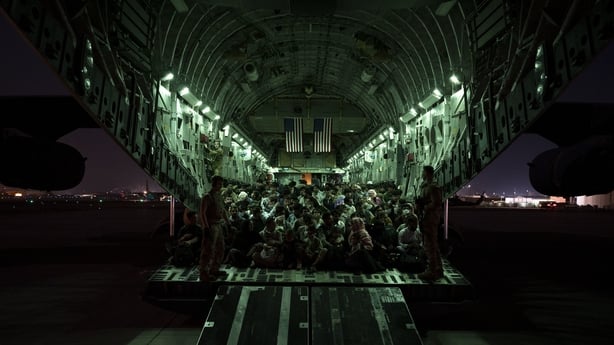 It is significant that not everyone on the left of the political spectrum sees this issue in the same way as deputies Murphy and Pringle.
For example, Sinn Féin Defence Spokesperson Sorca Clarke gave a nuanced answer to the question of whether Ireland should own a military cargo plane.
She told me: "We, as a State, should be able to ensure that where there is an emergency event - be that due to political uncertainty, natural disaster, climate change impact or pandemic - that we are in a position to ensure our citizens can be returned as quickly as possible to safety without over-reliance on third parties or governments."
She continued: "Any purchase of long-range aircraft needs to be considered in conjunction with military management, and with a view to our current and future humanitarian and peacekeeping obligations."
The party is waiting to see what recommendations come from the commission before finalising its position.
The Social Democrats say they have no principled objection to the purchase of a military cargo plane but, given Ireland's small size, want to see the recommendations of the commission on whether they deem it necessary.
Deputy Cathal Berry argues that Ireland should buy without delay: "A military without such an independent airlift capability is like a farmer without a tractor or a jockey without a horse - it really is that fundamental. Ireland is constantly hitching lifts from other nations and it is starting to grate with them, causing significant reputational damage."
However, there is no guarantee that the commission will recommend backing the plan to buy a plane, as there are other competing demands and priorities.
Fine Gael Minister of State Martin Heydon is of that view: "While I would like to see us having long range military aircraft, I am very aware that we also require aircraft for an intelligence surveillance acquisition and reconnaissance, along with the need for aircraft for maritime patrol."
He referenced a five-year equipment development plan for the Defence Forces, saying: "The main aim … is to replace and upgrade, as required, existing capabilities to retain a flexible response for a wide range of operational requirements at home and overseas."
The former Fianna Fáil government minister and current MEP for Dublin, Barry Andrews, suggests it does not have to be a binary choice - Ireland could take a wider view and look to Europe.
He contends that while "nobody can object to being able to operate a humanitarian airbridge", it does not automatically mean the State has to spend quarter of a billion euro on a military plane.
The MEP suggests: "It could be done under a PESCO crisis management project."
PESCO?
That's jargon for the EU's Permanent Structured Cooperation - a security and defence agreement aimed at structural integration. A majority of EU member states, including Ireland, have signed up to it.
A second option is for Ireland to join-up to the European Air Transport Command in which seven EU member states already pool their air mobility assets.
But any mention of closer military cooperation sets off immediate political alarm bells.
When PESCO went to a Dáil vote in 2017, it passed only by a margin of 75 to 42 - with some vociferous arguments against such a move.
The Labour Party's Defence Spokesperson Brendan Ryan said bluntly at the time: "This is overt militarisation of the EU. It is clear and it is plain."
It was no surprise, therefore, that there was an immediate response to last month's State of the Union address by European Commission President Ursula von der Leyen.
She told the European Parliament that the EU should develop a defence union in the light of global security challenges and, in particular, the Taliban takeover of Afghanistan.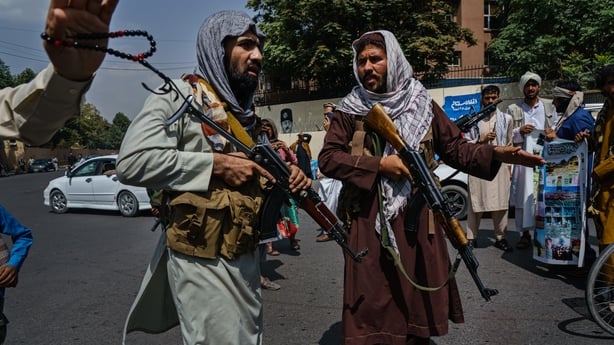 The Commission President highlighted the threats of cyber attacks and an arms race in space and she urged the EU to develop a multi-disciplinary response to security crises.
She said: "The good news is that over the past years, we have started to develop a European defence ecosystem. But what we need is the European Defence Union."
The reaction of PBP TD Paul Murphy was clear: "This is what the Irish political establishment told us repeatedly was just a fantasy and yet bit by bit we are moving towards a European army. We are completely opposed to this."
Independent TD Thomas Pringle believes "closer defence union [is only] needed for the colonial powers to push Africa to keep providing raw materials for Europe and keep people out".
Barry Andrews argues that this is overstating matters.
He contends that the purchase of a military cargo plane would be "a long way from ... a defence union. Nevertheless, any steps in that direction need to respect the Constitutional position of non-aligned member states [like Ireland]."
Independent Deputy Cathal Berry thinks that a defence union is needed now: "It makes sense. Recent events have illustrated that we can no longer rely on the United States to underwrite the security of Europe and its immediate neighbourhood. Whether we like it or not, the US is pivoting towards the Pacific and we need to accept this fact and respond accordingly."
Is it possible to disentangle the purchase of a military aircraft from a wider question of deeper military cooperation with EU member states - many of whom are also members of NATO?
In political terms, almost certainly not.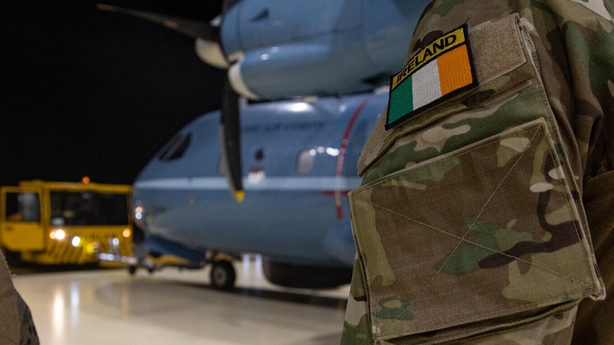 For the Irish Government, the immediate priority is to try to help those Irish citizens, their families, and people with residency rights who are still in Kabul and beyond.
Minister Coveney told the Dáil this week: "I know there are many with deep concerns for family members, friends and colleagues who remain in Afghanistan. I can give full assurance that the Government remains strongly committed to assisting those requiring ongoing consular support in Afghanistan."
Equality Minister Roderic O'Gorman said that in excess of 370 Afghan citizens have been offered support through the Irish Refugee Protection Programme and over 150 people have already arrived in Ireland.
Earlier in the week, Minister for Justice Heather Humphreys announced the Government had agreed to provide up to 500 additional places for Afghan family members, due to concern about the Taliban takeover.
The sense of urgency and concern is clear.
Yet, how will the Irish Government explain itself if these people are injured - or worse - before a repatriation plane can land in Kabul? The obvious first question will be: why didn't you bring them home before now?