A man whose wife died four hours after giving birth has said that the couple walked into hospital "expecting the best day of our lives and it just turned out to be completely the opposite".
Nayyab Tariq died at Mayo University Hospital in March 2020.
Speaking on RTÉ's Liveline, her husband Ayaz Ul Hassan described the heartbreaking moments that he sat holding their newborn daughter while his wife was dying.
"Because I had the baby in my hand, I couldn't leave the room and so I just had to sit there and wait for someone to come in and tell me what's happened.
"I just had that feeling in me you know - something's gone wrong, terribly wrong - but no one's telling me what's wrong," he said.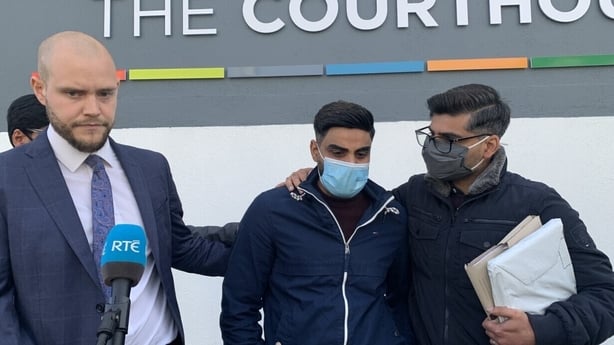 The grieving father recalled how they first met in 2014, having been introduced by their parents.
"We knew that this was going to be a lifelong relationship," he said.
The couple married in 2017.
Mr Ul Hassan spoke of Nayyab's first impressions of Ireland when she arrived in early 2018.
He said that when she landed at the airport she felt cold having left the much hotter climate in Pakistan, but driving home from the airport she was struck by the beauty of Ireland and its green landscape.
"You know it was a new experience for her in a different country, new people, new location, leaving everything behind wasn't easy for her," he said.
But she was "welcomed with open arms" when she arrived to Ballyhaunis, Co Mayo. "It was never like an outsider, very much like a family."
Mr Ul Hassan said that throughout the pregnancy there were no issues and it was "routine" and "as normal as expected".
"It was just that towards the last couple of weeks her platelet count had been dropping," he said, adding that medical staff were aware of this and monitoring it.
Ms Tariq had studied Microbiology and so she was "well aware of her own situation".
On the morning of 22 March 2020, she began to experience contractions. The couple called the hospital and were told to come in.
She was admitted to the labour ward between 9.30am and 10am and "that's where all the events occurred".
Mr Ul Hassan described the hours that followed the birth of the couple's daughter, leading up to when Ms Tariq died.
He said that when the baby was born there was a "gush of blood" and it trickled down the side of the bed, adding that this was "something that stuck in my mind" and he raised concerns.
But he said that the staff did not seem as anxious as he was. He said that there was "miscommunication between the staff".
The full details of the case were outlined at Swinford Coroner's Court
, which ended with a verdict of medical misadventure yesterday.
Mr Ul Hassan said that their daughter is thriving and keeping him busy.
"She's doing great," he said. "She's thriving, thank God. She's doing all of the things that babies do. She keeps us busy, keeps us on our toes."