The migrant women's networking group, AkiDwA, is reiterating its call for a national action plan on female genital mutilation (FGM).
FGM is defined as the partial or total removal of the external female genitalia or any practice that purposely changes or injures the female genital organs for non-medical reasons.
The practice is internationally recognised as a human rights violation of women and girls.
However, among some communities in Ireland, women and girls are considered ''impure", "outcasts" or '"unmarriageable" unless they undergo FGM.
According to Central Statistics Office (CSO) data from 2016, an estimated 5,790 women and girls living in Ireland have suffered FGM.
The 2015 European Institute for Gender Equality Report suggested as many as 1,632 girls living in Ireland are estimated to be at high risk of FGM.
---
'I trusted my grandmother, but she took me to a hut'
'Bolu' (not her real name) was about 12 years old when she was subjected to FGM in Nigeria, where she is from.
She thought she was going on holiday at her grandmother's house, but soon realised she had been tricked.
''I trusted my grandmother, but she took me to a hut where five women were waiting. I saw blades, a scissor and other equipment on the floor. I wasn't sure what was going on. When I asked, I was told to just lie down and take off my clothes," she recalls.
Bolu said she was held down and cut without any anaesthesia. "I kept bleeding and the rest of my holiday was spent in pain," she added.
In 2020, Bolu fled Nigeria to seek asylum in Ireland.
She had been subjected to physical abuse and threats by her husband, who wanted their daughters to undergo FGM.
Bolu said the abuse was so intense that she went into a coma and suffered from memory loss.
She is afraid she faces a lifetime of pain and trauma.
She said: "I don't enjoy sex. I see sex as punishment and my husband used that to victimise me. That was why I found it hard to understand why he still wanted our daughters to go through this harmful cultural practice."
---
The Criminal Justice (Female Genital Mutilation) Act 2012 makes it a criminal offence to remove a girl from the State to mutilate her genitals.
The maximum penalty for offenders is a fine of up to €10,000 or imprisonment for up to 14 years or both.
The Health Service Executive provides free sexual and reproductive care and counselling to victims, operating from the Everywoman Centre located in the Irish Family Planning Association in Dublin city centre.
However, AkiDwA, which has been marking its 20th anniversary this month, is calling for more support services, particularly in mainstream Irish hospitals.
The migrant women's networking group, AkiDwA, is reiterating its call for a national action plan on female genital mutilation. It wants more support services for FGM survivors, particularly in mainstream Irish hospitals. Read more: https://t.co/wWHlXLx73P pic.twitter.com/RQ59wtbUKD

— RTÉ News (@rtenews) September 29, 2021
"We want women affected to be able to go to any hospital in Ireland and be screened for the problem they have - whether it's in Donegal, Cork, Offaly or Meath. She shouldn't be made to travel to Dublin," Dr Caroline Munyi, Migrant Women's Health Coordinator of AkiDwA said.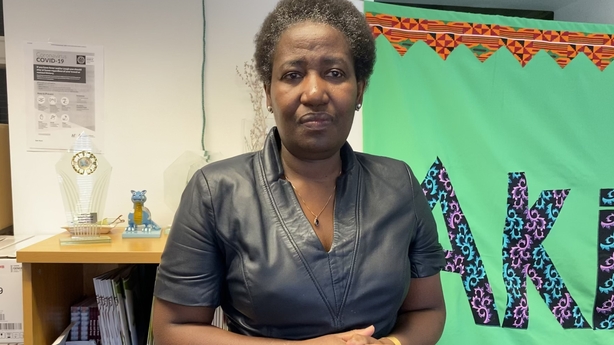 Dr Munyi believes that FGM is still a taboo subject in communities that practice it. She says the situation is not helped by the dearth of migrant representation in some healthcare services.
'"A woman may not feel safe enough to disclose their FGM status. However, when they come to us, they disclose their status because we offer that safe space."
Bolu agrees: "I've sought help in some hospitals, but I don't know if the staff really understood me. They understood it's a cut, but I couldn't say if they understood it completely."
She is receiving counselling but says that she still deals with trauma every day.
She hopes her story will inspire others to speak up and seek help.
'"I think there are a lot of people in Ireland who have undergone mutilation but are ashamed to talk about it. I have chosen to speak about mine because I believe it will help others."