This week we are shining a light on some of Ireland's most inspiring teenagers in our 'Quaran-teen' series of reports. They tell us about their experiences and stories of navigating life through the pandemic.
19-year-old Jenna Coughlan is typical of many Irish teenagers, in that for much of the pandemic she was stuck at home in her bedroom.
But while she found it to be "a very stressful time", those hours upstairs also led to a breakthrough in her fledgling career in music.
The Galway teen wrote and recorded a song in her bedroom that won an international songwriting competition.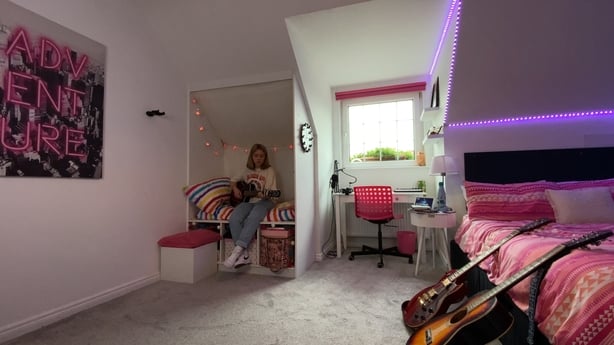 Jenna, who started writing music when she was 14, came across an advert for the competition as she scrolled Instagram.
She said: "I found online schooling tough. It was a very stressful time because the thing was we had no idea what was happening or whether we were going to have a Leaving Certificate. We were kind of in the dark.
"Art was a big thing for me during the pandemic. Everything I was doing was art or music related. There was just so much time for it being in your room all the time and I got inspired, I guess."
The competition aimed at young people asked entrants to write a song promoting environmental justice.
The international competition was run by California-based non-profit record label Future Youth Records.
Jenna wrote and entered her song entitled 'Smoke Storms' under the name Jenna Marie.
She said: "The topic was so different because I had never written about something like that before. The name of the song is 'Smoke Storms'. I was inspired after I read an article. It was about the forest fires and these wildfires that happen a lot over in America. After these fires, these clouds form. Those turn into storms, smoke storms as they're called."
Jenna was studying for her Irish orals when she found out her song was one of six chosen to appear on the album entitled 'Think Earth'.
She said: "It was the first week back to school after doing online school. I was literally studying for my Irish orals at the time, and I got an email saying you've been selected as one of the winners. It was so exciting and so unexpected because it was such a weird time. Every day was just school, study and then to get that email. It was such a shock."
In previous years, winners of the songwriting competition would have been flown to Los Angeles to record their track, however due to Covid-19, this was not possible.
Jenna recorded the song for the album in her bedroom with guidance over Zoom from producers based in LA.
As part of her prize, Jenna also received online workshops on songwriting production and music business from industry professionals.
'Think Earth' was released on 22 April in celebration of Earth Day.
Although she found online schooling tough, for Jenna, adapting to remote work was like "a blessing in disguise."
She said: "During that time my contacts were so limited and then I am having Zoom calls with some of the best music producers in LA! It really shows that you can do anything just from your bedroom. You can start creating what you want to create. If anything sparks an interest or whatever's your passion, if you just start working on it, you'd be surprised how much you can accomplish in such a short time."
Hear from the teenagers who featured in our earlier series of 'Quaran-teen' reports.