The Minister for Transport Eamon Ryan has said that public transport will return to 100% capacity next week.
Public transport is currently operating at 75% capacity under the Covid-19 restrictions.
Speaking on RTÉ's This Week programme, Mr Ryan said there would be a series of phased relaxations of restrictions for the month of September starting with public transport.
He said the change to public transport was to accommodate the return of schools, colleges and people going back to the office.
Mr Ryan also said confirmations and communions would return in September.
Restrictions on the number of people attending live entertainment would also be unwound through September into October.
However, Mr Ryan pointed out that with case numbers still high it would require personal responsibility and the continuation of mask-wearing. He also said organisations would have to look at ventilation.
The Department of Health confirmed 1,706 new cases of Covid-19 today. There are 347 people being treated for the virus in hospital.
Mr Ryan said the sunset clauses on a lot of the legislation governing restrictions would be reached shortly and that legislation would then be removed.
He said as a society "we can police ourselves without having to have overly strict structures".
Mr Ryan added that masks should remain mandatory on public transport.
Dublin Airport apologises for delays at security screening
Meanwhile, Dublin Airport apologised to passengers after lengthy delays getting through security screening areas this morning.
A number of people reported queuing for up two hours, with some passengers missing their flights as a result.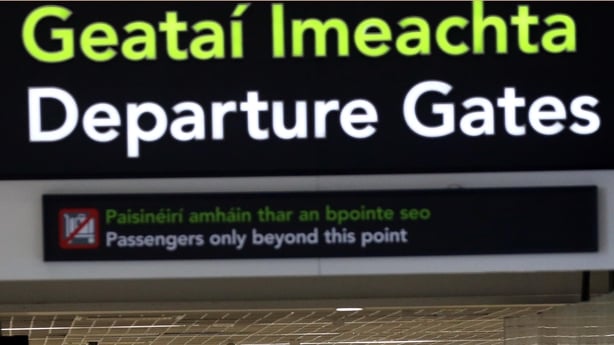 Some of those who took to social media said very few of the security lanes leading to the departures area were operating this morning.
There were also reports of delays through the fast-track security service and some passengers said they were waiting in line for 50 minutes.
Dublin Airport said it "experienced lengthy queues for security this morning" and it said "every resource was deployed" to the area to minimise the delays for passengers.
In a statement a spokesperson for the daa said the airport "sincerely apologises for the obvious inconvenience this has caused".
Dublin Airport said the situation has eased, with the queues now operating at standard weekend times.
There were also reports on social media of long delays at the airport yesterday.
Additional reporting: Fergal O'Brien