A child protection and welfare service operated by the Child and Family Agency in Cork was found to be majorly non-compliant in two out of seven national standards, according to the Health Information and Quality Authority.
The findings emerged during a risk-based inspection of a child protection and welfare service in April this year.
Initially, the inspection was undertaken as part of a thematic inspection programme by HIQA, however, based on the evidence found, it was changed to a risk-based inspection.
HIQA examined the management of referrals, the assessment of child protection and welfare concerns and the ongoing intervention provided to children and families at the service.
It was found to be majorly non-compliant in its service performance in relation to relevant legislation, regulations, national policies and standards to protect children and promote their welfare.
A second major non-compliance was identified in the screening and direction of children to an appropriate service.
HIQA found there was no service improvement plan to guide the development of the service and strategic objectives were not clearly identified.
Governance arrangements in place did not ensure that preliminary enquiries were completed in a timely manner, in line with Tusla standard business processes.
Inspectors found excessive delays in a significant number of cases.
It says this issue was escalated to the area manager as it posed a risk to the delivery of a safe service to children.
The inspection report says there was a shortage of staff in some areas of the service and that they were struggling with unmanageable caseloads.
It says measures to address this were not effective.
Some social workers told an inspector that their caseloads were unmanageable and that they had created wait lists within their caseloads.
Inspectors reviewed the caseload numbers for each of the social work teams and found that many of the duty social workers in three of the offices had high caseloads, ranging from 30 to 65 cases.
In one office, two duty social workers had 64 and 65 allocated cases, respectively.
HIQA says given that these workers provided a duty service and were rostered to respond to new referrals, they had little time to work their allocated caseloads.
The area manager and Principal Social Workers told inspectors that, while they had submitted business plans for vacant posts and for development posts, they had received approval for far fewer posts than had been applied for.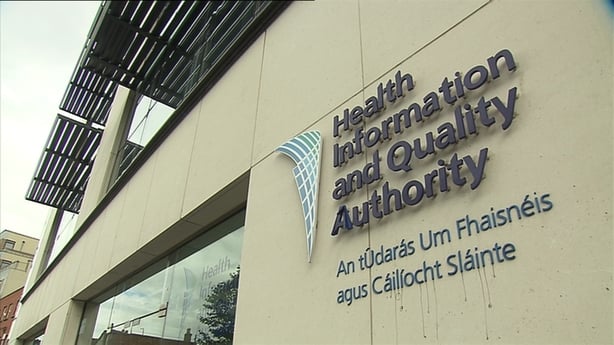 In relation to the second major non-compliance - the screening and direction of children - the report notes that there were examples of very good practice at preliminary enquiry stage, such as inter-agency cooperation and planning.
However, it says not all preliminary enquiries were completed in a timely manner and in line with Tusla's business processes, and some were subject to excessively long delays.
"Risks associated with these cases had not been determined by the area. Consequently, inspectors found that this posed a risk to the quality and safety of the service provided to children", it says.
Tusla gave an assurance that workshops and training given to Principal Social Worker's and Team Leaders would be completed by October this year.
Inspectors also spoke with seven children and ten parents who were receiving, or had received a child protection and welfare service.
The report notes that "every child and parent spoke in positive terms about the social workers they met and almost all were happy with the quality of the service they received".
Children commented on how the social workers related to them and the approach they took.
Many of the children spoke about the social worker being a good listener and making them feel comfortable.
The children also spoke positively about the difference that the social worker made in their lives and those of their families.
In response to the report, chair of the Irish Association of Social Workers Vivian Geiran said it provided insight into the extraordinary challenges that social workers face trying to deliver a safe and quality service to children and families, while working with inadequate resources and overwhelming caseloads.
In a statement, he said it was clear that social work practitioners and managers repeatedly advocated for vital resources and did not receive them.
Mr Geirin noted the children and their families told inspectors about the positive change social work made in their lives.
He said that in order for social workers to consistently deliver a quality service to all children and families, Tusla must equip them with the essential resources and structures necessary to do their job as otherwise children and their families "are being failed".