A 34-year-old man has been found guilty of the murder of his former partner in Co Wicklow in 2019.
Daniel Murtagh of Melrose Grove, Bawnogue in Clondalkin in Dublin, had pleaded not guilty to murder but guilty to the manslaughter of 30-year-old Nadine Lott at her home in St Mary's Court in Arklow.
The 12 jurors took five hours and 46 minutes over two days to unanimously reject Murtagh's defence that he was too intoxicated to have formed the intent to murder his former girlfriend and that the "bloodbath" would never have happened "but for the drink and drugs" he consumed that night.
Defence counsel Brendan Grehan SC had asked for a verdict of manslaughter on the grounds of lack of intent due to alcohol intoxication. Murder is a crime of specific intent and voluntary intoxication can have the effect of reducing the offence of murder to manslaughter.
We need your consent to load this rte-player contentWe use rte-player to manage extra content that can set cookies on your device and collect data about your activity. Please review their details and accept them to load the content.Manage Preferences
Murtagh had told gardaí that before his assault on Ms Lott, he had smoked a joint, taken two pills and drank a "daddy naggin" or shoulder of Captain Morgan rum straight. He also told them that he had been on methadone for the previous three months.
In his charge to the jury, Mr Justice Michael MacGrath had said they must decide in the context of intoxication as to whether the prosecution satisfied them beyond a reasonable doubt "that despite the accused's intoxication he had formed the intent to kill or cause serious injury to Nadine".
Instead the jury accepted the State's case that this was a case of murder and "nothing short of murder".
In his closing speech, prosecution counsel John O'Kelly SC argued that there was no defence of intoxication in the case and said Murtagh had the "clearest intent" when he inflicted the "most dreadful blunt trauma injuries" to the beauty therapist's face.
"Just look at what the accused didn't do and what he never tried to do - he never raised a hand to get Nadine any kind of help," he stressed.
The injuries to Ms Lott were so serious that she never regained consciousness after the attack on 14 December 2019 and died three days later in St Vincent's Hospital in Dublin.
Mr Justice MacGrath will hand down the mandatory sentence of life imprisonment on 4 October and remanded Murtagh in custody until that date.
On that date, the Lott family will have an opportunity to make a statement to the court about the impact Nadine's death has had on their lives.
Murtagh showed little reaction following the verdict while members of Ms Lott's family, who filled an entire bench in the courtroom, hugged and comforted one another.
After today's verdict was delivered, Nadine Lott's family stood in silence outside the Central Criminal Court wearing masks with her name printed on them.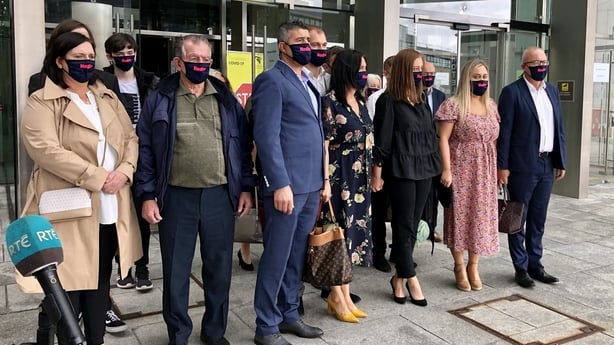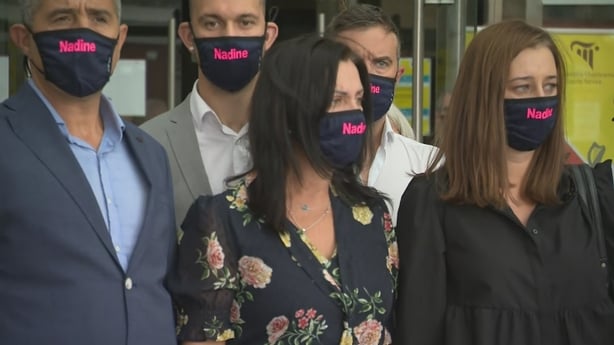 The trial had heard that Murtagh and Ms Lott first met in Darwin in Australia, but the relationship did not work out.
When they both came home, she lived in Wicklow and he lived with his parents in Clondalkin.
The court was told that Murtagh came down from Dublin on 13 December 2019 and stayed in Nadine's apartment while she went to her aunt's birthday party that night.
The court was told that between 3.30am and just after 4am in the early hours of 14 December, neighbours heard screaming and saw the door to Nadine's apartment was open.
A neighbour went to investigate and went into the living room where she saw Murtagh attacking Ms Lott while she was on the ground.
Gardaí and the emergency services were called and Ms Lott was taken to St Vincent's Hospital where she died three days later.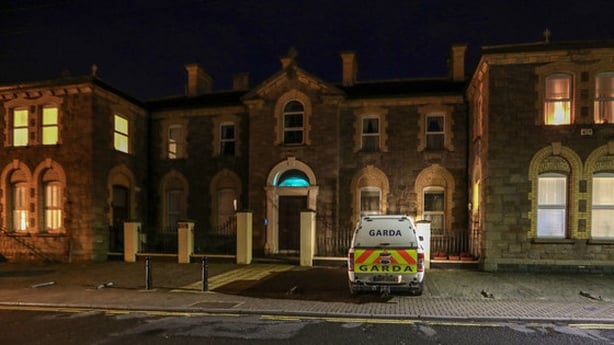 A paramedic who had attended to Ms Lott at her home testified that the emergency call he made to Ms Lott's house will "haunt" him for the rest of his career and was one of the most "horrendous scenes" he had ever walked into.
An intensive care nurse at the hospital described Ms Lott as "completely unrecognisable" and said that she had never seen anybody so badly injured.
Nadine Lott died after suffering "traumatic head, neck and chest injuries" and her brain was swollen following the "sustained and violent attack".
Chief State Pathologist Dr Linda Mulligan noted that the blunt force injuries were caused by hands, fists or feet and the use of a blunt weapon could not be ruled out.
The cause of death was hypoxic ischaemic encephalopathy due to traumatic head, neck and chest injuries.
The court had heard there were 64 individual injuries observed all over Nadine Lott's body, which could not be accounted for through medical intervention.
The post-mortem showed she sustained extensive blunt force and sharp force trauma, had a stab wound to her neck and suffered multiple cardiac arrests and traumatic brain injury.
Following today's verdict, Mr Justice MacGrath thanked the jury for the care and careful consideration they had given the case.
"You were all very attentive during the trial. You perform an important civic duty and it is very important that non-lawyers are involved in this process," he said.
The judge exempted them from jury service for ten years.
Speaking outside the court after the judgement, Garda Superintendent Declan McCarthy said it was "very important" to remember that the person "at the very centre of this trial was Nadine" and not the perpetrator of the crime.