Ireland's reservoirs, lakes and rivers are under stress because of the heatwave and everybody is being asked to conserve water.
The fact that more than 80% of Ireland's water schemes are drawn from surface water bodies means the supply is particularly vulnerable in hot dry weather.
It also means rivers and lakes come under a lot pressure as water is extracted for domestic, commercial and agricultural use even when levels are low. This also puts stress on the ecosystems which depend on fresh water.
Climatologists say heatwaves and droughts will continue to occur more frequently in Ireland and around the world due to global heating
Irish Water has imposed night-time restrictions on water supplies in some areas. It operates 750 water treatment plants and stated that 70 of them are in drought. The majority of those are in Limerick, Kerry, Cork, Wexford and Donegal.
The utility company said it currently has no plans to impose a hosepipe ban or water conservation order but is asking consumers to save water.
Its top tips include "leave the hose and the pressure washer in the shed; don't use paddling pools; reuse household water for the garden; and take shorter showers."
Safeguarding the supply of water is "essential at this time when handwashing and hygiene is of critical importance. We are calling on everyone to play their part," said Irish Water.
Demand for water is high across Donegal and night time restrictions are required in some areas. Irish Water and @donegalcouncil are appealing to residents, farmers, agri contractors, businesses & visitors to conserve water wherever possible. Find out more https://t.co/W5QtRfTuaP.

— Irish Water (@IrishWater) July 23, 2021
Inland Fisheries Ireland said fish populations are at risk because of the lower water levels with water temperatures of up to 26C in some rivers and lakes.
Brian Beckett, Director of the Eastern River Basin District, said this is almost 10C higher than the maximum water temperatures normally seen in Ireland and it "has a significant impact on the biology of the fish".
He said fish populations are "right on the knife edge" at the moment. "Fish need us to do the right thing in relation to water, so if we can all conserve our water then we are protecting our natural ecosystems."
There have already been several fish kills recently including one on the Ilen River near Skibbereen in West Cork which saw 2,000 fish die.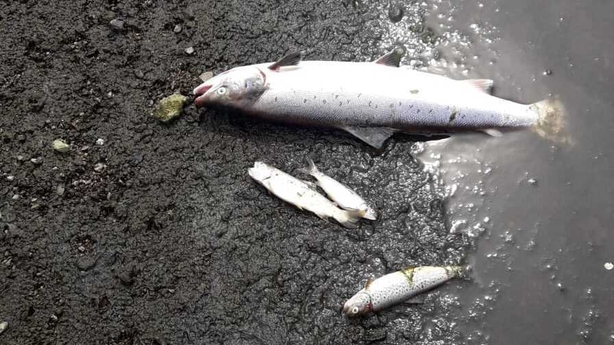 The cause of that incident is still being investigated but Inland Fisheries Ireland said the low water levels make fish more vulnerable as there is less water to dilute any pollutant and the fish are already struggling due to lower oxygen levels in the water.
It is asking members of the public to report any fish kills they come across by calling its confidential hotline number on 1890 34 74 24, which is open 24 hours a day.
Climatologist and Emeritus Professor at Maynooth University, John Sweeney, said this is the ninth heatwave in Ireland in 40 years; four of those have occurred in the last eight years.
He said there are some indications that this increasing frequency is connected to the warming in the Arctic leading a weakening of the jet stream. A weaker jet stream allows blocking patterns and this can lead to extreme weather events.
Prof Sweeney said the research jury is still out on the connection to recent events such as heatwave in Ireland, floods in Belgium and Germany, the heat dome in the Western United States and floods in China but there is a growing belief that all these events are linked to aberrations in the jet stream
He added that Ireland has to "adapt to the changing climate" and models show drier summers in the east of the country where most of the population resides.
The climatologist urged increased investment in water infrastructure "ensuring we have a reliable water supply in the future and a better waste water treatment system because as our rivers dry up, the pollution levels in them increase substantially."