Martin Kehoe Jnr was just 33 when he died in 2017, a victim of an accident on the family farm near Foulksmills in County Wexford.
A husband, father, son and brother who left behind many devastated loved ones, Martin was also a keen farmer, hurler and a ploughing champion, just like his father and grandfather before him.
And it was by a twist of tragic fate that his father Martin and brother Willie John were at the National Ploughing Championships outside Tullamore in September of 2017 while he was minding the farm.
"I remember every minute of it. Myself and Dad were in Tullamore, Martin was here [on the farm] going about the everyday jobs here while we were at the ploughing match.
"We got a phone call to say there had been accident and basically, unfortunately we got bad news that Martin had tragically died.
"We got home as quick as we could and the rest is, unfortunately, that's when the whole thing really hit home when you see it with your two eyes."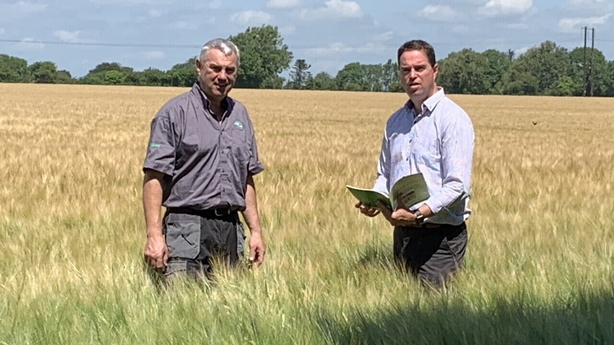 Martin died after inhaling toxic fumes from a feed tank on the farm. It was a freak occurrence, like so many farm and workplace accidents which happen in a split second but leave long-lasting consequences.
"That split second cost everyone dearly," Willie John said. "Whether it's a injury or fatal, it's the one split second that will cost. And cost everyone so much… to the family and the people left."
He described his late brother "bursting to go, bursting to work" and typical of all who grow up in farm backgrounds.
"He loved his family, wife and three kids, done everything for them, loved his sport, just happy go lucky, head down and go like hell. That's the way most farming people are."
This is Farm Safety Week and the theme for this year is Rethink Risk.
"Now is the time for all farmers to stop and think about how they work on their farm," Minister of State with Responsibility for Farm Safety, Martin Heydon, said today.
"We must stop taking chances, stop the old habits and stop condoning bad practice."
So far this year, three people have died in farm-related incidents and the average over the last decade is 21 farm fatalities per year.
"Three is three too many," Mr Heydon said. "While there are many risks in farming, farming does not have to be a dangerous occupation.
"Behavioural risk is what is required to prevent many accidents. It is a case of being aware of the risk and taking the time to do what is necessary to minimise them."
He encouraged farmers to engage somebody from outside their own farm to do a risk assessment.
"Fresh eyes will see risks that you have become accustomed to and no longer realise are present. Once the risk assessment has been completed, you need to start continuously working to remove and contain all of the risks," said Mr Heydon.
The minister also urged farm organisations to remind farmers of the need to prioritise safety at all times.
Willie John Kehoe said today that farm safety is "the first thing that people should be thinking about" when going about their daily lives.
"It's part of life and it's not until you've had your own tragedy or something strikes that you realise that safety is the first think you should be thinking of. Everything we do has to be safely done," he said.