Tony Blair's landslide election victory in May 1997 changed lots of things and one of them was the British government's approach to Northern Ireland.
Secret government documents now made public tell the inside story of just how he and his colleagues approached the issue.
One of the things Mr Blair gave to the peace process was time, staggering amounts of it.
The papers made public today, covering the seven months from May to December 1997, contain two files dealing with the United States of America, but a staggering 15 relating to Northern Ireland.
Each file contains around 300 pages of letters, minutes, briefing papers – the detailed inside story of how the British government dealt with Northern Ireland.
Mr Blair's predecessor, John Major, was dependent on unionist votes at Westminster to cling to power, which greatly limited his room for manoeuvre.
Mr Major's inability, or unwillingness, to give concessions to republicans was one of the reasons for the collapse of the first IRA ceasefire.
We need your consent to load this rte-player contentWe use rte-player to manage extra content that can set cookies on your device and collect data about your activity. Please review their details and accept them to load the content.Manage Preferences
Now, with a secure parliamentary majority, Mr Blair and his Northern Secretary Mo Mowlam had an opportunity to put the pieces back together.
Their aim was to persuade the IRA to declare another ceasefire, and to get Sinn Féin into all-party talks, while at the same time keeping unionists within the process.
This was not easy, as a concession to one side was seen as a defeat by the other. Throughout the newly released government files are references to this balancing act, to the knife edge on which hopes for peace rested.
The balance between nationalist and unionist concerns was raised immediately by the controversy over Orange marches, particularly the one at Drumcree.
But the main focus of the new government was on encouraging a new IRA ceasefire, which would allow Sinn Féin to enter all-party talks, and offer the prospect of an agreement that would bring lasting peace to the North.
But in Northern Ireland's zero-sum politics, encouragement to Sinn Féin was seen as a defeat for unionists, so Mr Blair spent a considerable amount of time and effort keeping the UUP and its leader, David Trimble, on side.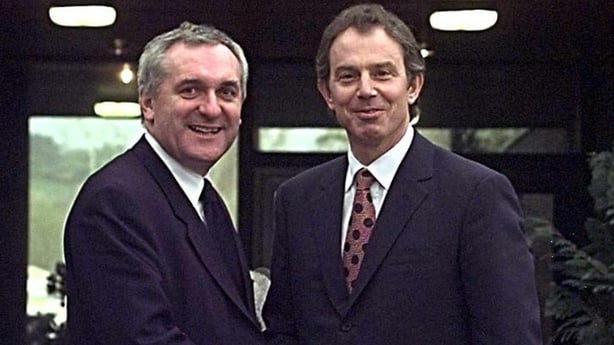 Mr Blair quickly built a close but not uncritical relationship with Bertie Ahern, which helped smooth the way of the all-party talks, which in turn led to the Prime Minister's historic first meeting with the Sinn Féin leadership.
And of course the papers also reveal many other stories about what politicians and officials really thought behind the scenes.
But fascinating though much of this material is, despite the redaction of sensitive material, it is only one side of the story, the British side.
The release of Irish government documents is lagging severely behind; as London moves towards a 20-year period for the release of confidential papers, Dublin is still sticking to the 30-year rule.
This is a pity, as it means the narrative is being set by the private views of British politicians and officials, and this will be particularly significant when the next batch of papers, covering the final steps in negotiating the Good Friday Agreement, are released.
Marching already
The outgoing Tory government had left an unresolved problem for New Labour – the contentious issue of Orange Order parades.
Planned legislation to establish an independent Parades Commission to decide on contentious marches had been delayed because of unionist pressure. And now the clock was ticking down to the most contentious parade of all – the march down the nationalist Garvaghy Road from Drumcree church in Portadown.
Within days of taking office, Northern Ireland Secretary Mo Mowlam was warning the Irish government that she might have to let the march go down the Garvaghy Road.
Over dinner on 7 May, she told Tánaiste and Minister for Foreign Affairs Dick Spring that if she was able to take measures to build confidence within the nationalist community, such as reforms to policing, signing up to the European Convention on Human Rights, and bringing in legislation on parades, then "she might well decide, in consultation with the RUC, that a march had to go down the Garvaghy Road."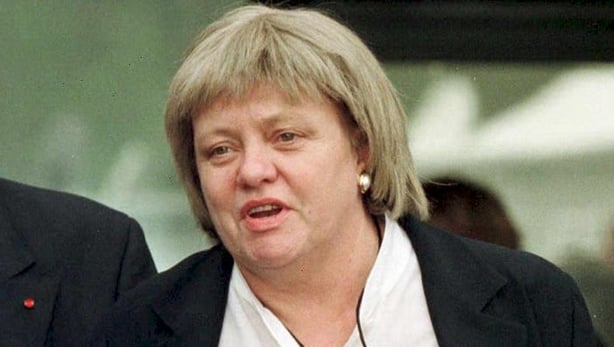 The problem was on Tony Blair's radar too. At the beginning of June, he discussed it with Ulster Unionist Party leader David Trimble. Mr Trimble dismissed suggestions that he and SDLP leader John Hume could reach a deal on the issue.
"The reality was that he could not deliver the Orangemen, and Hume could not deliver the Garvaghy Road residents - the latter were too much under Sinn Féin influence."
Mr Trimble added that in his view, "Sinn Féin had found the perfect way of screwing up the political temperature … without even appearing to be responsible for it."
At the start of July, Mr Blair expressed his own view, the march should go ahead, "but on very strict conditions - limited numbers, no noise … and no marching next year if conditions [were] breached".
The new Irish government was pushing hard to have the march banned, too hard for Mr Blair's liking. Taoiseach Bertie Ahern had said publicly that the march shouldn't go ahead; his Minister for Foreign Affairs, Ray Burke, said allowing it would be "folly".
When they met in London a few days before the parade, Mr Blair told Mr Ahern that the comments had "created terrible problems".
"There had been a chance before these comments that the Orange Order would agree to a deal whereby their right to march was accepted, but they would not exercise it. But this now looked unlikely."
In response, the Taoiseach said he wouldn't do anything to "up the ante", and that he would stress the efforts that Mo Mowlam was making to find a solution.
In the end, the RUC Chief Constable decided at 4am on the day of the parade that it should be allowed. Mr Blair phoned Mr Ahern to inform him just before 8am. According to the British official who minuted the call, the Taoiseach "was very calm and moderate - perhaps helped by the fact that he had clearly just woken up!"
The parades issue cropped up again later in the year as Mowlam brought in the legislation to establish the Parades Commission.
In an attempt to reduce unionist opposition, she wanted to extend the commission's powers to let it rule on other "cultural expressions". Mr Ahern objected, claiming that "this was directed particularly at the GAA".
He told Blair that the GAA should not be "put in the same box as republican or loyalist marches … There might have been undesirable people in the association from time to time, but there had been no trouble from the association itself for 30 years".
Mr Blair was a bit nonplussed at all this, and asked for further information about the GAA.
His Private Secretary later informed him that "GAA events are the occasion for much Irish flag waving and general assertion of Irish allegiance, which the unionists find offensive. The Irish point is that, while this may be true, GAA events do not pose any kind of threat to public order in the same way that loyalist marches do".
Under pressure from the Irish government, sporting events were excluded from the legislation.
Events on the ground
The first priority for the new British government was the restoration of the IRA ceasefire. But British officials were in the dark about the true intentions of the republican movement.
A briefing paper from the Northern Ireland Office said it was possible that Gerry Adams and Martin McGuinness (described as "undoubtedly central to the leadership of both the IRA and Sinn Féin") were genuine about bringing the movement into the political process, but it was also possible that the IRA would never reach a definitive commitment to politics; "the short answer is: we don't know for certain".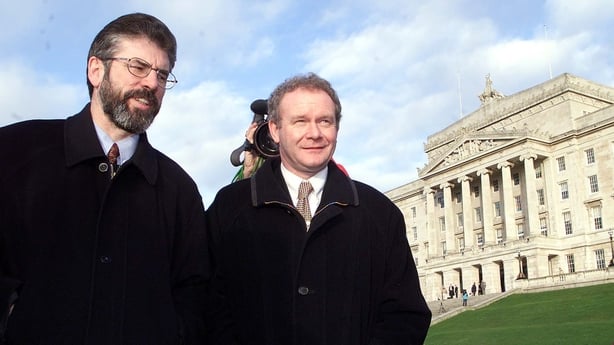 Mo Mowlam was determined to find out, arguing that a ceasefire would transform the political situation, and that it was worth making concessions to Sinn Féin to encourage the IRA to move towards peace, even at the risk of causing a unionist walk-out from the ongoing multi-party talks.
She argued that it would be worth enduring a "period of turbulence" if they could get a credible ceasefire and Sinn Féin into the talks. "We should make, and be seen to make, a push for peace," she told Mr Blair.
The Irish government also thought there was a real prospect of a ceasefire, if Sinn Féin could be given a firm date for entering the talks. But Mr Blair was more cautious, telling Taoiseach John Bruton that he was not prepared to alienate the unionists.
Contacts between the British and Sinn Féin took place gingerly. Gerry Adams wrote to Mr Blair congratulating him on his election victory, and calling for discussions.
A senior official at the NIO, Quentin Thomas, then phoned Mr Adams's secretary, Siobhan O'Hanlon, to say that a reply would be sent, but also warning that IRA activity "could ruin the prospects of moving forward". Mr Adams replied that Sinn Féin "appreciate the need for sensitivity so let me reassure you that there is no intention on our part to make any of this public".
On 21 May, British officials met a Sinn Féin delegation let by Martin McGuinness, and formed the impression that they "see the arrival of the new government as providing a real opportunity to move things forward, and may be prepared to reciprocate any flexibility they are shown".
Mo Mowlam wanted to give Sinn Féin a commitment that they could enter the talks within weeks of a new, credible ceasefire.
And she warned against making decommissioning a precondition, pointing out that "the best assessment, shared by the police, security and intelligence agencies and my department, as well as by the SDLP, the Irish government, and - in moments of candour - by many unionists, is that decommissioning is of little military significance."
Mr Blair accepted her argument - up to a point. In a note to his Private Secretary, he agreed that getting Sinn Féin into the talks was vital, and that to avoid decommissioning becoming a problem, they should be "quite easy on Sinn Féin on this aspect".
But, he added, it would be different once they were inside the talks, where they should be "very hard with them on the substantive negotiations, where I think there would be far greater pressure on them never to go back to violence…"
He told US President Bill Clinton that the republican movement could not have it both ways, keeping their own side happy with limited terrorism "while posing as peace makers and blaming the British government for keeping them out … Sinn Féin should appreciate that, however they had treated the previous government, they could not treat him the same way".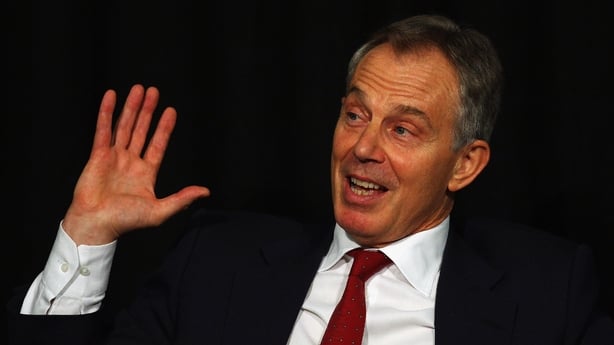 He would deal with Sinn Féin straight, and expected straight dealing in return. On 13 June, Sinn Féin got what it was looking for - an offer to attend the talks by the end of July, if there was a ceasefire by the middle of June.
And then, three days later, it all fell apart, when the IRA murdered two RUC men in Lurgan.
Mr Blair was "angry, disillusioned and betrayed", and had severe doubts about whether serious business could be done with Sinn Féin.
But while contacts were under strain, they had not been broken off. Mr McGuinness phoned his NIO contact, Quentin Thomas, who said he was shocked by the murders. Mr McGuinness responded that "clearly they have problems. But Sinn Féin would not be deflected from the search for peace".
He also claimed that Sinn Féin had no control over events on the ground, a suggestion rejected by Mr Thomas, who recorded: "During the conversation I was cool, rather than hostile. Mr McGuinness was urging his case, if not quite pleading."
Mr Thomas told Mr McGuinness that there could be no further contact until Sinn Féin "made the moves necessary to re-establish good faith".
A new IRA ceasefire was to come just a month later, on 19 July.
Cuddling Trimble
Right from the start of his time in office, Tony Blair was aware of the need to give Ulster Unionist leader David Trimble a lot of attention to keep him onside, a process described by his private secretary as the need "to invite Trimble in before too long to cuddle him."
On his first visit to Northern Ireland as Prime Minister, Blair delivered a speech which stressed his unionist credentials, telling his audience that a United Ireland would not happen in any of their lifetimes.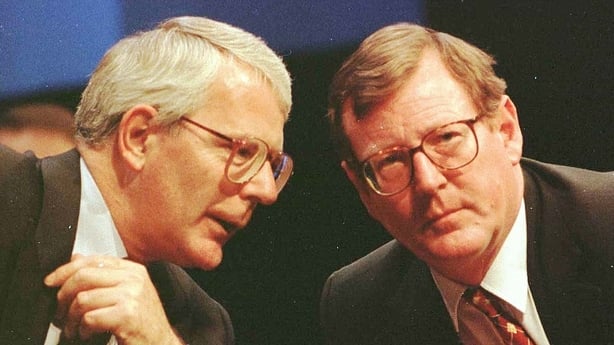 He had been warned against taking too unionist a line by two rather different people - Martin McGuinness and John Major.
Mr McGuinness sent a message warning against "taking up public positions which add to the difficulties even in this settling in period. We wish to make the same point about the speech which we understand the Prime Minister will be making in the near future".
And when Mr Blair briefed his predecessor, Mr Major "warned against over-reassuring the Unionists". Later, Mr McGuinness described Mr Blair's speech as "the most pro-union speech in the past 25 years, worse than Major or Thatcher".
Once the new IRA ceasefire was in place, the ground was laid for Sinn Féin to enter all-party talks. But would unionists agree to talk to them? The DUP had walked out of the talks in anticipation of Sinn Féin's arrival, and Mr Trimble was already feeling the pressure of their criticism.
To make things easier for Mr Trimble, Mr Blair wanted the IRA to decommission at least some weapons during the course of the talks. But Taoiseach Bertie Ahern rejected this approach, pointing out that if republicans were faced with a demand for decommissioning, "their answer would be no". Mr Blair told him: "There was a real difference between us here."
Mr Ahern suggested a form of words - that the two governments "will work to achieve due progress on decommissioning alongside progress in the substantive political negotiations".
Mr Blair felt this was not satisfactory, and demanded the inclusion of the word "actual" before decommissioning. But the most Mr Ahern would agree to was that they wanted "to see real progress on decommissioning". The Irish told the British that even this was "causing problems with those they were consulting (i.e., Sinn Féin)".
Mr Ahern wrote to Mr Blair at the beginning of September, arguing that referring to "actual decommissioning" would be counter-productive - it would make the IRA less likely to cooperate, and it would allow unionists to refuse to engage with Sinn Féin.
Mr Blair told him there was "not a hope of keeping Trimble in the talks" on this basis. The British sent another draft, which Mr Ahern said had "driven him wild" because it repeated the mention of "actual decommissioning".
He had another go at the wording: "both governments would like to see the decommissioning of some paramilitary arms during the negotiations, as progress is made in the political talks".
The Irish worried that no matter how far they went to meet Mr Trimble's wishes, he could not be relied upon to deliver, and this assessment seemed to be backed up by new demands from the UUP leader for amendments to the text. British officials felt he was "pushing his luck too far".
But Mr Blair remained determined to placate the unionists, telling officials: "We must do more to keep them on board", and calling for a "list of goodies" to be unveiled before the UUP party conference.
At a meeting with the UUP, Blair even gave them advice on how to get the credit for the steps he was taking to meet their demands. "It should be clear that they had been secured by the UUP, not just tossed out from the government. We should agree what was going to be said, and then announce it at the right moment. Choreography was very important. Alastair Campbell would liaise closely with the UUP about this."
They are not neutral
In politics, personality is important – building good relationships helps politicians to find agreement. So in a situation like trying to bring peace to Northern Ireland, the personal chemistry between the Taoiseach and the British Prime Minister is vital.
Tony Blair was elected at the beginning of May; Bertie Ahern became Taoiseach at the end of June. Between them, they would drag the sometimes-reluctant parties in the North to the Good Friday Agreement.
Their relationship became very strong, though initially this seemed unlikely. The British had liked Mr Ahern's predecessor as Taoiseach, John Bruton.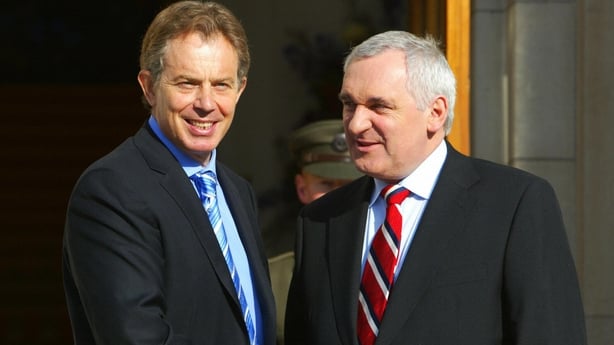 Senior official John Holmes told Mr Blair that he was "nice, straightforward and violently anti-IRA … as good a Taoiseach as we are ever likely to get from a British point of view". The Tánaiste, and Minister for Foreign Affairs, Dick Spring, was "greener, but not unreasonably so".
As he was leaving office, Mr Bruton told Mr Blair that he would get on well with Mr Ahern, who "was a pragmatist". But Mr Bruton added that "the Irish government might get too close to Sinn Féin".
It was a worry Mr Blair shared. After meeting Mr Ahern in Downing Street on 3 July, he said the Irish were "going to make the process more difficult, because they see themselves as negotiating for Sinn Féin by proxy".
But by October, the NIO was recording a very different picture: "Relations with the Irish have been generally excellent. The Irish have, on the whole, worked hard … and shown greater flexibility than might have been expected of a Fianna Fáil government."
Mr Ahern was able to share confidences with Mr Blair, one politician to another. A fortnight after his election as Taoiseach, he told Mr Blair that things were going well, despite revelations about the finances of his former mentor, Charlie Haughey.
"He had taken care to distance himself from Haughey some time before, since he had assumed the truth would come out at some point."
Paddy Teahon, Secretary General to the Irish government, was said to be "enjoying life with the new Taoiseach", who was "much more relaxed than his predecessor, according to Teahon."
Mr Ahern put a lot of effort into the relationship, and he and Blair quickly developed a rapport, without either giving up their fundamental positions. The minutes of their conversations show a willingness to understand the other's point of view, while still forcefully putting forward their own position.
But Mr Blair and his officials were wary of seeming too close to the Irish. Senior official John Holmes suggested that Mr Blair warn Ms Mowlam of the need for caution about being too chummy with the Irish.
"Every time she appears on the media, she is standing next to Ray Burke. We must work closely with the Irish, but we and they do not have the same agenda/interest in all areas. They are not neutral, and neither are we."
When Mr Burke resigned over corruption allegations, he was replaced by David Andrews, who had a tendency to say more in public than was perhaps wise. In October, he made comments on Articles 2 and 3 that ruffled unionist feathers.
Mr Ahern told the British Ambassador that "the minister had made a mistake. He had handled the issue clumsily. The Taoiseach gave me the impression that he was seriously irritated with the minister".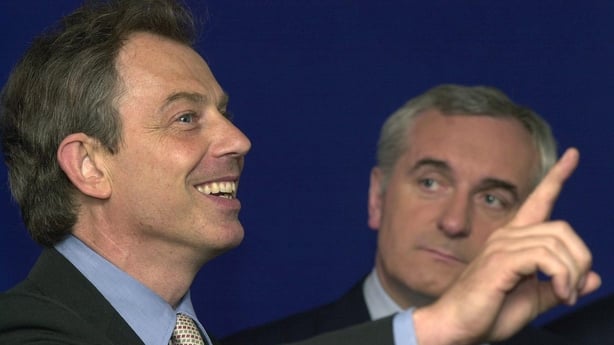 Further remarks the following month caused Mr Trimble to reject a British outline of what could be included in an agreement: "I would have had real problems with parts of it even before the weekend, but after the comments by Andrews it is quite impossible."
Eventually the minister made a "comprehensive withdrawal of the ill-chosen remarks" which managed to clear the air.
The two governments had notably different views of the two leading figures in Sinn Féin.
An NIO official who recorded Mo Mowlam's first meeting with Sinn Féin found Gerry Adams more to his liking than Martin McGuinness: "Adams was impressive, cleverly mixing charm and humour with incisive argumentation", while McGuinness "took the issues more head on" (the meeting was also attended by Caoimhghín Ó Caoláin and Martin Ferris, who were regarded as "less easy to warm to").
Senior Irish official Seán Ó hUiginn, on the other hand, had a "strong preference" for dealing with Martin McGuinness.
"He talked directly and bluntly with a clear view of the real issues and the bottom line … By contrast Gerry Adams, rather like de Valera … was always using complex formulations and elaborate intellectual constructs … so that it took a long time to pin him down and you had to listen to hours of talk before you saw where he might be heading."
As for the unionists, David Trimble in private was just as prickly as his public persona would suggest. To take just one example, he threatened to cancel a trip to Washington at the last minute unless he was guaranteed a meeting with President Clinton.
The British Embassy in Washington said he would have to be realistic: "Even Governors of American States (37 of which have populations larger than Ulster) do not expect a meeting with the President when they happen to be in Washington".
The best he could hope for was a meeting with National Security Advisor Sandy Berger, with the possibility that Mr Clinton might "drop by". Mr Trimble went and Mr Clinton duly dropped into his meeting with Mr Berger, bringing Vice-President Al Gore with him, an unusual mark of respect for the unionist leader.
An intriguing insight offered by the newly released papers is quite how central Jeffrey Donaldson was, and how highly he was regarded by both governments.
Mr Donaldson, now the DUP leader, was then a newly elected MP for the Ulster Unionists, and was seen as a key influence within the party, and on Mr Trimble.
When officials were trying to persuade Mr Trimble to stay in the talks, they sought to use people with influence on him, and three names were mentioned: media executive David Montgomery, Church of Ireland primate Robin Eames – and Mr Donaldson ("I might also have a private word with Jeffrey Donaldson").
When the unionists nominated Reg Empey and Peter Weir to talk to the Irish government, Dublin "asked whether Mr Donaldson could not also be involved". Bertie Ahern said that "Jeffrey Donaldson was prepared to talk, but he had found it impossible to set up a dialogue with David Trimble".
Harps and handshakes
In October 1997, Tony Blair became the first British Prime Minister since David Lloyd George to meet Sinn Féin. Gerry Adams joked that he hoped Mr Blair would make "a better job of it".
A great deal of thought had gone into the meeting. It was held in Castle Buildings in the Stormont Estate, where the all-party talks were taking place. This meant it could happen without any cameras present.
Mr Blair met all the other parties as well, so it could not be claimed that Sinn Féin was getting special treatment, though there was no doubt that this was by far the most significant meeting.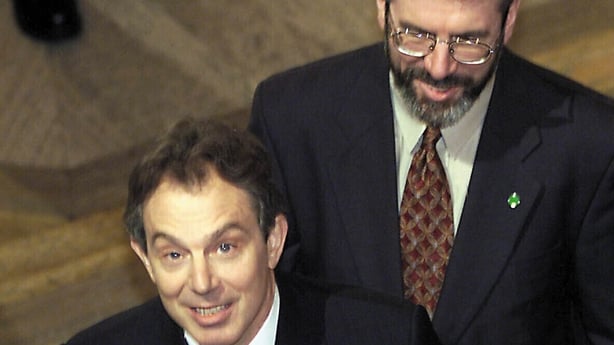 David Trimble had advised him that when he met Sinn Féin he should "keep his hands to himself".
But Mr Blair rejected this advice, as he "had to treat them on a personal basis like anyone else", and the meeting opened with Mr Blair and Ms Mowlam shaking the hands of the Sinn Féin delegates - Mr Adams, Martin McGuinness, Pat Doherty, and Siobhan O'Hanlon.
The meeting was described as "relaxed from the start", and Mr Adams broke the ice further by presenting Blair with "what he described as a private present which he would not reveal to the media, an Irish harp made from local materials. He commented that it was the only part of Ireland Sinn Féin wanted the Prime Minister to keep."
Both men appeared anxious to get to know the other. Mr Adams said "he wanted to engage with the Prime Minister on a personal and psychological level, so that the Prime Minister would understand why he felt the way he did".
Mr Blair replied that "people could either be victims of their history, or make some sense of it".
He then asked if the IRA ceasefire could be held, prompting Mr Adams to talk about his difficulties in maintaining republican unity: "The big challenge for him and others like him was to bring 'these people' along … He did not want an Irish Hamas to appear. Irish history was littered with examples of this and he did not want another one."
Afterwards, Mr Blair was pleased with how things had gone, "and appreciative of the way Adams and McGuinness handled the meting and themselves. They did not lecture too much. His assessment remains that they want to take a peaceful road, although this is not to say that they will in the end do so. In any case, the meeting served its purpose of getting over a difficult psychological hurdle without too much trouble."
Five other things we learned from the British archives:
Elton John
Mo Mowlam wanted to deploy a secret weapon in the peace process - Elton John.
In a memo to Mr Blair about plans to attract major events to Northern Ireland, she argued that it was important to create "a positive, vibrant mood", which would bring the communities together, present a better image of the region abroad, and "help create a better atmosphere in which to seek a sustainable political settlement".
She reported "some tentative discussions about the possible relocation of a Premier League football team to Belfast", as well as plans for concerts in the grounds of Stormont, as part of an effort to give the site a better image.
She also wanted to encourage acts like Elton John and Oasis to perform in Belfast.
"A personal approach by you to Elton John might well secure the necessary agreement in principle". Mr Blair promised to do what he could.
Cenotaph
Martin McGuinness's election as the second Sinn Féin MP in May's general election raised an interesting problem for the British - whether the party should be invited to the wreath laying ceremony at the Cenotaph in London on Remembrance Day.
Home Secretary Jack Straw told Tony Blair that all parties with more than one MP were invited, and that therefore in November 1997, there might be an argument for inviting Sinn Féin for the first time.
Mr Straw recommended against doing so - "I do not think we can do this if we are to preserve the solemnity and dignity which the occasion deserved" - but Mo Mowlam had other ideas.
She argued that if Sinn Féin renounced terrorism, their democratic mandate should be fully respected, and while she didn't expect Mr McGuinness or Gerry Adams to attend, they should at least be invited.
That idea was firmly squashed by Mr Blair and his officials: "We remain wholly unsympathetic to the idea of Sinn Féin at the Cenotaph."
Christmas Tree
Decommissioning of weapons dominated political discussions, but Alastair Campbell wanted to decommission something else - the Downing Street Christmas tree.
As Blair prepared to welcome a Sinn Féin delegation to London in December 1997, Mr Campbell wanted to know when the Christmas tree was being put up.
He was worried about photographs of Sinn Féin leaders beside the tree at the door of No 10: "Do we want the added problem of the symbolism of Gerry Adams as a man of peace, bringing glad tidings, and all the other Christmas cliches that will be churned out?"
The file does not record any decision on this important matter.
Famine remarks
Tony Blair got much credit in Ireland for remarks about the Famine, in which he admitted failings by the then British government.
In a message to a Famine commemoration ceremony in Cork, the Prime Minister said: "Those who governed in London at the time failed their people through standing by while crop failure turned into a massive human tragedy."
The remarks were seen as an "implicit apology" and were widely praised.
Taoiseach John Bruton complimented Mr Blair for "the thought and care shown in the statement", while Fianna Fáil leader Bertie Ahern said it was "an important statement that will contribute to the reconciliation of the Irish and British peoples".
The praise might have been more restrained if it was known that Mr Blair hadn't written the statement, or even seen it before it was sent.
His Principal Private Secretary, John Holmes, unable to contact the Prime Minister before the deadline, had "approved the … text off my own bat".
He checked the wording with others, including Alastair Campbell, who all agreed on the reference to the failings of the then-government, as it was "no more than a statement of fact, and falls well short of an apology".
Given the good publicity, the Prime Minister didn't appear to mind that Holmes had put - quite significant - words into his mouth.
Bloody Sunday
One of the areas of disagreement between Tony Blair and Mo Mowlam was over Bloody Sunday.
The Northern Secretary wanted the British government to apologise and to launch a new inquiry into what had happened.
Mr Blair was very reluctant to do so, given the likely reaction from the army and unionists.
Reg Empey of the UUP told Mr Blair that if there was a new inquiry into Bloody Sunday, the Irish government should be asked to launch a new inquiry into the arms crisis of 1970, which he suggested had helped the formation of the Provisional IRA.
Mr Empey claimed that "Irish government money had been used to help an organisation which had since killed 2,200 British citizens".