Nhat Nguyen was six years old when his family moved from Vietnam to Ireland in search of a better life.
Now 15 years later, the 21-year-old is representing Team Ireland in the badminton men's singles at the Olympic Games in Tokyo.
Nhat remembers how life was tough for the Nguyen family when they arrived in Ireland.
He said: "My parents took the risk of coming to Ireland and started from the bottom. It was very tough. My parents worked all day and night just for me and my sister to have food or go to school."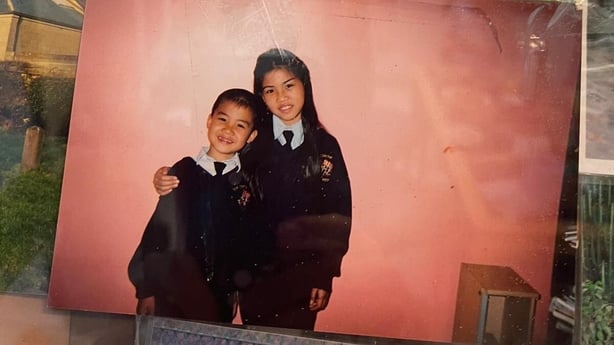 Nhat started playing badminton with his father to keep himself busy but also to make friends.
He said: "When I first moved over to Ireland, that's how it started. I was quite bored, trying to fit in, no real friends around so I just followed my dad and played badminton.
"At the start I didn't like it but as I kept playing and playing, I had a passion for it. I had a competitiveness in me that I didn't want to lose."
Nhat's sister Thammy Gough recalls the early days of her brother's badminton career.
She said: "Nhat didn't have the best of anything. I remember he was playing badminton and you have to have jerseys playing on the court but we couldn't afford to buy him a jersey.
"He actually had to borrow a jersey off somebody else to play on the court."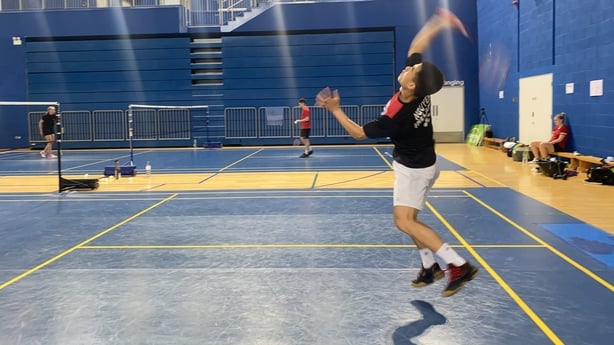 While Nhat did not have a jersey, he did have natural talent for the game, which was spotted by Daniel Magee who is the High-Performance Director with Badminton Ireland.
He said: "I think he was eight years of age when I first saw him with his father playing in Baldoyle Badminton Centre. I remember thinking - wow, this kid's eye-hand coordination is amazing.
"I talked to his father and said I would like to work with him and try and get him into our academy. After that, Nhat came on board with Badminton Ireland and has never looked back.
"We're really proud that he's a player that has grown up through our system in Ireland. Nhat is a great ambassador for badminton."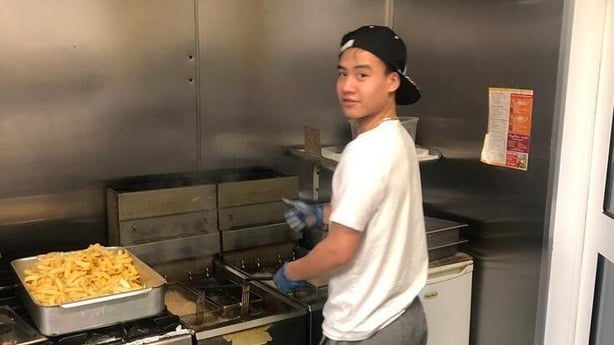 Nhat feels the extra year on the road to Tokyo 2020 has made him a better player. Being grounded due to the pandemic also meant he had more time to spend with his family, and remarkably, his preparations for Tokyo also included a stint working in his parents' Chinese takeaway during lockdown.
He said: "I think that was a good learning experience just to see how hard my parents worked during the years. I was just a regular guy doing deliveries and I actually quite enjoyed it and I made a bit of money as well doing deliveries."
Nhat's parents Thuy and Lai are incredibly proud of his achievements. They said they "never expected that when we moved to Ireland Nhat would one day be going to the Olympics".
His mother Thuy is not sad not to be able to see his Olympic matches in person because she finds watching him play in competitions "really stressful".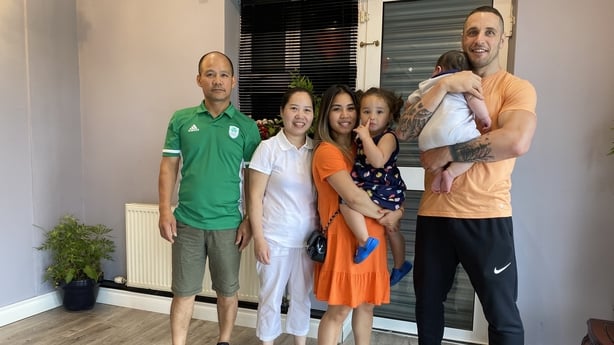 Nhat is now set for the biggest challenge of his badminton career. He is drawn in the same group as the world number ten seed.
The badminton tournament is scheduled to take place between 24 July and 2 August.
Nhat said: "It has been a long training camp and I just want to play now. I'm really excited to play. I put in a solid, probably the best eight weeks of training in my career so far."
Nhat credits his parents' hard work and dedication with his success on the badminton court.
He said: "I was very lucky to have a passion like badminton to kind of give back to my parents now."
From Friday 23 July, follow all the action from Tokyo 2020 with 24-hour coverage on RTÉ.ie/sport and the RTÉ News app, watch live on RTÉ2 or RTÉ Player and listen to updates and live commentaries on RTÉ Radio.