The DUP leader has said the burning of flags and election posters on bonfires is "wrong" and "disrespectful".
Jeffrey Donaldson marched with the Orange Order in his hometown of Kilkeel in Co Down to mark 12 July.
He said that it hurts him to see the union flag being burned on internment bonfires, and that equally, he thinks it is wrong that the Irish tricolour is burned.
Mr Donaldson said: "Where we want to get to in Northern Ireland is mutual respect for each other's identity and culture and traditions.
"If we want to earn respect, we have to give respect."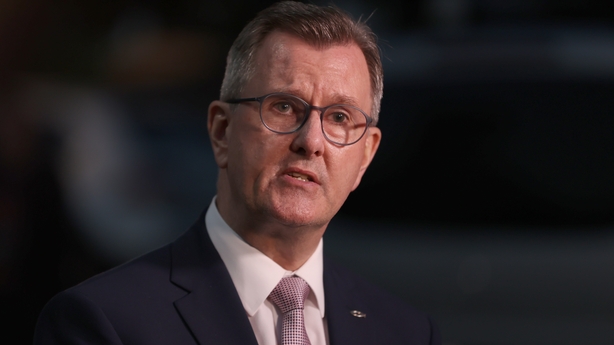 Others in the Orange tradition say that they can understand why Irish flags have been burned on bonfires in Northern Ireland.
Mervyn Gibson, the Grand Secretary of the Grand Orange Lodge of Ireland, said he would prefer not to see flags or effigies appearing on bonfires and that they should be more "celebratory in nature".
"We don't need to burn posters, we don't need to burn flags, but I have to say that in the current climate, I understand it," he said.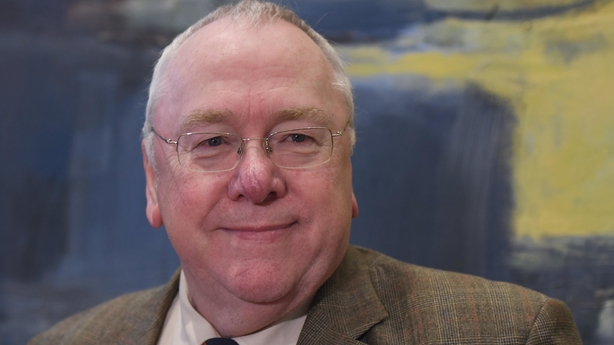 Mr Gibson said that relations with the Republic of Ireland were improving, but that "sadly the protocol has set them back", referring to the Northern Ireland Protocol.
He said that people are "angry at the Republic of Ireland".
But equally, he said he would rather see no flags appearing on bonfires and that they would simply be there to "herald the 12th of July".
Around 160 "eleventh night" bonfires were lit across Northern Ireland last night to mark the peak of the parade season in Northern Ireland.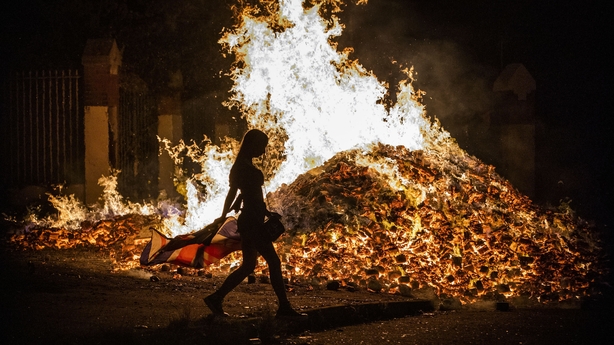 Before the Covid-19 pandemic, the Orange parades would have culminated in 18 large events across Northern Ireland.
Parades were cancelled altogether last year but are back this year on a reduced scale.
Instead of a small number of big events, around 100 smaller local Orange parades took place today and some routes have been extended to better facilitate social distancing.
Between 1,000 and 2,000 PSNI officers were involved in policing the events, with a focus on public safety.
But police sources say there are no "significant tension indicators" around parades this year.
Assistant Chief Constable Jonathan Roberts said: "I am pleased that today has passed without incident.
"I would like to thank and acknowledge all of the people who helped make this a safe and enjoyable day for many.
"We will be continuing our duties throughout the night to keep our communities safe."
We need your consent to load this rte-player contentWe use rte-player to manage extra content that can set cookies on your device and collect data about your activity. Please review their details and accept them to load the content.Manage Preferences
The main 12th of July parade in Belfast city today making its way up Bedford Street @rtenews @vincekearney pic.twitter.com/WfywCSa3by

— Laura Hogan (@LauraHoganTV) July 12, 2021
One of around 100 official @OrangeOrder July Twelfth parades taking place across Northern Ireland today under way in Kilkeel, County Down @rtenews @LauraHoganTV pic.twitter.com/ETVcHDjwRL

— Vincent Kearney (@vincekearney) July 12, 2021
DUP leader @J_Donaldson_MP on parade on his home turf in Kilkeel, County Down, with the Orangefield @OrangeOrder lodge @rtenews @LauraHoganTV pic.twitter.com/gcbGfhS93K

— Vincent Kearney (@vincekearney) July 12, 2021
Northern Ireland Fire and Rescue Service said it dealt with a significant increase in emergency calls and mobilisations to bonfire-related incidents over the last three nights.
It said of the more than 370 calls received since Friday, over 80 resulted in the fire service attending bonfire-related incidents, which it said was significantly up on the same period last year.
"Over the three nights this represents a significant increase in bonfire related incidents compared to 2020," a spokesperson said.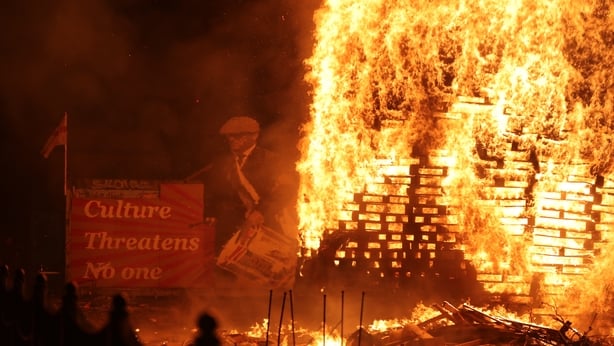 These included the contentious bonfire at Adam Street in the loyalist Tiger's Bay area of north Belfast, which is adjacent to the nationalist New Lodge area.
The bonfire had attracted controversy as nationalist and republican politicians had claimed that the homes of New Lodge residents had come under attack from bonfire builders.
But unionist politicians rejected this, stating the bonfire was a legitimate expression of their culture, and accused nationalist political leaders of raising tensions.
The bonfire was ignited with an Irish tricolour flag on top.