Independence Day marks the anniversary of the adoption of the Declaration of Independence by the Second Continental Congress on 4 July 1776.
The document declared America's independence from Britain and, as the US celebrates its birthday this weekend, it is a chance for many Americans to reflect on their country's successes and to assess the challenges that lie ahead.
On Friday, US President Joe Biden hosted a naturalisation ceremony at the White House to celebrate the Independence Day holiday.
21 immigrants officially became US citizens and the president said he could think of no better way of celebrating the Fourth of July weekend that by inviting them to the White House. "It's the people's house that, I might add, was designed by an Irish man in a nation shaped by the immigrant's heart," Mr Biden said.
He added that he was standing on the shoulders of the sacrifices of his ancestors who emigrated from Ireland.
"At least two-thirds of them got on a coffin ship in the Irish sea back in 1849 having no idea if they'd make it across the Atlantic to the United States but certain if they did, they could do better, and they did," he said.
During the ceremony, the US president also made reference to immigration reform saying that the current system needed to be fixed.
"I've kept my commitment by sending an immigration reform bill to the US Congress that includes smart border management and security and a pathway to citizenship for 11 million undocumented people," he said.
Current migrant crisis
On the current migrant crisis at the US-Mexico border, he said that the Vice President Kamala Harris was looking at the root causes of migration from countries such as Guatemala, Honduras and El Salvador.
Immigration remains a divisive issue in the US, something which I witnessed first-hand when I visited the US-Mexico border in Texas this week.
Donald Trump's famous border wall dominates the landscape on the outskirts of the small city of McAllen, Texas.
It is called a wall but is in fact an enormous fence. Miles of tall, rusting railings rise out of a thick concrete base.
The former US president visited the wall on Wednesday and seemed annoyed that it had been neglected by the Biden Administration.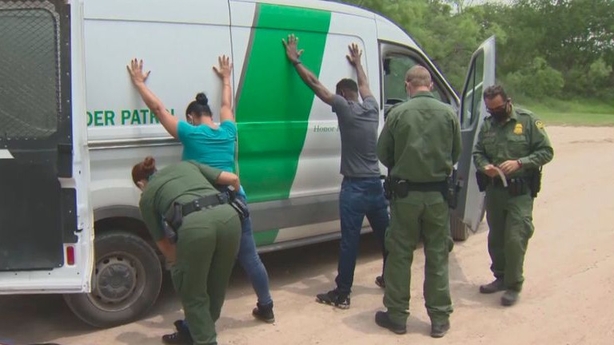 "You wouldn't have all these problems and this wall would have been completed. In two months, everything could have been completed. It would have been painted, not sitting there rotting and rusting. It would have been perfecto!" Mr Trump said.
In Texas, construction of the border wall has resumed with the state's governor using private donations and state funds to carry out the works.
It is a move that was welcomed by those who gathered at the border on Wednesday to show their support for Donald Trump.
'It is a free-for-all'
Annie Hoefel told me that she wants to see tighter immigration controls.
"It's just like your home, you don't let strangers into you house without vetting them. We welcome legal immigration and diversity but right now we don't know who is coming in, it is a free-for-all," she said.
A short distance from where Donald Trump held his border event, is the Rio Grande river which separates the US from Mexico.
I was on the riverbank on Tuesday night along with a local pastor by the name of Luis Silva.
He shone his torch across the river onto the Mexican side but it was shortly before midnight and difficult to see in the darkness.
The cries of a baby and the sounds of a child coughing told Pastor Silva and his team that the migrants would soon be coming.
A small inflatable dingy arrived on the riverbank carrying ten passengers, some of them young children and babies.
It made four more trips over the next hour and as the people disembarked, they were greeted by Pastor Silva and his team with bottles of water and protein bars.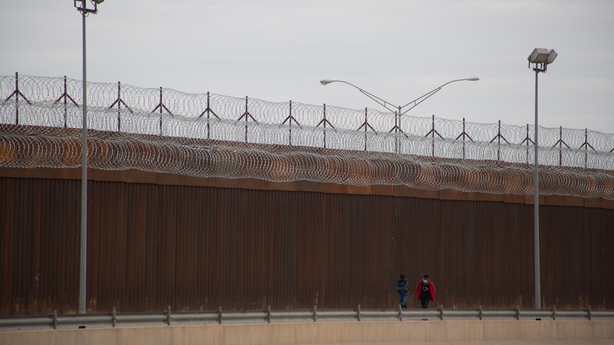 He goes there several nights a week, offering a warm welcome to the new arrivals but he does it with a gun strapped to his belt, a reminder that his work is not without risk.
Pastor Silva has noticed a big increase in the numbers crossing the border.
"People tell me that they have come because they think President Biden will help them and give them asylum while President Trump said the opposite and that narrative will increase the number of people," he said.
Among those who arrived on the boat were Sarah and her daughters Emily (age 10) and Darianna (age 8). They left Honduras four months ago to make the long and dangerous journey to the US.
"I am hoping to give a better future to my children," Sarah told me.
She says she lost everything in a storm in her home country and felt she had no choice but to leave.
"We took a lot of risks, facing danger and hunger but all we want is an opportunity for a better life," she said.
After a brief rest to drink some water, Pastor Silva prayed with the newly arrived migrants.
They then walked for about a mile up a dirt track that led from the riverbank to the main road.
There, they were greeted by armed national guard troops and a team of border patrol agents.
They were separated into three groups: unaccompanied minors, families with young children and everyone else.
As they were being processed, the heavens opened and torrential rain started to fall.
They were quickly ushered onto waiting buses to take them to asylum processing centres.
Covid-related restrictions maintained
Joe Biden has kept many of the Covid-related immigration restrictions introduced by his predecessor.
It means the vast majority of those arrested at the border are sent back to Mexico except for unaccompanied minors and families with young children.
The Biden Administration has however been criticised over conditions at detention facilities for minors.
Authorities are also having to deal with a massive increase in illegal crossings with border patrol agents along the Rio Grande river arresting more than one thousand migrants a day.
With Covid restrictions eased, there will be lots of big celebrations this Fourth of July. Parades and fireworks displays will be held in cities and towns across the US.
On the banks of the Rio Grande in Texas, it will be police sirens and torches that light the night sky as hundreds of migrants arrive in search of their own Independence Day.