Former US President Donald Trump is to visit the US-Mexico border amid a surge of migrants trying to illegally enter the United States.
The US Customs and Border Protection Agency arrested more than 180,000 migrants in May, the biggest monthly total since 2000, and a slight increase on the previous two months.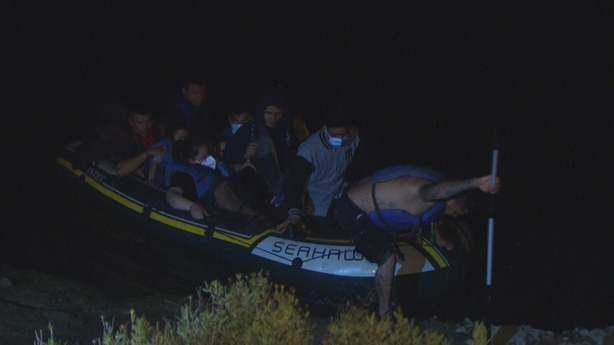 More than a million apprehensions have been made since October.
On the banks of the Rio Grande in Roma, Texas, Pastor Luis Silva shines his torch across the river onto the Mexican side.
It is shortly before midnight and difficult to see in the darkness but the cries of a baby and the sounds of a child coughing tell Pastor Silva and his team that the migrants will soon be coming.
A small inflatable dingy arrives on the riverbank carrying ten passengers, some of them young children and babies.
It will make four more trips over the next hour and as the people disembark, they are greeted by Pastor Silva and his team with bottles of water and protein bars.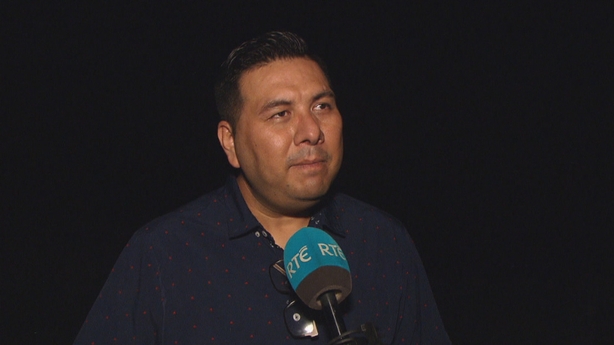 He comes here several nights a week, offering a warm welcome to the new arrivals, but he does it with a gun strapped to his belt, a reminder that his work is not without risk.
Pastor Silva has noticed a big increase in the numbers crossing the border.
"People tell me that they have come because they think President Biden will help them and give them asylum while President Trump said the opposite and that narrative will increase the number of people," he said.
Sarah and her two young daughters were among those who made the crossing. She is from Honduras and left her home four months ago.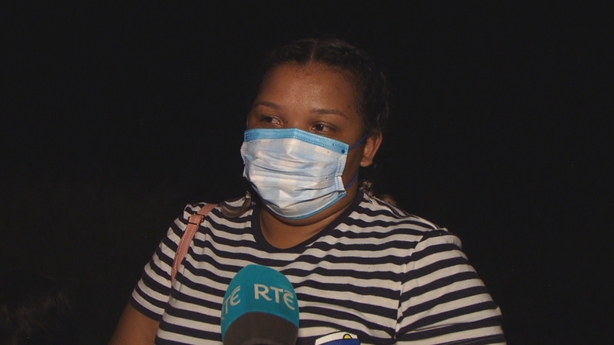 "I am a single mother with two children. We lost everything in a storm and felt we had to come to the United States," she said.
Up to 1,000 migrants a day are cared for at the Catholic Charities Humanitarian Respite Centre in McAllen, Texas on the US-Mexico border.
After being arrested by border patrol agents, they are brought to a Covid-19 testing site and if their test results come back negative, they are allowed enter the Respite Centre.
They queue for food and showers while immigration lawyers give talks on how to apply for asylum.
Two-year-old Lacey slept in her father's arms.
The family were exhausted after travelling for two months from Guatemala. On Sunday, they crossed the Rio Grande on a small boat and arrived in the US.
Lacey's father Elder says it was a frightening journey but one they felt they had to take.
"In Guatemala, we had a small business selling corn and beans but the gangs extorted money from us. They threatened my wife and daughter if I refused to pay," he said.
Elder's wife Ladi said they had originally planned to travel a few years ago.
"Obviously with President Donald Trump it was a little harder for us to come across, but now that President Biden is here, he gave us this opportunity and we took it, we are grateful to President Biden," she said.
We need your consent to load this rte-player contentWe use rte-player to manage extra content that can set cookies on your device and collect data about your activity. Please review their details and accept them to load the content.Manage Preferences
But Joe Biden has kept many of the Covid restrictions introduced by his predecessor.
It means the vast majority of those arrested at the border are sent back to Mexico except for unaccompanied minors and families with small children.
The Biden Administration has however been criticised over conditions at detention facilities for minors.
Despite all the uncertainties massive numbers are continuing to make the treacherous journey into the US.
Sister Norma Pimentel runs the Humanitarian Respite Center in McAllen, Texas.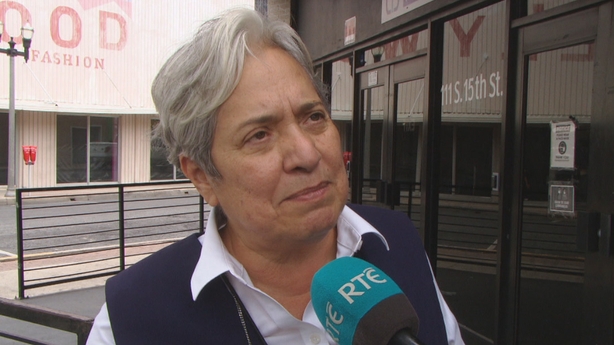 "I see the pain they are going through," she said.
"I see a pregnant woman about to give birth and I say 'why did you come, why would you risk your life & the life of your little girl?' and the answer is always the same: 'If I stayed my little girl would not survive'.".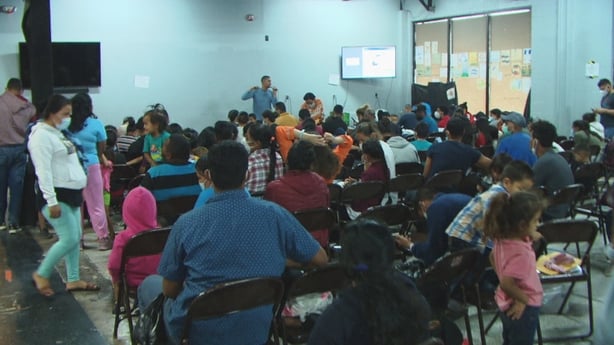 In a bid to tackle the migrant crisis, the US President Joe Biden has tasked his Vice President Kamala Harris with addressing the root causes of migration.
She visited Mexico and Guatemala earlier this month where she urged migrants not to come in the US. She had been criticised for failing to visit the border but did so on Friday.
The White House denied that the trip was announced because of Donald Trump's planned visit today.
The former US President will travel to Texas to highlight what he sees as the failures of the current administration's immigration policies.
We need your consent to load this rte-player contentWe use rte-player to manage extra content that can set cookies on your device and collect data about your activity. Please review their details and accept them to load the content.Manage Preferences
When Joe Biden became US President, he cut funding for Mr Trump's famous border wall but it is now being built once again by the Governor of Texas using state funds and private donations.
Back at the Humanitarian Respite Centre in McAllen, Sr Norma Pimentel believes that while presidents come and go, the challenge of dealing with the influx of migrants will continue.
"Unless we have a magic wand that will fix the root causes of the problems in their home countries, we always going to see what we see today," she said.