Levels of recorded crime have dropped sharply during the pandemic according to the latest CSO crime figures released this morning.
Burglaries are down by over 45% while there were also significant falls in theft, robbery, assaults and related offences.
Fraud, however, rose by over 13% and there were also increases in drugs and weapons offences.
There were also more than 10,000 incidents where fines for breaches of Covid-19 regulations were not paid.
We need your consent to load this rte-player contentWe use rte-player to manage extra content that can set cookies on your device and collect data about your activity. Please review their details and accept them to load the content.Manage Preferences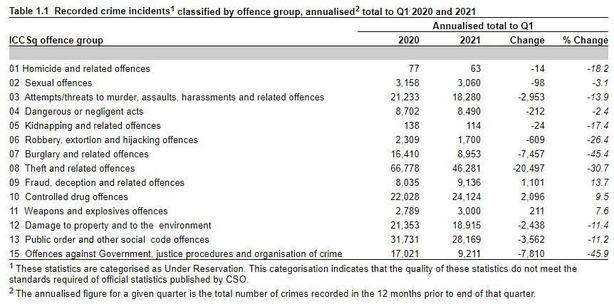 Today's figures are being released "under reservation" which means the CSO does not stand over the validity of all the statistics on the Garda's PULSE system.
The impact of the Covid-19 pandemic and associated lockdowns is further evident in these latest annualised recorded crime statistics.
The number of criminal offences recorded by An Garda Síochána has fallen sharply in eleven of the 14 most serious crime categories in the year to March 2021.
Burglary and related offences are down by over 45.4% - almost 7,500 fewer crimes - probably because more people are now at home.
Trespass offences, however, increased by over 6% with over 2,400 cases, more than six a day.
Theft and related offences were down by 30.7% - a reduction of over 20,000 incidents - while robbery was also down by more than a quarter, at 26.4%.
But there were increases in blackmail, extortion and carjacking.
Gangland crime was also down. Homicide, which includes murder and manslaughter, reduced by over 18% - with only one drugs-related murder in the 12 month period, that of Paddy Lyons in Ballymun. However, murder threats increased by 24%.
Shootings were also down over a quarter (27%) and gardaí say that increases in drugs and weapons offences can be linked to more seizures of guns, fireworks, knives and drugs and more people being caught using and selling drugs.
The cultivation of drugs here, such as in cannabis growhouses, increased by almost 120%.
While there was a 22% decrease in people caught drink driving there was a significant increase in drug driving, over 2,700 motorists were caught, an increase of over 76%.
Fraud offences also increased by 13.7%, a reflection of the fact that more criminals have now moved online.
Overall sex offences were down just over 3% with reductions in instances of rape and sexual assault being reported to gardaí.
However, reported cases of child abuse increased by over 11%.
There was also a substantial increase in begging and allowing a child to beg which is recorded in the crime figures as a social code offence.
Almost 10,500 fines were issued for breaches of Covid-19 regulations in the first three months of this year that went unpaid.
The figure is a marked increase on 1,090 such offences recorded during 2020.
The CSO says the increase reflects the introduction of a new fine system of Fixed Payment Notices in December 2020.