The Ombudsman for Children has expressed concern about incidents of possible abuse of children that may have been missed, or gone undetected, as a result of the pandemic.
The concern is expressed in the office's annual report for 2020 published today.
Dr Niall Muldoon said that the number of complaints received by his office - that merited a referral to Tusla on child protection grounds - "dropped significantly" last year.
He said the number of such referrals made up to May of this year already exceeds the total number for 2020.
Commenting on the report, Dr Muldoon said: "While we were all told to stay at home, it is not always a safe place, and we fear that children who were at risk of abuse or neglect and other issues that went under the radar due to school closures will come to the fore this year."
Almost half of all complaints (46%) received by the Ombudsman for Children last year related to education, while one in five were about family support and care and protection issues. Health was the third largest category at 14%.
The vast majority of complaints (84%) came from a child's parents or sibling or another family member.
Children comprised 6% of contacts made to the office, which is double the figure of the previous year.
The Ombudsman received 20% fewer complaints last year compared to the year before.
The report states that in March, as schools and society closed down, complaints to the office "came to a complete halt".
We need your consent to load this rte-player contentWe use rte-player to manage extra content that can set cookies on your device and collect data about your activity. Please review their details and accept them to load the content.Manage Preferences
In the report, called Childhood Paused, Dr Muldoon describes last year as a devastating one for children, with the loss of schooling, sporting and other activities, and rites of passage such as communion and school graduation.
Many complaints in the area of education related to new concerns specifically related to the pandemic.
They include the impact of the digital divide; the lack of clarity around State examinations; concern around last year's calculated grades process; the lack of access to remote learning for children living with individuals at high risk from Covid-19; and the disproportionate impact of the pandemic on children with special educational needs.
The report states that 100% of complaints received in the area of education mentioned the impact that Covid-19 was having on mental health.
In his foreword to the report, Dr Muldoon called for long lasting changes to be made now for children, adding "a return to normal is simply not good enough".
Dr Muldoon has urged the general public to report any concerns about the possible abuse of children that may continue to be missed or remain undetected as a result of the pandemic.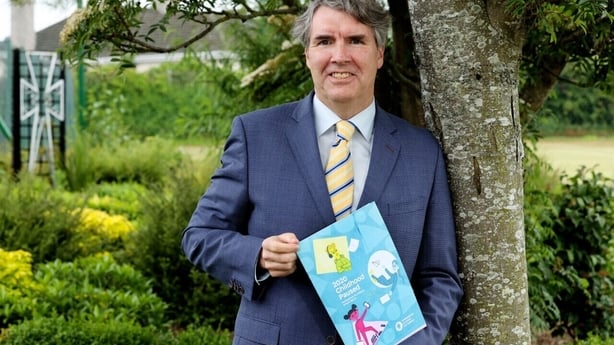 He told RTÉ's Morning Ireland that child protection services are not fully back up and running and there is concern that cases of abuse and neglect may not not been reported.
He said that the last year has been a really tough time for children and the loss of social contact has had a very negative impact on children.
In particular, he expressed concern about the number of teenagers who contacted his office to express concerns about mental health issues linked to uncertainty around exams and remote learning.
Dr Mulddon said "it tore the children apart and they needed certainty" and Ireland had never planned for online learning and this led to huge pressure and tension. He said that there was huge anxiety around calculated grades and uncertainty around the exams .
"Every single one mentioned mental health and anxiety or depression among them or their friends".
Dr Muldoon also said that some children who have a mother, father, or siblings at ongoing high risk to Covid-19 are being forgotten by the education system.
He said that the Department of Education has not supported these children with remote learning where there is a real fear that "bringing home a virus that could be deadly".
He said remote learning for these children could be facilitated though principals and consultants agreeing it.
Elsewhere, the co-leader of the Social Democrats Róisín Shortall has called on the Taoiseach to lead an "immediate urgent response" to address the needs of disadvantaged children, who she said have been "doubly disadvantaged" by the impact of the pandemic.
Speaking at Leader's Questions, Ms Shortall said disadvantaged children are being "failed by the State", in light of the pandemic.
In response, Taoiseach Micheál Martin said there was "no doubt" in his mind that the pandemic has "severely impacted" the lives of children.
He said the Government had "done all it can to support children in pandemic".