The Irish Wheelchair Association said there are "a lot of problems" for wheelchair users in accessing the reopening of towns and cities.
Wheelchair users report difficulties around uneven or broken footpaths and the lack of dished kerbs.
Other common complaints include paths blocked by cars and bicycles, a lack of ramps, inadequate parking bays, and inaccessible toilets.
"We really welcome the opening of the cities and for businesses to try and get back and have a vibrant city again, but a big problem with outdoor dining is trying to facilitate people with all sorts of types of disabilities and this is not being done well," said Advocacy Manager Joan Carthy.
Speaking on RTÉ's Morning Ireland, she said that where streets have seen measures to allow for increased outdoor dining, this has often come at the expense of accessibility.
"There's supposed to be ramps into those areas to get wheelchair users off the kerbs, but we've seen over the weekend that this not happening in a lot of areas," Ms Carthy said.
She added that business offering outdoor dining places often do not have spaces for wheelchair users to be customers.
Ms Carthy said outdoor dining should not have come as a surprise to local authorities.
"We're told they are temporary measures but 'temporary measures' aren't good enough. If they are open for the public, disability has to be taken into account," she added.
Ms Carthy said wheelchair users want to be part of the reopening of cities and the country and socialising with family and friends like anybody else.
She added that navigating crowds of people standing on the street is extremely difficult.
"After cocooning, trying to get through crowds can be daunting for anyone, but for wheelchair users or people with a visual impairment it can be very daunting," she added.
Ms Carthy said it is an extension of a scenario that existed before Covid-19 which meant navigating cities and towns was "a nightmare on a day-to-day basis".
She said that campaigners feel that while they are consulted, a lot of points of view are not taken on board by local authorities.
"We need for the local councils to act quickly and wisely and take on the information they are being given," Ms Carthy added.
Inadequate disabled parking bays are a concern for wheelchair user Sean O'Kelly.
On Dublin's Lombard Street East, he is forced to exit the driver's side of his car into his wheelchair on the roadside as large vehicles drive around him.
He must then travel across a cycle lane to find a damaged ramp up onto the footpath. He described the process as "very dangerous".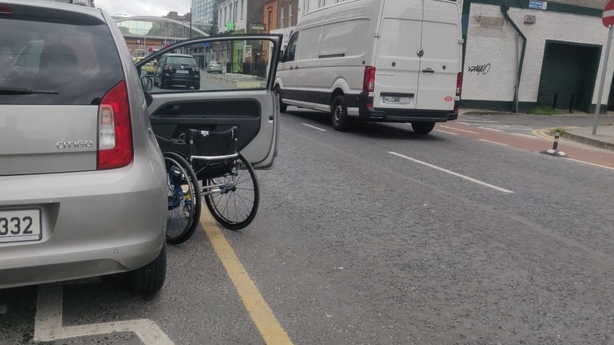 Mr O'Kelly is the co-founder of the Twitter account 'Access For All', which is designed to highlight challenges that people with reduced mobility face.
He said bus services are also exclusionary because there is only space for one wheelchair user at a time and added that there are issues around having to give advance notice of the need for assistance on rail services.
"It is hit or miss living in this thing, these four wheels. There's no spontaneity in our lives. We have to pre-plan every single move," he said.
"We're relying on the public, we're relying on the system. And the system, to my mind, has failed us," he added.
Mr O'Kelly's 'Access For All' co-founder is the parent of a wheelchair user and said there is a lack of safe disabled parking bays.
"It creates great anxiety, especially for your child. Obviously, as your child is getting older - do they really want to have their daddy carrying them across lanes of traffic to put them in a wheelchair when they themselves have become independent?" Bernard Mulvany said.
Mr Mulvany said the language around "walking and cycling" cities is not inclusive.
"That in itself creates anxiety for our disabled community because they don't feel they are being included," he added.
"It is a constant battle. In the disability world, you're always battling."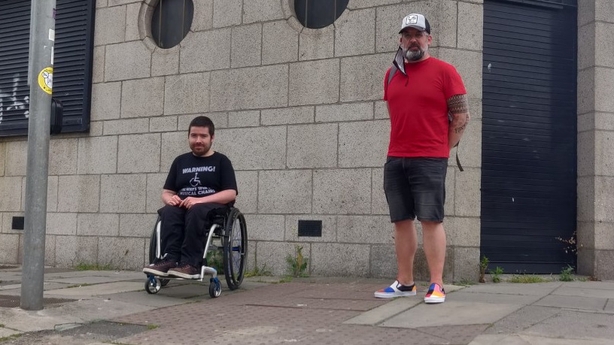 Wheelchair user Saoirse Smith said she is often blocked by vehicles parked halfway or almost entirely across footpaths, forcing her to go on the road if there is a ramp available.
She said locked bicycles also often block ramps at crossings.
Ms Smith said that she and other disability activists gave advice to Dublin City Council in relation to outdoor dining and bus management throughout the city.
"It is just very upsetting. You feel like you're not being seen or heard. They didn't take mine or anybody's suggestions on board at all," she said.
Ms Smith said when she encounters difficulty it sends a message to her that she is not welcome in the city.
She said wheelchair users have to plan "absolutely everything" about journeys into towns and cities.
Niamh Ní Hoireabhaird said access to toilets is a major problem for people with reduced mobility.
On her first trip to Dublin following her vaccinations for Covid-19, she said she was forced to return to Kildare early as she could not find any accessible bathroom.
"That was my day in town ruined," she said.
Ms Ní Hoireabhaird also said that prior to the pandemic she has often decided not to attend meet-ups with friends at bars that do not have adequate facilities for wheelchair users rather than "causing a fuss" by requesting a change of venue.
"These things should just be provided in the first place," she said.
She said most toilet facilities are not suitable for wheelchair users, including newly introduced portable toilets, and said she would like to see wider availability of larger, fully accessible 'Changing Places' style bathrooms across Ireland.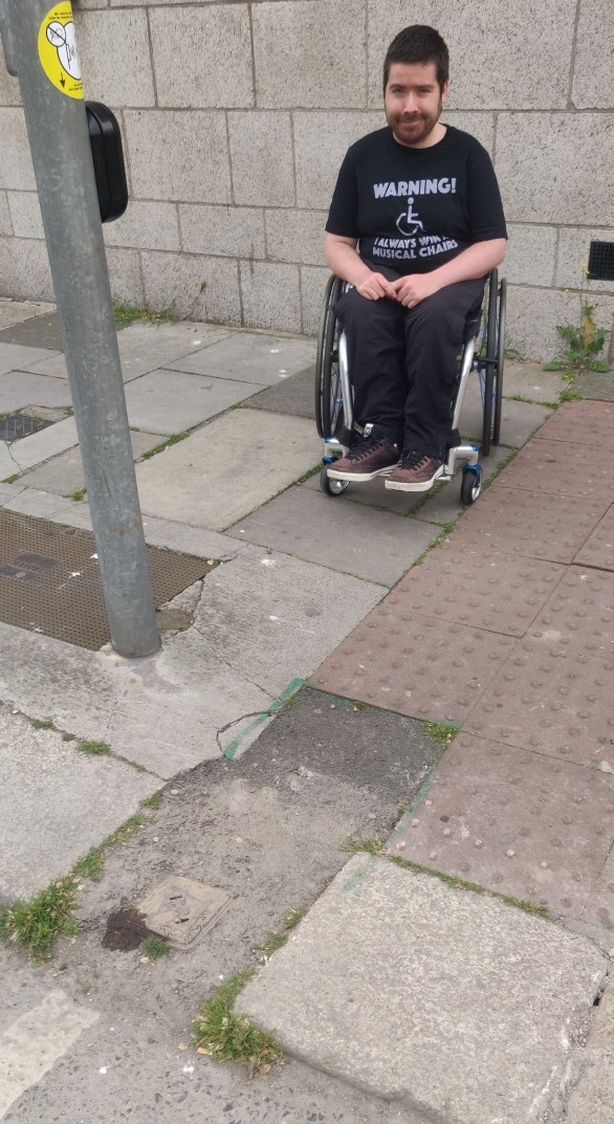 Historical architecture and street paving in Irish towns and cities also plays a role.
Ms Ní Hoireabhaird said cobbled streets, such as those in Temple Bar, pose a major problem for people with reduced mobility and that a smooth paved path through the cobbles would be helpful.
"Accessibility is so much more important than aesthetic," she said.
She said in the long term, such measures will also help able-bodied people.
Parking is also an issue for Mike Hennessy, who said disabled parking bays often do not have dished kerbs which allow for wheelchairs to be placed safely.
"They're just not thinking of the user when they place a sign and say it's for a wheelchair user. It takes a lot more than that to make them accessible," he said.
As an example, he said the disabled parking spots at the Red Cow Luas park-and-ride facility do not have standard access aisles running along the spots.
"There's no thought put into it, it is so frustrating. It always seems like an afterthought," he said.
His wife Leona Tuck said that family members and friends of people with reduced mobility are also discriminated against by extension and that people with disabilities feel forgotten about.
"They don't want to be designed out of the city," Ms Tuck said.
The couple, who operate a Twitter account called TheStruggleIsWheel, said designers of hiking trails and pathways have to take into account that wheelchair users may also want to use them.
We need your consent to load this rte-player contentWe use rte-player to manage extra content that can set cookies on your device and collect data about your activity. Please review their details and accept them to load the content.Manage Preferences

While Mr Hennessy has a powered attachment for his chair that can handle steeper gradients, they also encounter difficulty on trails with obstacles like 'kissing gates' or cluttered pathways blocking access.
Dublin City Council said that "issues faced by people with disabilities in traversing and navigating" the city inform all decisions on changes to the city.
"Every effort is made to minimise the impact changes to the public realm have on all citizens especially people with disabilities," it said.
"We are in constant contact with disability representative groups and individuals and try to sort any issues that arise," it added.
The council said any disabled parking spaces that have been used to accommodate outdoor dining have been relocated "in close proximity".
"Many issues for people with disabilities are also caused by citizens and businesses in how they use the public realm.
"Dublin City Council also engages with these businesses and citizens to advise them on better use of the public realm," it added.