Dublin-born Professor Adrian Hill, Co-Director of the Oxford Martin Programme on Vaccines, is to receive an honorary knighthood while Professor Teresa Lambe, also from Ireland, will be appointed an honorary OBE for services to science and public health.
The life-saving work of Covid-19 vaccine design and delivery is celebrated on the 'Birthday Honours list' of Britain's Queen Elizabeth, with a host of awards going to the experts who transformed the UK's pandemic response.
Northern Ireland's Chief Medical Officer Dr Michael McBride is also set to receive a knighthood as part of the honours list.
Attorney General Brenda King has been made a dame, Irish language activist Linda Ervine becomes an MBE, as does legendary Irish league football manager David Jeffrey.
Former Irish rugby international Nigel Carr is also made an MBE while long-serving Northern Ireland women's international footballer Julie Nelson is honoured with the British Empire Medal.
Chairman of the NI Police Federation Mark Lindsay is also made an MBE.
Former Irish rugby international Nigel Carr is also made an MBE while long-serving Northern Ireland women's international footballer Julie Nelson is honoured with the British Empire Medal.
Covid-19 has been a "big, wake-up call", Prof Hill said.
Prof Hill described the experience of the pandemic as "busy" and "stressful" but also rewarding in terms of the speed they were able to develop a vaccine and see it rolled out to the population.
He emphasised the need to be prepared for future outbreaks.
"I think this has been a big, wake-up call. Ebola in 2014 was a small, wake-up call," he said.
"We really have a problem, because if there's another pandemic [and] the case fatality rate - the proportion of people who die - is not under one percent but was maybe 30% to 50% as it was with Ebola, then that's absolutely disastrous.
"Think about what Covid would be like if half the people who were affected died. That wasn't the case with this virus, but it is totally possible that some other virus will come along and then we have an enormous problem.
"Just look back at this century, only 21 years, and we have had swine flu, we've had other flu viruses, we had the first SARs virus, we had Zika, we had chikungunya, Ebola in 2014 and now the really big one, Covid-19.
"The challenge is partly to try and reduce the number of outbreaks. You can reduce that but we will always have outbreaks, the real challenge is to be able to respond more quickly so that an outbreak does not become a pandemic.
"That is what we are doing by having stocks of vaccines that might protect against all coronaviruses, and I think that might well be possible, then you don't have to worry what strain it is, you can move in very quickly at the first report of an outbreak, vaccinating that country only and hopefully stop the (virus) going further."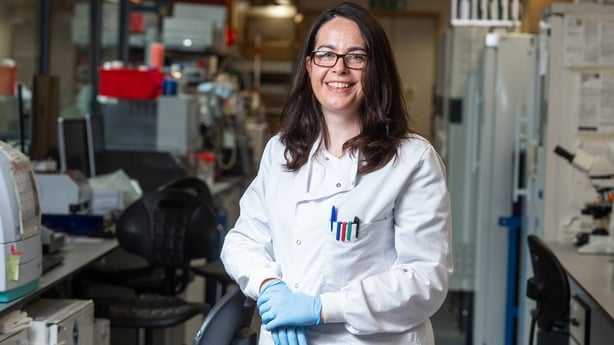 Meanwhile, as Covid-19 vaccines have been dominating the headlines, work is also progressing on a malaria vaccine.
He said a trial which started two years ago in 2019 in Burkina Faso in Africa was able to continue, and described the results as looking "very promising indeed".
"Malaria could move faster but all vaccines could move faster judging by what's been possible with Covid.
"We're now having those discussions with regulators and other authorities about what would be needed for a disease that actually killed more people in Africa last year than Covid did by a factor of about four," he said.
Prof Hill emphasised the power of vaccines, saying: "If you invest in vaccines you can do remarkable things.
"The technology is getting better all the time, the sky's the limit, we should be making vaccines not just against outbreak pathogens, but against other degenerative diseases, against Alzheimer's disease, against cancer, there really is great potential, we just need to leverage that."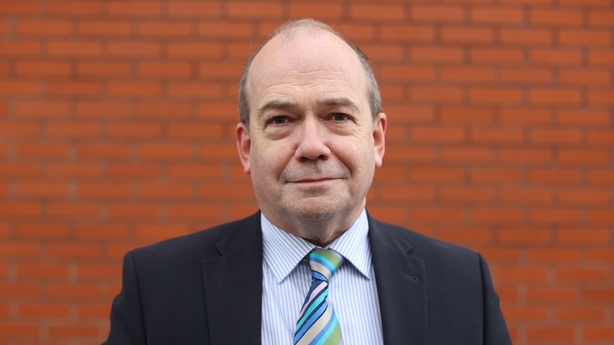 Northern Ireland Chief Medical Officer 'privileged' over knighthood
Northern Ireland's Chief Medical Officer Dr Michael McBride, said he shed tears of joy when he was told he was to receive a knighthood.
Dr McBride, 58, said he was overcome with emotion when he was told of his knighthood and cried.
"I'm not ashamed to say that, I felt very emotional," he told the PA news agency.
"I think it's just a manifestation of the fact that it's been a tough year for each and every one of us.
"And you know it will continue to be tough in the months ahead and to have any contribution that I have made recognised in this way I feel honoured and I feel very, very privileged indeed."
Dr McBride, who is originally from north Belfast, paid tribute to all the colleagues who had supported him through a distinguished career in the health service.
He made special mention of his wife Catherine and four children Anastasia, Sophia, Matthew and Alicia.
"Holding public office and public service is a great honour and a privilege but sometimes the burden of that responsibility weighs heavily on your shoulders and certainly also on those closest to you," he said.
"So I'm really chuffed to bits for my wife Catherine and for our four children."
The CMO, who described the challenge of the pandemic as "unrelenting", said the prospect of being referred to as Sir Michael felt "surreal".
"I sort of have to pinch myself and think is this really happening? Am I standing here talking about me?," he said.
"But I always remember the words of my late father - 'never forget the bowl you were baked in'.
"And I never have and I never will.
"I'm absolutely delighted and I'm absolutely thrilled and I feel deeply honoured and privileged to being recognised this way."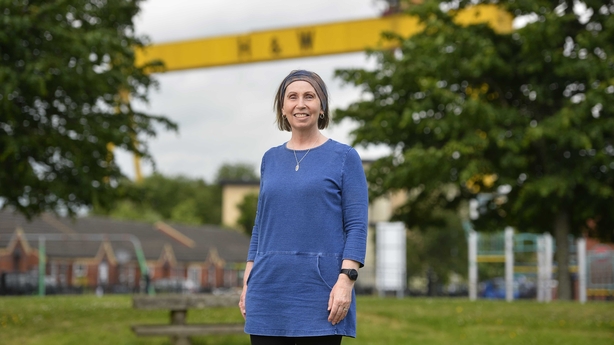 MBA for activist who wants to 'change the narrative' around Irish language
An Irish language trailblazer in east Belfast has expressed her delight at news she will be honoured.
Linda Ervine said her journey started in 2011 after newspaper articles appeared about her as the wife of then Progressive Unionist Party leader Brian learning Irish.
The publicity generated led to a string of inquiries for East Belfast Mission for classes and the founding of Turas, which is now one of the biggest Irish providers in Belfast.
"It became very successful and the job has really grown over the years," she told the PA news agency.
"Yes, we run Irish classes and we are one of the biggest providers of Irish in Belfast, but also we have a tourism project and are in the process of opening a Naiscoil, we started another organisation Cairde Turas, we sell our own merchandise, we have a library with over 4,000 resources in Irish, Ulster Scots and we run a scholarship scheme with eight people at university.
"We also do a lot of advisory work and go out and talk to groups about the Irish language, trying to be a reasonable voice in what sometimes is a lot of shouting and misunderstanding about what the Irish language is and who speaks it."
Mrs Ervine said the key objective for Turas is to "change the narrative" around the Irish language belonging to only one side of the community, but to all, including the Protestant, Unionist, Loyalist tradition.
"I think we are a very positive voice for east Belfast and a lot of our learners will go over to west Belfast and other places to attend classes and events," she said.
"They always say how welcome they are made, and then they invite people to east Belfast.
"There is a lot of cross-city travel.
"People sit down together, they learn together and they laugh together.
"Not everyone likes what we do, and we do have the naysayers but we just do what we do.
"But for one unpleasant thing that happens, there will be 100 really lovely things that happen, and when others attack us, there will be so many more who want to support us and encourage us.
"Trinity College did a piece of research on us and came to the conclusion that the work that we were doing was helping to build peace, and I am very proud of that."
Mrs Ervine said she is delighted by news of her MBE.
"I was so pleased and very honoured.
"I was very surprised, you don't really expect these things but it was a lovely surprise," she said.
"Of course, it is about the work that I do but I certainly don't do it on my own, I have a great team of people so it's lovely to see the work honoured.
"Turas means journey, I started this journey on my own and now there are hundreds of us, and that is a lovely place to be."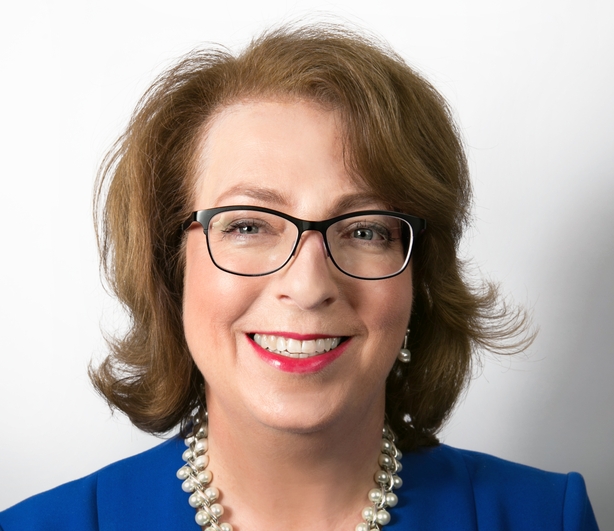 'Proud day' for NI Attorney General
NI Attorney General Breda King said it was a "very proud day" for her and her family.
"I am truly humbled to receive the award of Dame Commander of the Order of the Bath in the Queen's Birthday Honours list," she said.
"I have devoted my professional life to the law and have worked with some outstanding individuals throughout my career.
"Whilst this is a great personal honour, it also reflects on the quality and commitment of those colleagues I have worked with over the years, in particular from the Office of the Legislative Counsel in Northern Ireland.
"The quality of the legislation produced by Northern Ireland is held in the highest regard internationally, a point that was repeatedly made to me during my two year tenure as President of the Commonwealth Association of Legislative Counsel."
NI Police Federation chairman made an MBE
Mark Lindsay, 54, has been a police officer since 1987 and has represented rank and file officers as the head of the federation since 2015.
"I am humbled to receive this honour, which recognises the immense charitable and welfare support given to serving and retired police officers and their families in Northern Ireland and across the United Kingdom," he said.
"I will continue to do all I can to assist colleagues and their families who need welfare assistance, whilst also ensuring the memory of hundreds of officers who paid the ultimate price in the line of duty is never forgotten."