There is many a slip between cup and lip.
Beware of false dawns.
Snatching defeat from the jaws of victory.
These are all familiar words of advice.
Things can change in a heartbeat and we know that from our unique experience over the last 16 months with coronavirus.
Undoubtedly, the landscape around us has changed dramatically now, compared to March last year and the dark days of January just passed.
The crisis feeling is gone after three different waves of the disease.
Cases of Covid-19 are reducing, hospitalisations are down, along with admissions to ICU, and deaths have reduced.
We are beating this virus. But beware, there are perils on the home stretch. We are not there yet and there is danger in thinking it's all over.
Variants of concern and any other new variants that become a concern could undo some of the great achievements.
According to the HSE, 64% of cases in the last two weeks have been among people aged under 35 years. The mean age of cases is around 28 years.
We have seen the virus pushed into unvaccinated groups, the young. The 'Heat Map' of cases now shows that most of these are being seen in people aged 19-24 years.
In Britain, the Delta variant, which originated in India, now accounts for 90% of all new cases.
Yesterday, Public Health England said that the Delta variant is about 60% more transmissible than the Alpha (Kent) variant and that vaccines are less effective against it.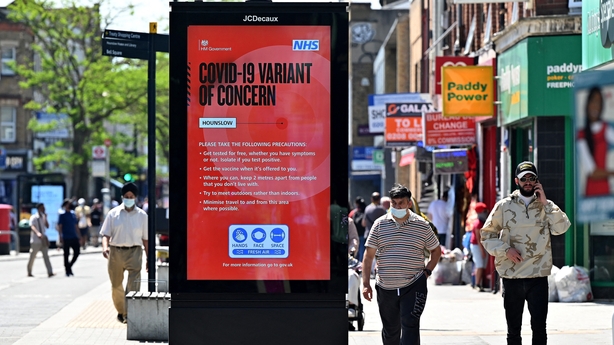 There is a big question mark about the UK opening up fully later this month. They often say that if Britain sneezes, Ireland catches a cold.
And we have been here before with the Kent strain, which had such a huge impact on us around Christmas and into the start of this year.
In Northern Ireland, the Delta variant accounts for around 25% of sequenced cases and modelling shows the possibility of a significant rise in cases quickly over the coming weeks.
Up to yesterday, 43 Delta variant cases had been confirmed there. So there are questions too about further lifting of restrictions in Northern Ireland.
Here, 126 Delta variant cases have been sequenced.
In a report last week, the Health Information and Quality Authority said that due to the high volume of travel between Ireland and the UK (which is non-designated so no hotel quarantine is required for people arriving here from the UK) the current system may be ineffective, given the increased presence of the Delta variant in the UK.
Here, a lot of society has reopened and early next month, indoor dining and socialising is due to resume.
From 19 July, the Government advice on non-essential travel ends and the EU Digital Certificate will have come into use here. There is so much to look forward to and enjoy and the better weather has lifted the spirit of the nation.
Few people want to talk or consider the possibility of a fourth wave and come across like a party-pooper. But we have come so far and we know from bitter experience that this virus will make use of any gap it finds in people's behaviour and will come back and bite.
Vaccination programme
So the real weapon in Ireland's armoury is of course vaccination. The main task now is getting the programme operating at maximum speed, to be ahead of the threat posed by the variants of concern that we know about.
The national vaccination programme has been complex. It was criticised in the early stages for being slow and problems with vaccine supplies certainly played a part there.
It now has the look of a military project. Reaching about 250,000 vaccinations a week is an achievement and, for every week that passes, that has a cumulative protective effect.
I got my second dose of vaccine last Thursday at the Aviva in Dublin and the process of getting in and out was even faster than the first time.
At the end of next week, the HSE hopes to be in a position to say when vaccination registration for people aged 30-39 will begin. This will start with the 35-39 age group.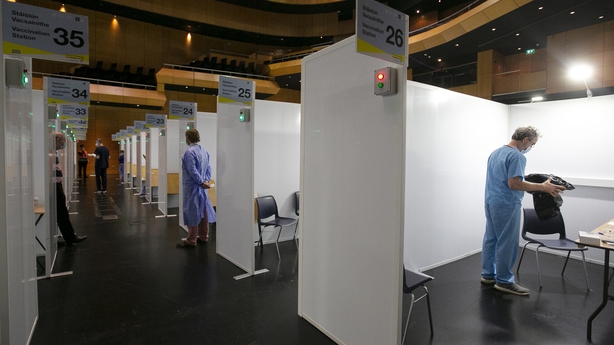 The recommended reduction of the gap between the first and second dose of the AstraZeneca vaccine from 12 weeks to eight weeks will come into effect, on a graduated basis, from next week. So some people will start to get fully vaccinated faster.
The problems with vaccine supplies have also eased somewhat. The HSE says that vaccine deliveries from Pfizer for the next few weeks are strong. Similarly with Moderna.
The AstraZeneca deliveries are getting better. However, the worst-case scenario looks likely with Johnson & Johnson with perhaps just 60,000 doses arriving this month.
There are 38 vaccination centres now open. A new vaccination centre will open at Fairyhouse Racecourse in Co Meath, next week.
We are in a race to get to community (herd) immunity as fast as possible. Ideally, that would mean about 85% of the population fully vaccinated.
The support for vaccination has been impressive. The uptake reflects that fact.
Just 4.2% of people do not attend (DNA) their vaccination appointment. The HSE has described this as relatively low, in health service terms. A mix of factors have contributed to the number of do not attend numbers.
Some people decided, as is their right, not to opt for vaccination when their appointment came up.
Others may have opted to accept the advice from the National Immunisation Advisory Committee that only one dose of vaccine may be needed, in certain cases, for people under 50, where they had already contracted Covid-19 in the last six months.
So some of these people who got an mRNA vaccine may not have attended their second dose appointment.
The attendance figures at vaccination centres have also been skewed because some patients had registered with their GP to be vaccinated, but they also registered on the HSE portal, perhaps as a double bet, to see which appointment date came first.
If they were vaccinated recently by their GP, the impact of the cyber attack would not allow that information be passed to the HSE, so that their portal appointment would come up as a no show.
We also heard this week that a small number of people have been turning up at vaccination centres in the hope of getting immunised. While some have been successful, the HSE has advised against it as vaccination centres have standby lists.
Not there yet
We are on the road out of this. But it will be slow. We are not there yet.
This week, Chief Medical Officer Dr Tony Holohan was conferred with an Honorary Fellowship by the Royal College of Surgeons in Ireland for his work, in particular, during the Covid-19 pandemic.
He remarked that people in public health who plan to prepare for major public health emergencies could never have predicted we would be confronted in such a fundamental way and every facet of our lives impacted.
He said that the most basic assumptions about how we live out modern life were tested to breaking point, and beyond.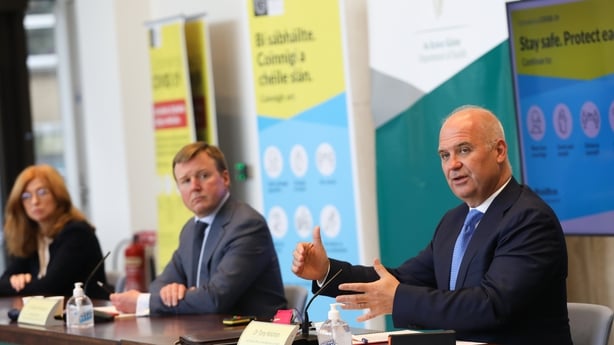 Covid-19 will be with us in some shape and form for the foreseeable future. Just as no-one could have predicted what 2020 would bring, likewise it is hard to be sure about the rest of 2021 and 2022.
But the evidence tells us that it should be much better, if we do not forget the hard lessons of the last 16 months.
What happens around the world will also have an impact. This is where new variants of concern may emerge. It is also unclear when and to what degree booster vaccinations will be required.
Life is starting to return to some normality around us. The news agenda, which has been dominated by Covid-19 since last March, is changing.
On some days, Covid-19 is less a story and has a lower placing on bulletins. That is a welcome change. We see pilot music concerts and hope returning for artists who have endured a torrid time.
Cinemas are back open. Gyms too. Sports events have small crowds. Yesterday, rugby supporters were welcomed back to the Leinster v Dragons clash at the RDS in Dublin. Other sports events with some spectators are planned for the weeks ahead.
We must take encouragement from all of this.
The achievement of science in developing so many effective vaccines in such a short space of time will be looked back on by historians as one of the incredible achievements.
But individually, here, people have made huge sacrifices and had their own personal achievements, in quiet ways, to get us to this better place.
It has been a time like no other.
So let's hope that history will look back on this period we are in now, as the beginning of the end.