The Health Service Executive is in a "really strong position" heading into the Bank Holiday weekend, according to its Chief Executive, Paul Reid.
In a post on Twitter, he said: "Notwithstanding some challenges, we head into the Bank Holiday weekend in a really strong position.
"Covid-19 patients in hospital are now down to 70 with 28 in ICU. We have achieved too much to let it slip now. Enjoy the weekend and let's keep our guard up."
Ireland now has the lowest number of coronavirus patients in hospital since 16 September and the fewest patients in ICU with the disease since 27 December.
Notwithstanding some challenges, we head into the Bank Holiday weekend in a really strong position. #COVID19 patients in hospital are now down to 70 with 28 of those in ICU. We've achieved too much to let it slip now. Enjoy the weekend & let's keep our guard up. @HSELive

— Paul Reid (@paulreiddublin) June 4, 2021
Earlier, the Department of Health confirmed 529 new cases of Covid-19, which is the highest number of daily cases reported since Thursday 20 May when there were 524 new infections.
The department said daily case numbers may change due to future data review, validation and update.
In the past seven days, a total of 2,953 new coronavirus infections have been reported compared to 2,880 in the previous seven day period, a small increase of just over 2%.
Today's figures come amid concern over rising Covid infections in the Limerick area. Over 800 cases have been identified there over the past two weeks, mainly as a result of indoor gatherings.
Mid-West public health officials and politicians had a meeting today with Minister for Health Minister Stephen Donnelly and Chief Medical Officer Dr Tony Holohan to discuss a response to the situation.
Earlier, Limerick City and County Council said it was not closing any public areas over fears of the gathering of large crowds over the bank holiday weekend.
In Dublin and Galway extra toilets and bins in public spaces are being provided this weekend, however Cork City Council said it will not provide temporary public toilet facilities in the city centre.
In Cork, 17 city centre streets have been fully pedestrianised as part of a Reimagining Cork City plan.
Dublin City Council's Recovery Task Force said that 150 portaloo toilets, 54 large bins and 80 barrel bins will be in place across the city from this weekend.
The Government is adding five countries to the mandatory hotel quarantine list.
The countries are Afghanistan, Egypt, Sri Lanka, Sudan and Trinidad and Tobago.
Mandatory hotel quarantine for travel from those countries comes into effect from Tuesday, 8 June, at 4am.
We need your consent to load this rte-player contentWe use rte-player to manage extra content that can set cookies on your device and collect data about your activity. Please review their details and accept them to load the content.Manage Preferences
Meanwhile, Health Service Executive CEO Paul Reid said there had been a 10% rise in Covid-19 cases across the country last week, with increased community referrals.
He said despite daily case numbers being in the mid-400s there has not been the same impact on hospital services.
However, he said there are people in their 30s and 40s with no underlying conditions in ICU with Covid-19 so "nobody is immune from this virus".
In Northern Ireland, the Department of Health has confirmed 73 new cases of the disease today.
No Covid-related deaths were reported there in the past 24 hours. There are 19 coronavirus patients in hospital in the North, with one in ICU.
The average 7-day incidence rate per 100,000 is 25.2. The area with the highest rate remains Derry & Strabane on 45.8, while the lowest remains Lisburn & Castlereagh on 11.7.
In the Seanad, members have approved legislation extending emergency Covid-19 powers until November.
The approval means the Bill will now go to President Michael D Higgins to be signed into law.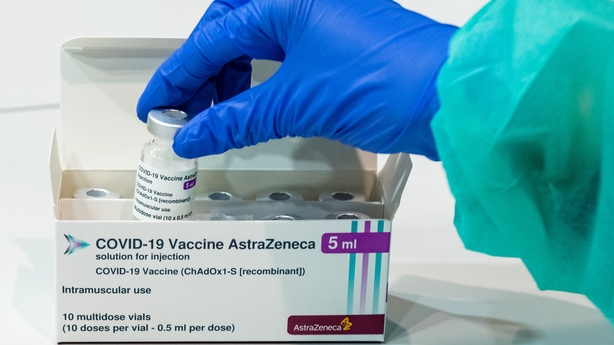 Interval between AstraZeneca doses reduced to 8 weeks
The gap between the first and second doses of the AstraZeneca Covid-19 vaccine is to be reduced from 12 to eight weeks.
The decision was announced today by the Minister for Health following a recent recommendation from the National Immunisation Advisory Committee.
The NIAC recommendation was endorsed by the Chief Medical Officer Dr Tony Holohan.
The interval reduction will be phased in over the coming weeks and it means more than 400,000 people who are waiting on a second dose will be fully vaccinated at an earlier stage.
Stephen Donnelly said "the coming fortnight will see those who are due their vaccine as part of a 12 week schedule, receive their second dose of vaccine.
"We will then implement a graduated reduction so the interval will reduce to 11, 10, nine and then eight weeks."
Minister Donnelly met with the Chief Executive of the HSE and the Chair of the High-Level Task Force on the Covid-19 Vaccination Programme to discuss the move, with further detailed planning to take place over the weekend.
Exact timing will be contingent on supplies of the AstraZeneca vaccine.
Mr Donnelly said "right now we only have confirmed volumes for the next two weeks.
"I've spoken with the company, while there has also been contact with them from the Taoiseach and the taskforce in recent days to emphasise the urgency and importance of contracted supplies arriving as agreed."