Former Democratic Unionist Party leader and Stormont First Minister Arlene Foster has agreed with her predecessor Peter Robinson that her departure could have been handled differently.
She said she is disappointed those responsible have still not spoken to her about her ousting.
"There was, of course, another way," she told BBC Northern Ireland.
"Sometimes when I hear people talk about it they say there was no other way and, of course, there was another way, and the way to do that was to come and have a conversation with me.
"As yet I still haven't had a conversation with those people who decided that my time as a leader was up, that of course is disappointing, but that's a matter for them as to how they felt that they should deal with the issue."
Mr Robinson labelled the ousting of Ms Foster from the posts as savage, humiliating, and vindictive.
In an article in the Belfast News Letter today, he contrasts how DUP founder Dr Ian Paisley was removed from office "sensitively" with the "needlessly nasty" nature of Ms Foster's removal.
She announced that she would step down after opponents within the party leaked details of a petition to ask her to leave. They said it had been signed by 22 of the DUP's 28 elected members of the Stormont Assembly.
Ms Foster has described her treatment as "brutal, even by the standards of the DUP".
In his newspaper article, Mr Robinson compares that with the fact that Ian Paisley "was able to stand down with his dignity intact".
Last week, Dr Paisley's son and successor as the MP for North Antrim, Ian Paisley Jnr, told the media the way his father had been ousted had left him with a broken heart and "killed him".
But Mr Robinson insists everything was done "to make the process as painless as possible".
The former East Belfast MP said he and the party's former deputy leader Nigel Dodds shredded a petition signed by DUP Assembly members calling for Dr Paisley to resign.
"I did not want to be cruel and handover a petition, which would have amounted to a Notice to Quit," he writes.
He adds: "Compare the party's action then with the deliberate, publicly humiliating and acrimonious ditching of Arlene. It is not the changing of the party leader that has caused so much bitterness, it is the manner and handling of the change.
"Politics is a rough trade and of course it must hurt, if a political career is ended before the participant's preferred time, but the savage slaying of a leader in the public eye was totally unnecessary and vindictive."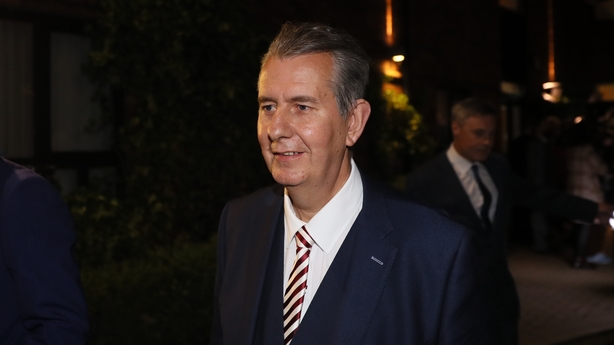 With the DUP clearly deeply split - Edwin Poots defeated Jeffrey Donaldson in the leadership contest by 19 votes to 17 - Mr Robinson claims people across Northern Ireland are "asking questions about whether the DUP is still capable of leading unionism".
Mr Robinson called on Edwin Poots to acknowledge that the process of removing Ms Foster "was needlessly nasty".
He also says that opponents of Mr Poots within the DUP seeking revenge or launching "a counter coup" would destroy the party.
He warns that continuing friction would not only guarantee that Mr Poots fails, "but also ensure there is no functioning party left for the new leader to lead - a house divided against itself, cannot stand."