Members of the Dáil's Business Committee members will push for a partial return to Leinster House when they meet later today.
Politicians have been using the Convention Centre for 11 months now, at a cost of between €21,000 to €25,000 each day that it is used.
However, unions representing Oireachtas staff and health and safety advisors want to keep all Dáil business in the Convention Centre while the vaccination programme continues, and case numbers remain high.
TDs first found themselves in the vast expanse of the Convention Centre on 27 June last year.
The day was historic for another reason too, with Micheál Martin elected Taoiseach of a coalition Government that marked the end of civil war politics in Ireland's parliament.
As he explained in his first speech as Taoiseach, "we are meeting away from our permanent chamber because of a historic pandemic which has struck Ireland and the rest of the world".
The Convention Centre allowed Dáil business to continue during the pandemic, a place where all TDs could be present and socially distanced.
In fact, as Micheal Healy-Rae thundered last night as he addressed the Minister for Health, "you know I'm looking across and I can barely see you you're so far away from me".
Eleven months on, Deputy Healy-Rae and others are eager to say goodbye to Dublin's docklands and return, partially at least, to Leinster House.
Sinn Féin put forward a proposal to the Business Committee two weeks ago, asking that the Dáil return to Leinster House on Tuesdays and Thursdays.
The party accepts that the Convention Centre should be used on Wednesdays, to facilitate voting.
Pary whip Pádraig Mac Lochlainn believes the optics of remaining in the Convention Centre full-time are not good.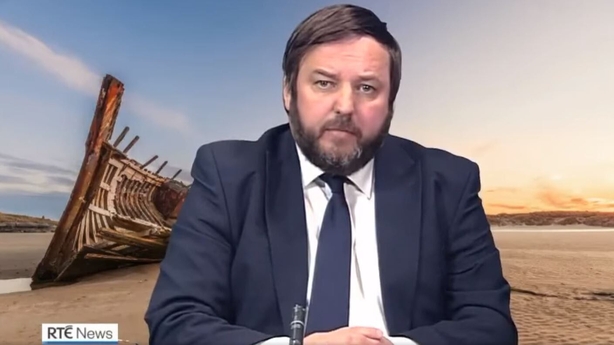 "When people who are going back to work and businesses see TDs or Senators in this huge, cavernous space of the Convention Centre - essentially with cotton wool wrapped around them - the optics around that is terrible," he says.
"So TDs are very conscious that it's time to get back to the Dáil chamber."
Mr Mac Lochlainn, mindful of public health concerns among many who work in the Oireachtas, acknowledged
that there is a need to resolve some health and safety concerns that people may have before such a move.
Nevertheless, the party wants to get back to Kildare Street as soon as possible.
Independent Tipperary TD Mattie McGrath also sits on the Dáil's 12-member Business Committee, and he too
is pushing for a return to the original chamber on Tuesdays and Thursdays.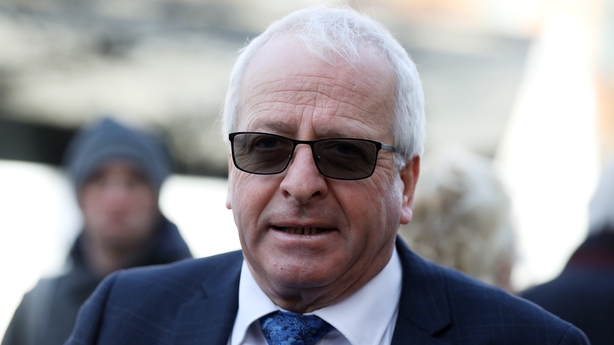 With the vaccine roll-out in full swing and restrictions easing, he believes that now is the right time to go.
"The public are aghast looking at this huge monstrosity of a building here, so surely at this stage we must be able to go back safely, even for Tuesday and Thursday," he said.
Deputy McGrath is worried about the cost associated with using the Convention Centre and how it is being received by the public.
At the Business Committee, members will hear from health experts, who they expect will insist on the Convention Centre remaining in full-time use.
There is cross-party support on the issue.
Government Deputy Chief Whip Brendan Griffin pointed out that cost and optics aside, the arrangement is proving to be quite time consuming for busy TDs and senators, with politicians having to move between two locations on either side of the Liffey.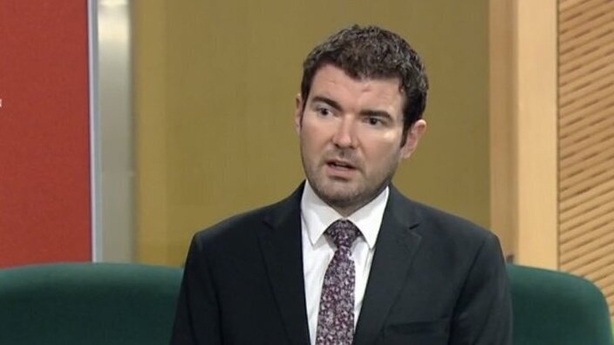 He explained that politicians are already using the Leinster House complex because their offices are located there.
He echoed calls from Mr McGrath, and said that Tuesday and Wednesday sittings would require significantly fewer people to be at Leinster House.
Last night, the Fine Gael Parliamentary Party unanimously passed a motion seeking a return of future Dáil sittings to Leinster House.
Ceann Comhairle Seán Ó Fearghaíl is chair of the Business Committee.
He said he would love to return to Kildare Street, but argued that the public health advice he is receiving does not support such a move.
"Of course, politicians are seeking a return to Leinster House, to a certain extent we're like homing pigeons when it comes to our base", he quipped.
Mr Ó Fearghaíl points out that he must also take into account the safety of the Oireachtas staff, not just politicians.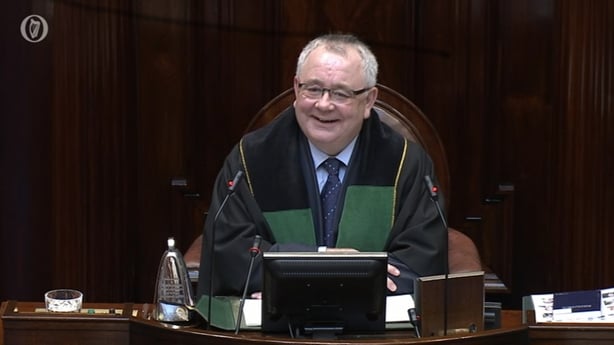 At full tilt, prior to the pandemic, the Leinster House complex had 1,200 staff and politicians working there.
He has been advised that 350 is now the "safe number", in order to comply with public health guidelines.
"We confidently expect to be back in Leinster House in September," he said.
Other members of the Business Committee want to be back before the summer recess.
The Ceann Comhairle acknowledged this, but the advice is clear he said, and he cannot see how TDs could return to Leinster House before September.
Asked about the optics of the continued use of the Convention Centre while people in other sectors return to the workplace, he said that "it's precisely because we're conscious of the fact that other people have had to adhere to restrictions that we have made specific arrangements for ourselves".
The cost of using the Convention Centre ranges from €21,000 to €25,000 per day of use. The Oireachtas is not charged rent for use of the building, instead the money is spent on facilitating the use of the new space, with broadcasting services believed to comprise the bulk of the spending.
Mr Ó Fearghail said that the costs involved in using the Convention Centre, relative to the costs of other sittings are "not exorbitant and they are being carefully monitored and will be for as long as we're here".