Around 14,000 women in Ireland each year have a miscarriage. Yet the grief of a miscarriage is not "openly acknowledged, socially supported or publicly mourned".
Sinéad Hingston-Green wants to raise awareness of the experience of pregnancy loss and the needs of those who go through it.
She had three consecutive miscarriages last year.
She said: "Last year has completely changed me. Whatever about having a miscarriage, having a miscarriage during a pandemic is a whole different ballgame. You're doing it alone."
Sinéad started the 'Spark a Life' hashtag on social media to spread hope to those who have experienced miscarriage and are trying to conceive.
"I would have got a lot of messages from people who were trying to conceive or going through miscarriages. It just got me thinking of the amount of people who are just hanging on to that bit of hope that they were going to get their big, fat positives," she said.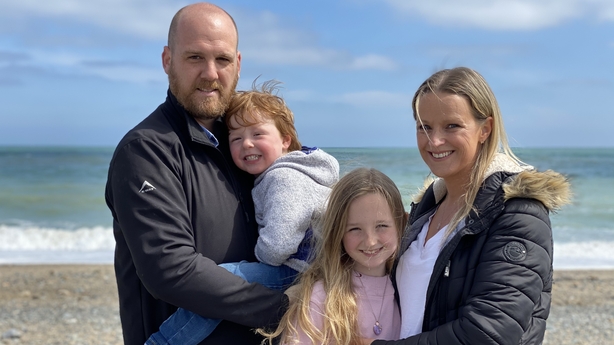 The mother-of-two's first husband Geoff Hingston died in 2011 while Sinéad was 19 weeks pregnant with their first child together. Attending maternity appointments without her husband Michael and receiving news she had miscarried was tough for Sinéad.
She said: "It brought back a lot of memories for me and then being in Holles Street without Michael there for all these scans and appointments, it was really hard and really traumatising.
"I just don't think we give people enough credit for getting out of bed in the morning and facing the day when you are living with grief."
The chance of having consecutive miscarriages is less than 5%, according to Dr Cathy Allen, a consultant obstetrician gynaecologist with the National Maternity Hospital.
Dr Allen set up the 'TLC Pregnancy Clinic' at the NMH in November 2020 to offer greater support to women who have suffered recurrent pregnancy loss.
She said: "The whole term 'TLC' might seem a little bit folksy. It's not a very scientific term - tender loving care - but it actually has been recognised, for many years, that people who face and have been challenged with recurrent pregnancy loss, if you give them much more of a human touch in the first trimester of an ongoing subsequent pregnancy, it can actually improve outcomes.
"The data accumulated on women who have been through pregnancy loss before are good if they are offered regular, serial reassurance scans.
"They literally just feast their eyes on looking at the little foetal heartbeat and get the adrenalin levels down, get the stress levels down and then just feel positive and a little bit stronger and have a little bit more faith in their own bodies."
One in six women experience long-term post-traumatic stress following miscarriage or ectopic pregnancy, according to the study of 650 women, by Imperial College London and KU Leuven in Belgium which was published in the American Journal of Obstetrics and Gynaecology.
Brenda Casey, a midwife and specialist in bereavement and loss with the NMH, says pregnancy loss "is a disenfranchised grief".
She said: "It's not openly acknowledged, socially supported or publicly mourned".
Phone calls and emails from women "craving a support outlet" led her to set up Ireland's only midwife-led, hospital-based bereavement support group.
She said: "Women get such comfort and they also are empowered when they get support from other women. They realise that they are not alone and their grief is normalised and validated."
Sinéad Hingston-Green is delighted to be pregnant again but is determined to continue to raise awareness around miscarriage.
"Trust me, it's a lot harder than it looks to really get on with things and to put a smile on your face and live your life. You're living with grief which is not easy."
If you have been affected by any of the issues raised in this story, visit rte.ie/helplines.
The Miscarriage Association of Ireland provide telephone support. Their helpline numbers are available here.
You can contact Bereavement Midwives, National Maternity Hospital via email: bereavement@nmh.ie