Dublin City Council said it is confident that footfall will return to about 75% of pre-pandemic levels as city centre retailers reopened their doors today.
While Retail Ireland expects shoppers to spend 40% more than usual in the next month, Dublin Town said retailers are still "vulnerable".
The business group - representing 2,500 businesses in the centre of the capital - appealed to people to spend in the city rather than with international retailers online.
The bustle and shopping bags were back on Grafton Street today as the shutters on Dublin's main retail street came up fully for the first time in 2021.
Business appeared to be brisk but not overly busy and while most of the main retailers were open, some smaller stores and food outlets remained shut.
Some shops had been emptied of their stock with 'To Let' signs above the door, while the flower sellers have not yet returned to their usual spot on the capital's main shopping street south of the Liffey.
We need your consent to load this rte-player contentWe use rte-player to manage extra content that can set cookies on your device and collect data about your activity. Please review their details and accept them to load the content.Manage Preferences
But men with horses and traps were waiting at the top of Grafton Street to take any shoppers so inclined on a jaunt around St Stephen's Green.
Shoppers declared their joy at being able to finally touch, feel and try on the products they were purchasing.
Others admitted they were in town just to get out and sample the atmosphere, which they said had noticeably improved since the doors to the shops were thrown open.
Dublin City Council was hopeful that footfall in the city centre will return to 75% of pre-pandemic levels. Its Director of City Recovery, Coilín O Reilly, said: "We don't have the tourist footfall that we would have had previously.
"There's also a certain amount of office workers who are not back in the office. We got back to 75% last June and we got back to 75% at Christmas time, so we'd be confident we could get back in around that figure."
Retail Ireland said it expects shoppers to spend more than €3 billion during the next month alone.
That figure would be up 40% on the same period pre-pandemic and is based on the experience of reopening last year and the pent-up demand it believes is there after shops have been closed for five months.
But Dublin Town said city centre businesses are still vulnerable and it is encouraging the public to come into central Dublin and support them.
"We do need the spend. So if you're thinking of shopping online with an international brand please think about that decision and come back because we do need you - especially in these coming months."
At IKEA's largest Irish outlet in Ballymun, north Dublin, the retailer was braced for big numbers with barriers to manage queuing lined up outside the main entrance.
The store opened two hours earlier when around 30 people had gathered at the entrance by 8am and there was a steady stream of shoppers arriving up to the expected opening time of 10am.
IKEA's Country Manager, Martyn Allen, said staff had continued to work in the store throughout lockdown to fulfill deliveries but were delighted to have customers back inside.
He said garden furniture and office equipment were the most popular items among the early shoppers as well as the "bits and pieces" that people like to pick up in the store.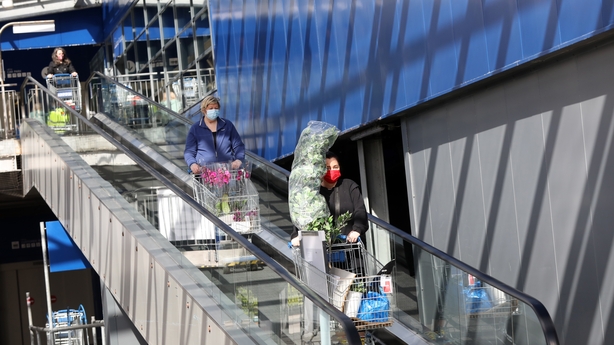 Mr Allen said IKEA had been working hard to ensure a safe shopping experience with capacity at the store hugely reduced. "Before Covid, our capacity was 6,000. That is now down to 1,000."
Capacity on public transport has increased from 25% to 50% but the National Transport Authority said the full reopening of retail is likely to make it busier in the days and weeks ahead.
NTA Chief Executive Anne Graham appealed for people only to use public transport for "essential" journeys and to travel off peak.
"Because capacity is still limited, we're saying to customers that before they set out, they should consider whether their journey is necessary.
"We want to ensure there's space on public transport for those who need it most, particularly at peak times when students are travelling to and from school."
Gardaí will maintain a visible presence in the city centre and appealed to people to continue to follow public health advice while visiting the capital.
With smaller numbers in stores and a pandemic shift to online shopping, the coming months will show if retailers can recover from this most challenging period.