The drive-through vaccination centre in Charles Town, West Virginia can deal with up 5,000 people a day.
It has been in operation for five weeks but is being wound down amid slowing demand.
The centre is located in the car park of a casino.
Signs at the entrance read: "Left Lane: Casino Traffic, Right Lane: Vaccine Traffic".
Some of the locals in the town are refusing to choose the right lane, claiming that getting their shots is a gamble they are not willing to take.
Wendy Crites said she deals with the public every day as part of her job and never caught the virus, so she is not planning to get the vaccine.
"I'm a little afraid of some of the side effects I've heard about. I don't trust it and I think it came out too fast," she said.
Woody Lee said he doesn't believe in taking vaccines because he feels he already has a strong immune system.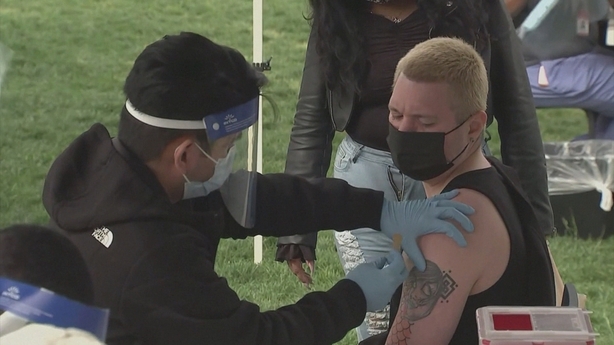 "Anytime you put any chemicals in your body there could be repercussions," he said.
At the drive-through vaccination centre, where the lines of cars are getting shorter, the operations chief Donnie Grubb said they are working to reassure those who don't want to get vaccinated.
"We know there is still some hesitation out there from members of the community, so we are holding virtual seminars to make sure people are fully educated and have the information they need to make their decision," he said.
In some parts of the US, people are being offered free beer when they get vaccinated. Other incentives include gift cards, tickets to sports events and even cash payments.
---
---
In Ohio, the Governor announced that the state will give away a $1m prize every week for five weeks in a lottery open to adults who have received at least one dose of a Covid-19 vaccine.
Last week, the US announced the easing of mask mandates and social distancing rules for fully vaccinated people.
US President Joe Biden has said he wants 70% of adults in America to have received at least one dose by 4 July but it is feared that target could be missed amid a slowdown in demand.
In a bid to address vaccine hesitancy, the White House has been keen to highlight measures such as free transportation to vaccination centres and the fact that high street pharmacies are offering doses on a walk-in basis with no appointment necessary.
The Pfizer vaccine has now been approved in the US for children as young as 12.
There are no incentives yet for that age group but free beer certainly won't be on the menu.