From today, the five main banks are adopting a co-ordinated approach to make it easier for people seeking international protection here to open bank accounts.
AIB, Bank of Ireland, Permanent TSB, KBC and Ulster Bank say that asylum seekers looking to open an account will be able to provide alternative documentation to prove their identity or where they live, as they may not be able to provide a passport, driving licence, or utility bill for example.
Titus Ayoola Fabunmi is a 24-year-old international protection applicant who has been living in Ireland for the past 10 years.
He doesn't have a bank account, though he has made a number of attempts to open one.
"Each time (I've tried) I've been asked to produce what I can't supply, I don't have they are asking me for in terms of IDs... a valid international passport, a driving licence, a tax registration certificate, I don't have all these things," Mr Fabunmi told RTÉ News.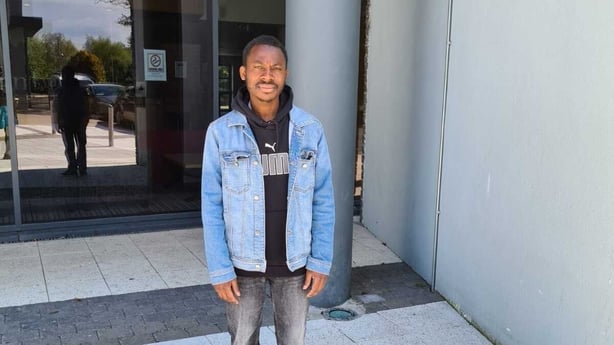 He is not alone.
The Catherine Day Advisory Group Report, published last September, was critical of the fact that, despite a 2014 EU Directive setting out an asylum seeker's right to open bank account, some were still unable to do so.
The 2016 EU Payment Accounts Regulations transposed the directive into Irish law.
They set out that asylum seekers must "be able to open a payment account without undue difficulty".
However the Day Report said there were "still reports of certain branches refusing to allow applicants for protection to open accounts while other branches of the same bank do not raise objections".
It said that the State should act immediately to ensure "that all banks operating in the State respect the right of applicants for international protection to open and hold basic bank accounts".
The Irish Human Rights and Equality Commission has exercised its statutory powers through a formal process, called an Equality Review to engage with Bank of Ireland and Permanent TSB directly on this issue.
Financial Inclusion Lead with Bank of Ireland, Ross Moore, told RTÉ News that the bank has "had to adapt".
"Financial well-being and financial inclusion are very important to what we do day in, day out, and this is another core stone, but we accept it was not the way it should have been in the past."
A guidebook on the new protocols agreed by the five banks has been published by the Banking & Payments Federation Ireland, and will be available in a number of languages.
We need your consent to load this rte-player contentWe use rte-player to manage extra content that can set cookies on your device and collect data about your activity. Please review their details and accept them to load the content.Manage Preferences
As proof of identity the banks will now accept:
an Irish Residence Permit
a Temporary Residence Certificate
an Irish Government Travel Document
As proof of address they will accept:
a Labour Market Access permission letter
a letter from a Government Department (on headed paper to the bank confirming a person's status as an international protection applicant and their full residential address)
a letter from the International Protection Office (as above)
a letter from the Direct Provision centre or Emergency Reception and Orientation Centre (EROC) in which they are living, again on headed paper
"This gives a standard approach across the industry when it comes to alternative documentation," Chief Executive of BPFI, Brian Hayes told RTÉ News.
"There has been some potential difficulty in the last number of years. We now have clarity," Mr Hayes added.
The move has been broadly welcomed.
"People who come here seeking protection are making valuable contributions to Irish society, and the barriers to accessing personal bank accounts have only served to impede a person's potential and job opportunities.
Removing these obstacles will help to support those seeking protection to continue with their lives," said the Minister for Children, Equality, Disability, Integration and Youth, Roderic O'Gorman.
??International Protection applicants can now open personal bank accounts??

Huge credit to @IHREC and others for their campaign, seeking out practical solutions to help those who come here seeking protection have access to essential services and live independently.

— Roderic O'Gorman TD (@rodericogorman) May 13, 2021
The Minister for State for Law Reform, Youth Justice and Immigration, James Browne said "significant progress" had been made in delivering on one of it's commitments in last year's White Paper, "which was to ensure that banks respect the right of international protection applicants to open bank accounts."
Sinéad Gibney, Chief Commissioner of the Irish Human Rights and Equality Commission described it as "an extremely welcome joint step from Ireland's high street banks".
The Irish Refugee Council is also working with banks and BPFI on this initiative and will support staff training.
Chief Executive Nick Henderson said it "strongly welcomed" what he called "significant progress on this issue".
Lucky Khambule, co-founder of the Movement of Asylum Seekers in Ireland said that it "went a long way to address the problem".
Mr Khambule said that while it was welcome, "it is late... the EU Directive has been there since 2014, the right to work has been there since 2018."
Mr Khambule said MASI would monitor its implementation and warned that some international protection applicants may not have the alternative documentation either.
A person appealing their case to the High Court usually does not have a Temporary Residence Card, for example.
Mr Khambule says others may fall through the cracks, due to changes in the international protection process over the years.
Titus Ayoola Fabunmi is concerned he may be one of them.
"I don't even have an ID that shows that I'm seeking asylum in the country," Mr Fabunmi said.
Mr Hayes said that in addition to an internal complaints mechanism which allows anyone who cannot open an account to complain to that bank, the BPFI will carry out a six month review of the new system.
"I think it's really important that we review what we've done... to make sure that it's working," Mr Hayes said.
Bank of Ireland will also accept other documentation to that laid out in the BPFI document.
A Public Service Card is listed on its website as one of the alternative forms of identification it will accept, though not on its own.
As proof of address, Bank of Ireland will also accept a letter from a recognised school/college/institute of further or higher education confirming acceptance onto a course or programme (issued in the last six months), or a letter from the Department of Social Protection about benefits (also issued in the last six months).