The Tánaiste, Leo Varadkar, has held a virtual meeting with the United States Trade Representative Katherine Tai.
According to a statement issued by her office, Ambassador Tai reiterated the Biden-Harris administration's support for maintaining the integrity of the Good Friday Agreement.
They also discussed the importance of the successful conclusion of the OECD negotiations on global corporate tax reform and the need to move quickly to find a resolution to the ongoing dispute over aircraft subsidies.
"Ambassador Tai and Tánaiste Varadkar discussed the importance of the trans-Atlantic trade relationship and agreed to partner on addressing unfair trade practices of non-market economies, such as China, including with respect to excess production capacity for steel and aluminium," the statement said.
On Twitter, Katherine Tai said she looked forward to regular communication with the Leo Varadkar on these and other critical issues.
Today I had a great virtual conversation with Minister @LeoVaradkar of Ireland where we discussed maintaining our trade relationship while addressing unfair trade practices of non-market economies. I look forward to our regular communication on these and other critical issues.

— Ambassador Katherine Tai (@AmbassadorTai) May 11, 2021
The Tánaiste said in a statement: "It was great to have an opportunity to meet with Ambassador Tai today.
"We discussed a range of trade policy issues affecting our two countries.
"We have a real opportunity now, with the new Biden administration, in the aftermath of Brexit and the pandemic, to rebuild, reshape and renew the new Atlantic alliance between the US and Europe."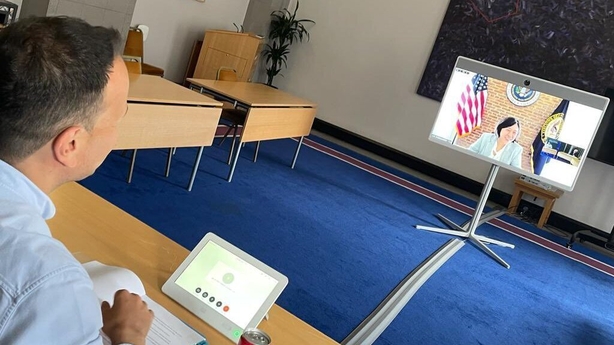 In the context of last week's announcement by the United States regarding its support for a waiver of intellectual property rights for vaccines, Mr Varadkar said he highlighted the EU's willingness to examine the issue as part of a solution aimed at continuing the ramp-up of global production of Covid vaccines.
He encouraged the US to remove its restrictions on the export of vaccines to the Global South in the interim. The EU is the main exporter of vaccines to the world, including developing countries.
The Tánaiste said: "Not only is it the right thing to do, but it is also in all our shared interests to ensure that those in less developed countries have access to a secure supply of vaccines.
"This way we can save many lives, reduce the risk of re-importation of the virus and the generation of new variants."