The leader of the Ulster Unionist Party Steve Aiken is to resign.
The South Antrim Assembly member was appointed leader in Novermber 2019.
He has written to the UUP chairman asking him to accept his resignation from Monday.
The announcement comes amid growing internal UUP concern at his leadership.
In the letter, Mr Aiken said the past few months have been "a momentous time for our Union and for Northern Ireland" and that he believes Unionism needs positive, hopeful and progressive leadership.
He adds: "To represent the brand of Unionism that builds on hope and not fear, and provides a clear, modern, alternative, that will be both the future of our Party and Northern Ireland will require strong leadership.
"Regrettably, however, I believe I have taken our Party as far as it can; to achieve our goals, we now need new leadership.
"Therefore, after due consideration, I would wish you to accept my resignation as Party Leader, effective from 10:00 on the 10 May 2021.
"I will not be retiring from politics and I will be dedicating myself fully to support our new Party Leader, our Party, but above all to the people of South Antrim."
Mr Aiken, a former submarine captain, was elected to the position unopposed in 2019.
In response, UUP chairman Danny Kennedy said Mr Aiken can take "considerable pride" in his his "many achievements as our party leader and the necessary reforms to our structures brought under your watch".
"Without doubt, you have always sought to lead from the front," he said
"It is clear from your letter that you passionately believe in the future development of our Party and its importance and relevance within the political life of our beloved Province. I am particularly pleased that you have clearly indicated your willingness to continue as part of our team and I have no doubt that you will play a central role as we seek to restore our political fortunes.
"On a personal note, it has been my honour to serve you as Party Chairman and I genuinely thank you for that opportunity. I have witnessed at close quarters your dedication to duty and the dignity you have displayed at all times as Party Leader, even in challenging circumstances.
"I very much hope that, along with colleagues, we can shape a prosperous and happy future for all of the people of Northern Ireland within the Union."
Former UUP leader and current Northern Ireland Minister for Health Robin Swann said leadership is often "both a rewarding and challenging position to hold".
"Most of all I thank him for his support and the trust he placed in me when he nominated me as Health Minister," he said.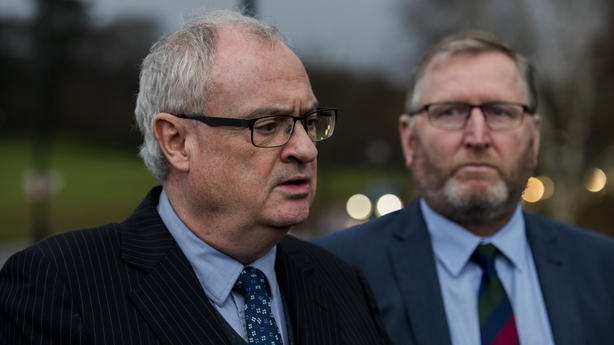 UUP MLA for Upper Bann Doug Beattie thanked Mr Aiken "for his service past, present and in the future".
"The loneliness of leadership is never easy. The cruel comments are a measure of those unwilling to put their heads above the parapet," Mr Beattie added.
Taoiseach Micheál Martin wished Mr Aiken "all the best as he prepares to step down" as UUP leader.
In a tweet, the Taoiseach wrote: "While we often had different perspectives, I always valued our discussions and engagement."
Arlene Foster, who announced her intention to resign as DUP leader and NI First Minister last month, said she wished Mr Aiken and his family well for the future.
"In all our dealings, as party leaders, I found him to be very straightforward and honourable," she said.
Minister of State with responsibility for EU Affairs Thomas Byrne has said the most important thing now is that the NI Assembly remains functioning.
Speaking on RTÉ's Saturday with Katie Hannon programme, Mr Byrne said it was important that everyone north and south can continue to work well together, adding there was a delicate balance at the moment.
He said the issue was a matter for the UUP and that they wish him well going forward
Speaking on the same programme, Sinn Féin spokesperson on Enterprise, Trade and Employment Louise O'Reilly said it was clear that unionism was at a cross roads, and that at a time when having a leader was important "they are now leaderless".
She said it is a matter for the party themselves who leads them, but added that Sinn Féin would work with all parties in the Assembly.
---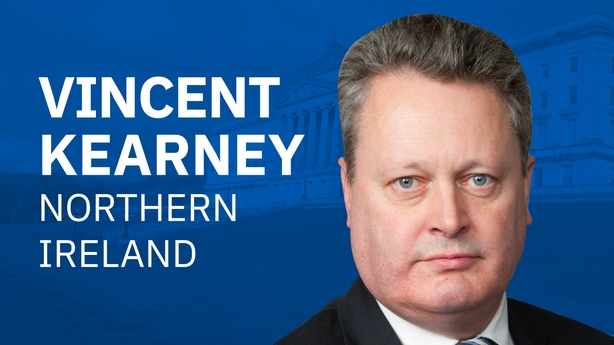 Unionist parties in turmoil
Northern Ireland's 100th birthday year sees its main unionist parties in turmoil.
At a time when the DUP and Ulster Unionist Party have been speaking about celebrating the centenary, they are both in a state of flux.
Steve Aiken had been coming under growing pressure in recent weeks, with many of the parties elected members viewing his leadership as ineffectual.
A disastrous interview on BBC Radio Ulster last month was the last straw for many.
There had been speculation of a potential move against him, but then the DUP stole a march and moved to force Arlene Foster to announce that she would step down as party leader and First Minister.
The race to succeed her between Sir Jeffrey Donaldson and Edwin Poots will be decided by an election on Friday.
When Steve Aiken replaced Robin Swann as UUP leader in November 2019, there were no other candidates.
It is not yet clear who will be the next leader of a party that dominated politics in Northern Ireland for decades.