It was a sound that unnerved me, rather than the actual sight of the dilapidated Chernobyl nuclear plant.
I knew, as I walked towards it, that radiation was continuing to spill out from the facility, but I couldn't see, taste or feel it.
However, the Geiger-counter in my hand was working overtime.
As it detected the gathering presence of ionising radiation, the warning 'click' sounded more frequently.
When my colleague, cameraman Ken Fogarty, and I reached the plant's security gate, I looked down at the screen of the device.
It had locked - the reading was off the scale.
This was in 2006 - 20 years on from the devastating explosion inside Reactor No 4 which blew the roof off the plant, exposed the reactor core and triggered a fire which blazed for 10 days.
"What the hell am I doing here?"... I heard myself say.
This assignment had tested our nerves a few times already.
The previous night, we had stayed at a nearby hotel. A warning sign hung in every bedroom, instructing guests that in the event of the alarm sounding, we should don protective clothing hanging in the wardrobe and go straight to reception from where we would be evacuated.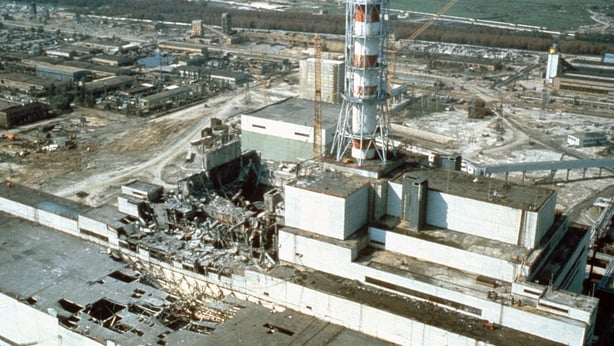 Yet when you opened the wardrobe, there wasn't any protective clothing - or anything else for that matter.
While filming in, and around, the leaking nuclear plant the following morning, we could hear Bob Dylan being played through a tannoy on the street, with his instantly recognisable voice singing a line that was never more apt: "The answer, my friend, is blowing in the wind - the answer is blowing in the wind."
Ken didn't think anyone would believe him if he told the story - so he recorded the evidence.
A short time later, we had a memorable encounter with a nonchalant military scientist working inside the plant.
He apologised to us for being late - explaining that he had been delayed due to having to deal with a leak. We thought he meant a plumbing problem. He later explained that, no, it had been another radiation leak.
He also told us that we were lucky to be visiting when compact snow was on the ground. In summer, radioactive dust swirls around the plant and makes things even more dangerous.
Ken and I were at the site for only a very short time. We filmed some interviews using the red-and-white chimney as a backdrop, and then left.
The whole experience made me marvel all the more at the accounts of unbelievable heroism when the plant was ablaze back in the aftermath of the explosion 35 years ago today - on 26 April, 1986.
Of the people we met, the interview which stands out most in my memory was with pilot Oleg Chichkov, deputy commander of the rescue operation, who flew multiple missions every day over the Chernobyl inferno.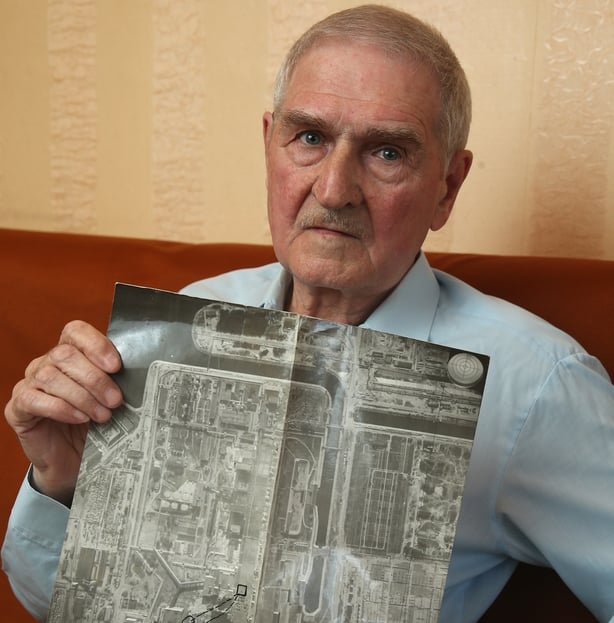 His crews piloting Mi-26 helicopters dropped bags of lead, dolomite, and boric acid into Reactor No 4 in the hope it would extinguish the flames and reduce the leakage of radioactive material.
When I asked him about safety concerns, Colonel Chichkov told me the chopper had a lead-lined floor and their pod was sealed.
That may have been the case, but their base was only a matter of kilometres away from the burning plant - the place they slept for a few hours before climbing back into their choppers.
The danger didn't seem to matter.
The colonel told me, with a distinct military clip: "People knew what the atom was. We were given an order. I was a military pilot. I understood my responsibility as a senior officer. We had to do it as soon as possible - and well."
Orders may have been orders, but there was also compassion. Before the first flights, he asked all members of the team who were unmarried, or married without children, to step forward. When they did, he ordered them to go home.
The remaining older pilots eventually succeeded in their mission, but it came at a price.
---
Read more
The legacy of Chernobyl - the children
The legacy of Chernobyl - the plant
The legacy of Chernobyl - the land
---
When he spoke to Ken and I, Colonel Chichkov had agreed to don his Ukrainian Air Force uniform, replete with many medals confirming his bravery. Yet for him the uniform had a flip-side - evoking memories of those comrades now gone and whose bravery had been forgotten.
He told us four of his close friends - all pilots - had died, others were sick; and he was being treated for bone cancer.
Colonel Chichkov recalled: "I can feel it myself, as my bones are fragile. I fell down from a bicycle and fractured a thigh bone. I can't boast about my health."
Small wonder.
The colonel was what's called "a liquidator" - an umbrella phrase for anyone involved in the effort to quell the flames and then clean-up the worst affected areas around the Chernobyl plant, and stretching to a quickly designated 30km exclusion zone.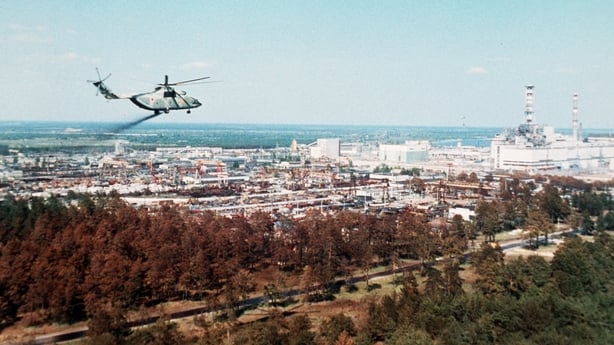 Around 600,000 people worked as liquidators, often at grave personal risk.
One of them, Valentin Masyluk, told us that he had been exposed to a high level of radiation on his first day at the site. He related how, on arriving home that evening, "... my wife said my t-shirt emitted light."
A visibly ill man, he told us: "Practically everyone is sick. Many of my friends have already died. They seem to be healthy and then you hear they died."
Another firefighter told us that he and his colleagues weren't adequately prepared: "We extinguished fires without any personal protection. We had no respirators, no gas masks, and no special clothes. We had nothing."
One of them was so disillusioned with how the Ukrainian government responded to their needs that he gave Ken one of his bravery medals.
Close by to the Chernobyl plant, there are two locations which send shivers down your spine.
One is a rectangular flat field surrounded by fencing, where vehicles used in the clean-up operation back in 1986 now slowly rust.
Ancient helicopters, with the Soviet star emblazoned on the side, lie beside fire-tenders and trucks.
However, the choppers used by Colonel Chichkov and his team were considered so dangerous, due to extensive exposure to radiation, that they were buried instead.
It may seem unbelievable, but because radiation is beyond your senses, it's possible to forget that you are walking around a nuclear graveyard.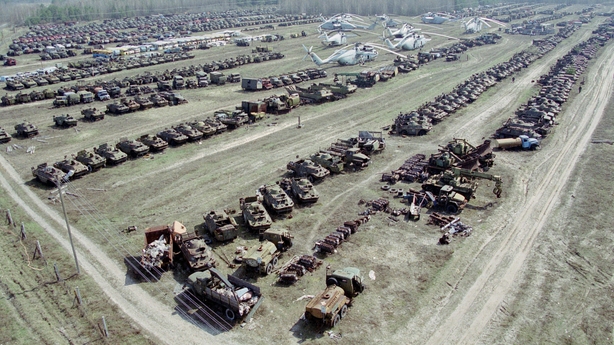 It happened to me - momentarily - as I moved close to a helicopter to peer inside. Then I caught a glimpse of our translator, and guide, Rima, standing on the road beyond the entrance. Rima knew the dangers. I came to my senses.
Ken had noticed that parts had been removed from some of the vehicles. We were told they had been recycled, so to speak, and were operating in other vehicles - even though they were highly radioactive.
The near-by town of Pripyat had been branded the most radioactive town in the world.
Once home to 50,000 people, many of whom worked in the plant, the town was evacuated in the aftermath of the nuclear explosion, and it remains abandoned today.
To walk through the empty streets and past the deserted playground - with its lonely Ferris wheel - felt like being on the set of a horror film.
We could see inside apartments where furniture and belongings were left behind as people fled in terror. In one, a piano stood in the corner, silent since 1986. I can still picture the scenes.
That assignment was 15 years ago.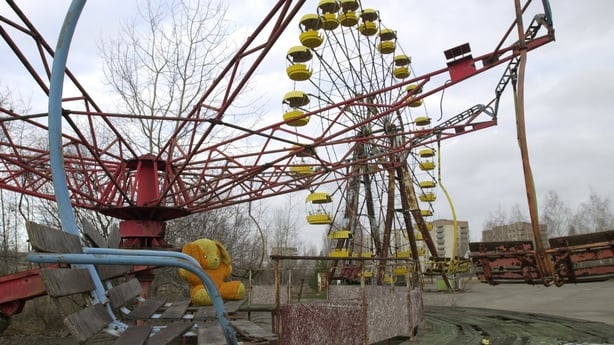 To find out what's happening today, I contacted Adi Roche, the tireless campaigner and founder of Chernobyl Children International.
Ken and I had travelled with Adi and her team from the Belorussian capital Minsk to the Chernobyl plant, which is in northern Ukraine.
Adi had shown us, back in 2006, how Irish support had led to significant improvements at the orphanage at Vesnova, in southern Belarus, as well as how children benefited greatly from Irish sponsored hospice-care.
We spent some time with one girl, Sasha, who was being cared for by her heartbroken but stoic father, Vitaly.
Adi later brought us to some of the villages in the exclusion zones around the Chernobyl plant which had been emptied due to continuing radiation contamination.
Here and there, some people had decided to stay - people like Lena Muzychenko, who drank the contaminated water and ate vegetables grown in her contaminated garden. She said with a smile: "It's better to die from radiation than hunger."
One evening we visited a remote village. There had been a cold snap, with temperatures plummeting to minus 30 degrees. I trudged through the snow towards a house which was clearly still inhabited, and an elderly woman came outside.
She, like me, happened to speak some German and likened the destruction wrought by Chernobyl with World War II. As a child, she had watched retreating Nazi forces set her forest ablaze after razing the village to the ground. Now her village was destroyed once again.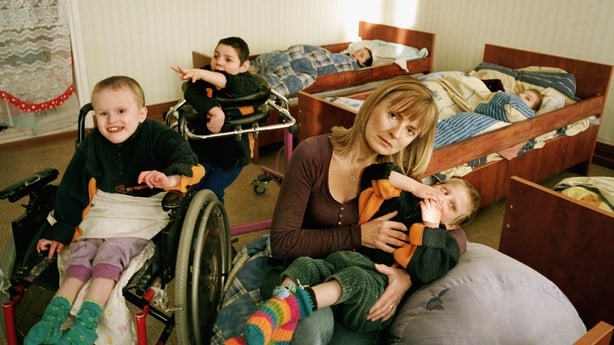 A few days ago, after checking with staff in Belarus, Adi emailed me with grim but not wholly unexpected news: "As far as we can ascertain, all of the liquidators you met are dead." That included Col Chichkov, the deputy commander of the rescue mission.
It also included our wonderful guide Rima, who I remember as being around the same age as myself. She'd died from a heart attack more than a decade ago - a phenomenon Adi said was strongly linked to radiation exposure.
Rima had regaled us with how she was a proud Tartar who defied danger. She was also a teacher who ended-up working as a translator at Chernobyl to make ends meet.
35 years have passed since the nuclear disaster at Chernobyl, but the links between Ireland and southern Belarus remain strong.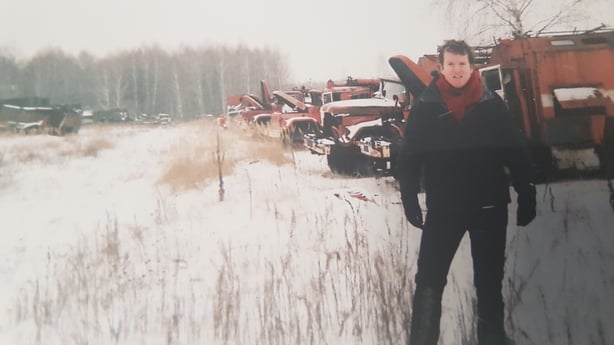 No surprise when you consider that more than 25,000 children from the wider Chernobyl area have travelled to Ireland for rest and recuperation; Chernobyl Children International has delivered more than €107million in aid to the region since 1986; and more than 4,000 people in the region have been given life-saving cardiac surgery.
It's a link which, on this 35th anniversary, Chernobyl Children International wants to focus attention on - from the unstinting support of the Irish volunteers in the past, to the absolute commitment to ensure that those who continue to live in the shadow of the nuclear disaster won't be forgotten.
Those two strands will be drawn together in a global candle-lighting ceremony today, which will play on that powerful Irish intercession: "We cannot choose to banish the darkness, but we can choose to kindle the light."
President Michael D Higgins is leading that candle-lighting campaign, recognising the extraordinary contribution the people of Ireland have made to Chernobyl's victims since 1986.