Gardai have seized over two thousand catalytic converters and 14 drums of smelted converters with an estimated value of €2.2 million.
A man in his 20s was arrested and charged and is due in court next month.
Almost €75,000 in cash and a vehicle was also seized during the search of a business premises in Finglas in Dublin.
There has been a dramatic rise in the theft of catalytic converters in recent months because the price of metal has been rising. They are being stolen in seconds by organised crime gangs and melted down.
The Dublin North Division Task Force made it's largest seizure this morning following a raid on a business in Finglas - 2,150 catalytic converters and 14 drums of smelted catalytic converters.
Officials from Revenue and Customs and the National Trans Frontier Shipments Office were also involved.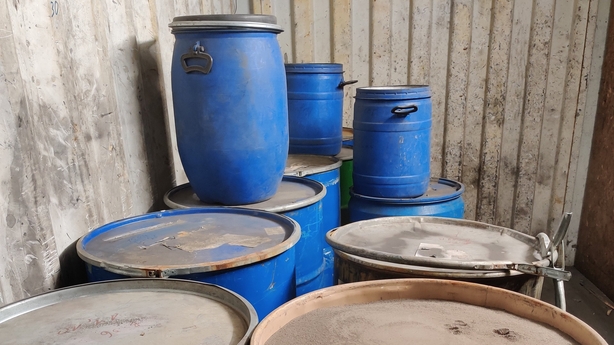 The fourteen drums each contained around 300 catalytic converters smelted in powder form worth around €1m, the unsmelted ones are worth around €1.2m.
A man in his 20s who was arrested and questioned at Ballymun Garda Station was later charged and is due before the Criminal Courts of Justice in May.
It's the fourth such seizure in the last two months in Dublin and Meath as part of a targeted investigation into the theft of Catalytic converters which includes the seizures of 110 converters, €27,500 and £55,000 Sterling in County Meath in February and 300 converters in St Margarets in Dublin last week.