A 23-year-old man who pleaded guilty to dangerous driving causing the deaths of two of his friends and causing serious injury to another person has been jailed for five years and three months at Donegal Circuit Court.
Joseph Gilroy, from Lisnaskea, Co Fermanagh, had pleaded guilty to a number of charges including dangerous driving causing the deaths of two people, causing serious bodily harm to another person, driving without a licence and without insurance, and driving while disqualified when the car he was driving crashed in Bundoran in August 2018.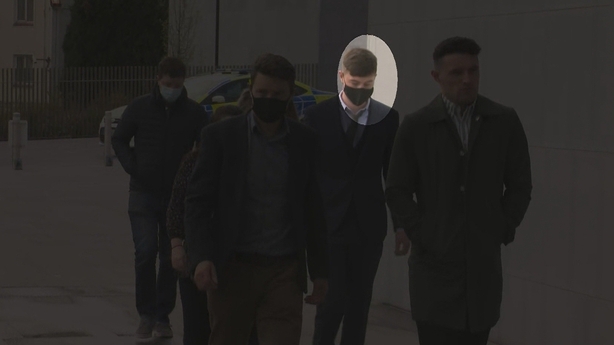 A previous court sitting heard that on the night of the crash, Gilroy and his friends had been socialising in Fermanagh before travelling to Bundoran in Co Donegal to go to a nightclub.
When they left the club, six of them got into the Peugeot 306 which had travelled just 550 yards when it crashed at East End, Bundoran, just after 3am on 19 August 2018.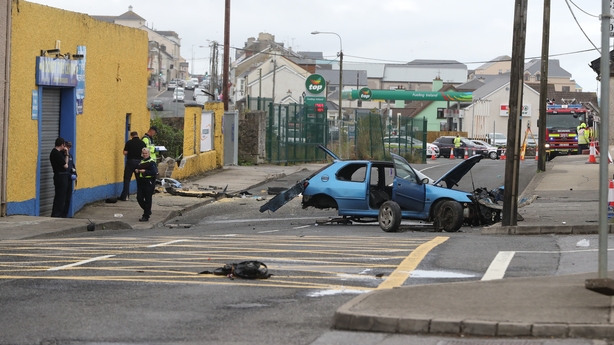 The car had initially hit a kerb before going sideways and hitting a wall and the corner of another building.
Shiva Devine and Conall McAleer, who were both aged 20, died at the scene. Rachael Elliott, who is 27, suffered severe head and spinal injuries and now uses a wheelchair.
Five of those in the car had been thrown out through the boot of the Peugeot after it was ripped off on impact.
Joseph Gilroy left the scene before gardaí arrived, hid near a hotel and phoned his father Brendan Gilroy in Fermanagh. Gilroy travelled to Bundoran and brought his son back to the scene of the crash where he admitted being the driver of the car and was arrested.
At the earlier court sitting, Joseph Gilroy's barrister Colm Smyth read a statement on behalf of his client in which he said he wanted to apologise to everyone who was affected by his actions.
We need your consent to load this rte-player contentWe use rte-player to manage extra content that can set cookies on your device and collect data about your activity. Please review their details and accept them to load the content.Manage Preferences
He said he asked himself every day why this was part of god's plan and all that he remembers is being "sucked from the back of the car" and landing on his knees beside his friends who were all in the same place on the road.
A victim impact statement by Conall McAleer's mother, Jacqueline McHugh, at an earlier court sitting described her only son as "not vain, but so handsome and if you were a friend of his, you had a friend for life".
She added: "I never got to remind him how proud I was of the young man he had become and what a great gift it was to have him as a son."
In her victim impact statement Shiva Devine's mother, Nicola, said her life and her family's lives and that of her daughter's little boy Kyle will never be the same again. Her late daughter was beautiful, funny, and smart and she could never have imagined her life without her.
Rachel Elliott, who was left in a wheelchair as a result of the crash, said in her victim impact statement that the accident had changed her forever.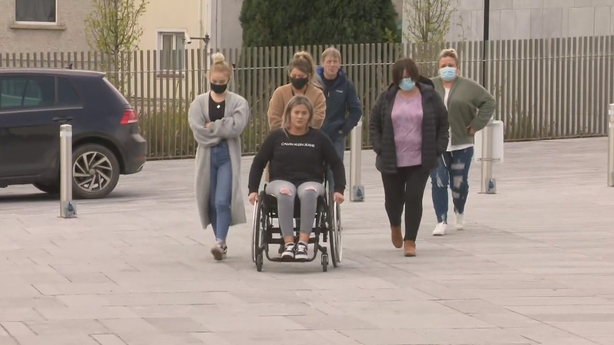 However, she said she deals better with everyday situations but cannot switch off at night and that loneliness overcomes her.
She added that all those involved in the crash will live with a life sentence, describing it as a heartache that will never heal. But she said she did not hold what happened to her against Joseph Gilroy, describing him as a "good-natured boy with his whole life ahead of him".
Sentencing Gilroy this afternoon, Judge John Aylmer said the crash had a devastating impact on so many victims and their families.
He said the aggravating factors in the case were that Gilroy was disqualified at the time of the crash, having been convicted in Northern Ireland a short time previously and then fined and disqualified for a year.
He had also, by his own admission, consumed a quantity of alcohol, three vodkas and lucozade.
The judge said the evidence had been that the cause of the crash was that Gilroy had accelerated from a standstill to a speed of approximately 75mph (sic) over 550 metres on a winding street in a 50kph zone before he lost control of the car.
Gilroy had fled the scene as he saw emergency services and gardaí arriving. He was in a severe state of stress and panic, the judge said, but it was after he had attended to the injured and saw they were being looked after that he left the scene.
Judge Aylmer said Gilroy had overloaded the car with four backseat passengers, none of whom were wearing seatbelts.
The judge said the offence was at the higher end of the scale and merited a seven-year jail term before mitigating circumstances were taken into account. These included the fact that Gilroy had cooperated fully with gardaí after returning to the scene at 7.05am and had entered the earliest possible plea of guilty.
He said Gilroy is now extremely remorseful and the sense of guilt has taken a serious psychological toll on him and he is unlikely to get over this.
He is a hard-working man, recently pursuing a career as a stone mason. He was only 20 at the time of the offence, the judge said. He is now 23, and he and his partner of six years are expecting their first child.
Judge Aylmer noted "the extraordinarily charitable attitude" of the victims' families.
He sentenced Gilroy to five years and three months in jail and disqualified him from driving for 20 years.